Everything Kesha Has Said About Overcoming Her Body Image Issues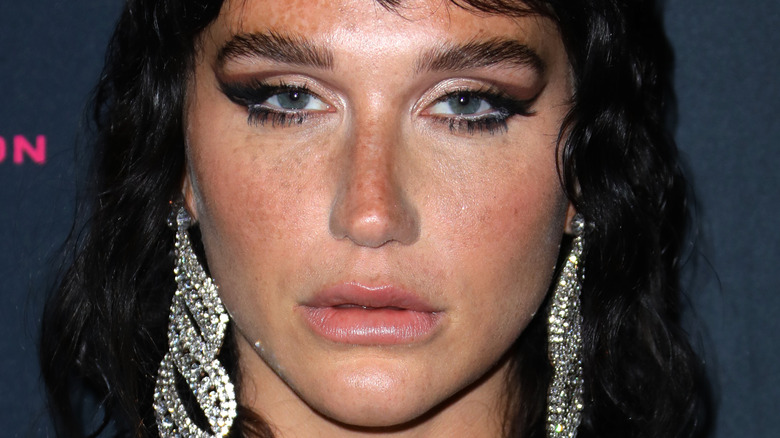 Jc Olivera/Getty Images
When Kesha released her first single in 2009 (via Biography), she quickly rose to fame. According to Rolling Stone, "Tik Tok" made music history. It was downloaded 610,000 times, "the highest digital total for a female artist in one week since Nielsen SoundScan started tracking the figures." Even before her first official album, "Animal," was released in early 2010, Kesha had secured a massive following.
However, Kesha's success was tainted by the alleged abuses of her former producer, Dr. Luke. The singer experienced sexual, emotional, and physical abuse at the hands of the producer, who denied all allegations and claimed defamation (per Vulture). According to Kesha's mother, Dr. Luke pressured her daughter to lose weight, and the singer entered treatment for an eating disorder in early 2014. Later that same year, Kesha sued her former producer, hoping to "void all contracts," according to Rolling Stone. 
Even now, the singer's fight is far from over as she continues to defend herself in Dr. Luke's ongoing defamation case, as Billboard notes. For the last few years, Kesha's music has served as a platform for self-empowerment, allowing her to address past traumas as works to break ties with her former producer. Her hit song, "Praying" reached anthem status after an emotional live performance at the 2018 Grammy Awards (via CNN). Kesha has also been outspoken about her struggles with body image, acting as a role model for fans confronting their own insecurities.
Kesha felt trapped by positive feedback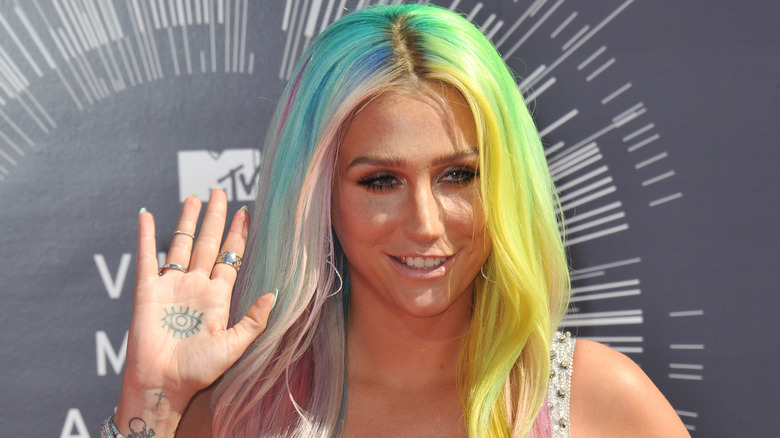 Jaguar PS/Shutterstock
While subjected to the alleged abuse of Dr. Luke, Kesha was facing pressures imposed by the media. In an op-ed for Elle, the singer criticized the music industry's rigid beauty standards, pointing out how they "set unrealistic expectations for what a body is supposed to look like, and I started becoming overly critical of my own body because of that." The singer told Vogue in 2015, "Inside I was really unhappy, but outside, people were like, 'Wow, you look great.'" She later told ET, "They would just be like, 'Oh my gosh, keep doing whatever you're doing! You look so beautiful, so stunning.'"
Feeling trapped by these "compliments," the singer realized she needed help, and confided in her mother. During her interview with ET, Kesha said, "I remember shaking because I was so fed up, so anxious, and I was just mad that I had let myself get to that point." She checked in to a recovery center in 2014. Kesha was able to talk to a nutritionist, eventually coming to the understanding that, "food is a positive thing for your body," per Vogue. She concluded that "being healthy is the most important thing I can do for myself."
If you are struggling with an eating disorder, or know someone who is, help is available. Visit the National Eating Disorders Association website or contact NEDA's Live Helpline at 1-800-931-2237. You can also receive 24/7 Crisis Support via text (send NEDA to 741-741).
Kesha made the choice to be kind to herself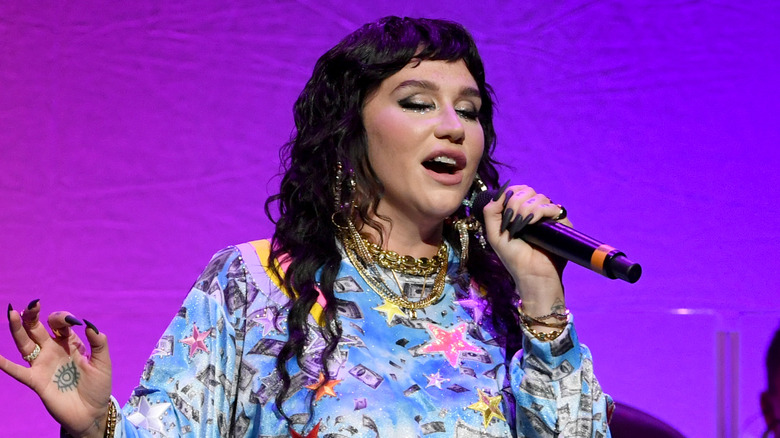 Kevin Winter/Getty Images
In years since beginning her recovery journey, Kesha has undergone a beautiful transformation. Part of that is making the conscious decision to love herself. According to the star via Vogue, "Every day I have to look in the mirror and make the choice to be kind to myself. This is who I am — I have to love that." The singer has played a constantly-active role in her own recovery journey, admitting that "It's difficult sometimes." However, for her, "Part of being healthy is being positive. I don't pay attention to the Internet or bloggers. I surround myself with positive people." 
This self-love is reflected in her newest music, much of which focuses on female empowerment — along with a generous helping of trademark Kesha glitter, of course. In 2022, her song, "Woman," was voted one of the 53 "Best Feminist Anthems of all Time" by Harper's Bazaar. As the singer explains in a 2018 conversation with Cosmopolitan, "I'm not a size. I'm not a number." Kesha is proud of who she is, adding, "Quite frankly, I like my junk. Ten years ago, I never thought I'd be able to say that."
In 2019, Kesha launched her own beauty line, Kesha Rose Beauty. Kesha told Nylon, "Beauty is about embracing who you are while standing fearlessly together to celebrate our differences. Don't strive for perfection because you're already there."