A Look At Wade Robson's Complicated Ties To The Jackson Family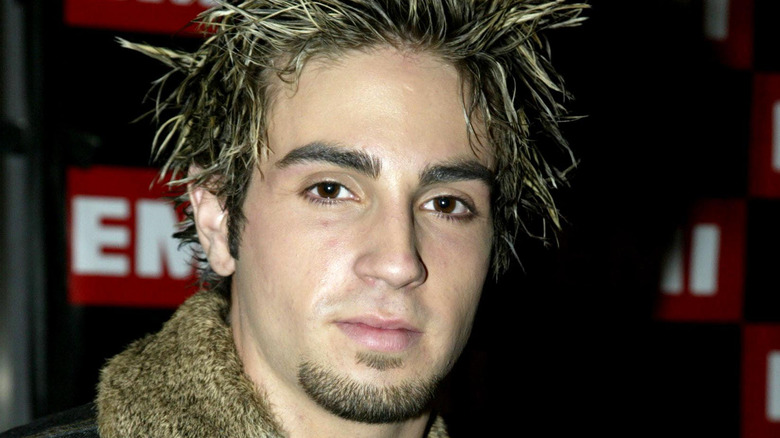 Bruce Glikas/Getty Images
This article contains allegations of child abuse. 
Judging by several reports, one of the reasons Britney Spears and Justin Timberlake's complicated relationship ended was because of Wade Robson. After Timberlake released the "Cry Me A River" music video featuring a Spears lookalike who cheats on him, everyone assumed infidelity was why they split. Spears' infamous Diane Sawyer interview, on "Primetime," only added fuel to the fire. The host seemed hell-bent on getting to the bottom of what really went down and pointed out how Timberlake had been vocal about the hurt Spears caused by cheating on him. 
Though the "Gimme More" singer initially tried to dodge Sawyer's probing questions, she eventually gave in and answered the cheating allegations by simply stating, "I think everyone has a side of their story to make them feel a certain way. I'm not technically saying he's wrong, but I'm not technically saying he's right either." Even back then, many were convinced that NSYNC choreographer Robson was the man she'd had an affair with. However, in 2023, we got a clearer answer about Spears' side of the story through her tell-all memoir, "The Woman In Me." 
The legendary pop star revealed that she had a night out with Robson that ended with them making out. But Spears isn't Robson's only famous fling. The choreographer also had a lengthy relationship with Michael Jackson's niece, Brandi Jackson, which began when they were around 10. But, in 2019, Robson appeared in "Leaving Neverland" and accused the "Thriller" singer of sexually abusing him for seven years when he was a minor. 
Brandi Jackson slammed Wade Robson for his comments
In 2019, Brandi Jackson sat down with Billboard to discuss her ex-boyfriend, Wade Robson's, allegations against Michael Jackson. She asserted that all accusations against her uncle were false and served to tarnish the reputation of one of the most successful Black men in history. Brandi expressed, "It's disappointing and very upsetting to see what he [Robson] would do to a friend." She added that the choreographer defended her uncle against the 1993 allegations of sexual abuse put forth by Jordan Chandler, pointing out, "Wade was adamant about standing up for [Michael]. He said, 'I'll make sure nobody does this because it's not right. That's not who Michael is.' He was very defensive of him because he understood." 
Brandi added that she felt terrible about his financial difficulties but claimed that Robson never mentioned any of the alleged sexual abuse to her throughout their longstanding relationship. In his accusations, Robson claimed the molestation occurred at the famous Neverland ranch. But in her interview, Brandi discredited him by clarifying that Robson would only ever visit the ranch accompanied by his family and her when Michael wasn't present. 
Brandi also spoke about Robson in "Neverland: Firsthand," railing, "He needs to stop. My uncle took care of him and did very well by him and his family. And he knows that." She previously revealed on X, formerly known as Twitter, that their relationship ended because Robson cheated on her with multiple women who could help his career, apparently including Britney Spears. 
She also debunked Wade Robson's accusations
In "Neverland: Firsthand," Brandi Jackson pointed out how Wade Robson barely mentioned her in "Leaving Neverland," despite their longstanding relationship. Michael Jackson's niece argued that she was deliberately left out of the story because she would've easily been able to call out Wade Robson's lies. She also offered an alternate reason for why the choreographer might be lying: "He has always been a bit of an opportunist ... He knows how to position himself into different situations that will benefit him in a financial way."
Robson later claimed that Michael manipulated him into staying away from women his age, but in "Neverland: Firsthand," Brandi recalled that the pop icon invited Robson and his family to his ranch after he requested to be set up with Brandi. When the interviewer asked Brandi what she'd say to Robson now, she replied, "I would confront him about his lies. I would tell him to stop lying. ... I'm not curious as to why he's doing it. He needs to stop."
Robson's lawyer claimed that he had a breakdown from refusing to process the molestation trauma. But, when Brandi spoke to "Hollywood Unlocked," she suggested that his dire financial situation might've been the real cause because Robson didn't have Michael to back him anymore. She also alleged that Michael continued to help the choreographer into his adulthood by providing him with whatever he needed to thrive in his career. In another interview, on "Free Speech Broadcasting," Brandi said that when Robson looked like he was about to cry in "Leaving Neverland," he was actually about to laugh.
If you or someone you know may be the victim of child abuse, please contact the Childhelp National Child Abuse Hotline at 1-800-4-A-Child (1-800-422-4453) or contact their live chat services.