Ivanka Trump Solidifies Herself In Kim Kardashian's Inner Circle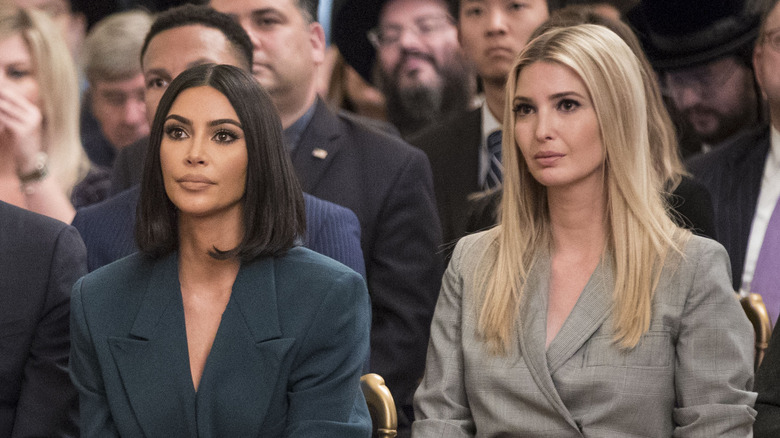 Bloomberg/Getty Images
Kim Kardashian's friendship with Ivanka Trump has been making headlines for some years now, and the two have reportedly commiserated on everything from motherhood to prison reform. Back in 2018, People reported that after Kim Kardashian met with then-President Donald Trump to discuss the pardon of 62-year-old Alice Marie Johnson, who had been incarcerated for many years on a first-time drug offense, Kardashian then visited with Ivanka Trump and Jared Kushner at their home. And in 2019, Kim and Ivanka were seated beside each other at an event geared toward supporting a bill known as the First Step Act, which aimed to make many changes in prison reform (via Page Six).  
But a passion for politics isn't the only thing these two powerful women have in common. Just last year, while Kardashian was still reeling from the breakdown of her marriage to Kanye West, she was seen out and about with Ivanka Trump. According to TMZ, the two friends enjoyed a leisurely three-hour dinner together at the Polo Lounge at the Beverly Hills Hotel. After all, some girl talk is often the cure for what ails us amidst relationship woes. 
Now, in case there was any doubt that Kim and Ivanka are still BFF, an Instagram post for Kim's birthday has made it clear that they certainly are.  
Kim Kardashian includes Ivanka Trump in birthday post
Kim Kardashian, who celebrated her 43rd birthday on October 21, posted a shoutout to the people who helped her to ring in another year. On her Instagram page, the reality TV star shared a photograph of herself and a few close friends, with Ivanka Trump right beside her. In the photo, Kardashian is sporting a bright red dress, and Trump glitters in white sequins. 
"So blessed to have hit the jackpot of friends!" Kardashian captioned her photo. "I couldn't have ever dreamed I would be so lucky to call these girls my friends ✨ thank you for all the birthday love ❤️," she said. And while Kim's beloved sister Kourtney was missing from the photograph, she did get her own shoutout. 
Referencing Kourtney's pregnancy and revealing her current orders to remain on bedrest for her own health and that of the baby she is expecting with husband Travis Barker, Kim finished her Instagram caption by saying, "and Kourt I'm jumping in bed with you next week for our bed rest picnic."