Why Taylor Swift's Travis Kelce Romance Is Her Perfect Chance For A Christmas Album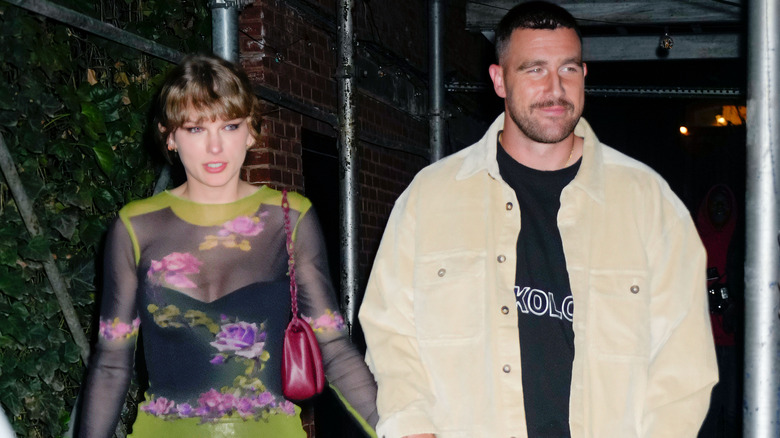 Gotham/Getty Images
Just in case you hadn't noticed, Taylor Swift is having quite the year in 2023. "The Eras Tour" has been record-breaking starting from day one when she smashed the record for largest audience for a female singer — previously held by Madonna since 1987, the new record is now over 69,000 for Swift's opening night performance in Arizona. Even though the first leg of "The Eras Tour" is over, the film version of the tour is now also setting records. The tour, during which Swift changes outfits over a dozen times and sings for three hours, is still ongoing. She's taking the tour overseas starting in November 2023 in Buenos Aires, and she'll be back performing in the U.S. in October 2024.
But, as Swift is taking a break from her tour schedule, she's started spending time with her new beau — Kansas City Chiefs tight end Travis Kelce. And Swifties have definitely noticed. Tickets and viewership for Chiefs games have gone through the roof since Swift started attending. So it could be the perfect time for Swift to cement that popularity and bring in more fans from the football world if she collaborated with Jason Kelce, Philadelphia Eagles center and her new boyfriend's older brother, on his upcoming Christmas album.
Taylor Swift hasn't released a Christmas album since 2007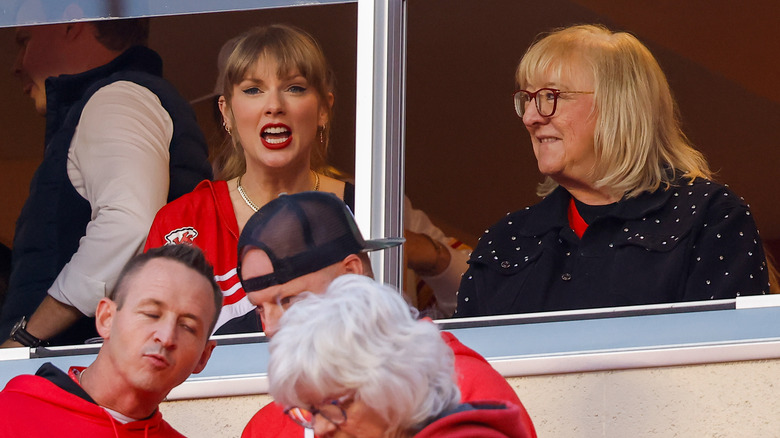 David Eulitt/Getty Images
Travis Kelce's big brother Jason Kelce plays center for the Philadelphia Eagles, and he's recording his second Christmas album with his fellow Eagles players Jordan Mailata and Lane Johnson. Jason went on The Today Show to talk about the new album, and he was asked straight out if we could expect to hear Taylor Swift on the album. "Not this one, not this time around," Jason said with a laugh. But it didn't get ruled out in its entirety, "That would be pretty incredible," said Jason, "maybe in the future." Their first Christmas album was "A Philly Special Christmas," and pre-orders for this year's record start on November 3.
While Jason played off the potential of Swift recording with them on this year's record, we do know that Swift is all about surprise appearances. Swift and Travis both had surprise cameos during the debut episode of the 49th season of "Saturday Night Live." And two of her recent albums, "Folklore" and "Evermore," were unexpected releases, so this could be a chance for her to surprise and delight fans by singing along with Jason.
Considering that the proceeds from the Eagles Christmas album will be going to charity, a guest appearance from Swift would help sales go off the charts. Or maybe she'll be inspired to record her own Christmas album. It's something she hasn't done since 2007 with her six-song EP "The Taylor Swift Holiday Collection," which featured two original songs.