What We Know About Ashley Benson's Lowkey Relationship With Brandon Davis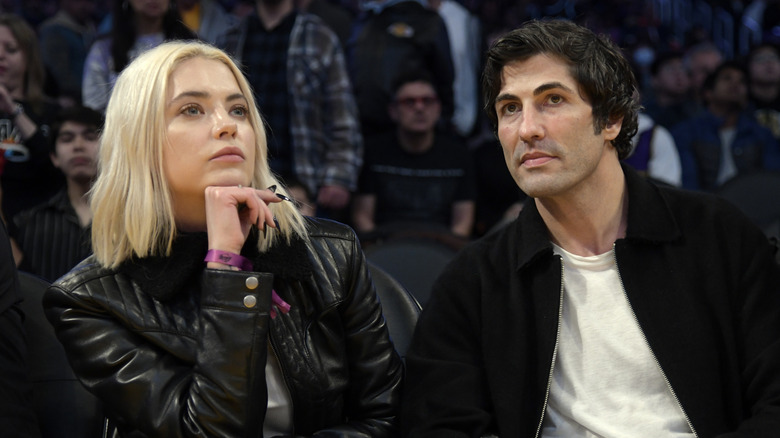 Kevork Djansezian/Getty Images
Ashley Benson is a fan-favorite actor most known for starring as Hanna Marin in the teen show "Pretty Little Liars," but she also had a notable role in "Days of Our Lives" and has appeared in movies like "Bring It On: In It to Win It" and "Spring Breakers." In her personal life, the California native has been romantically linked to Cara Delevingne and G-Eazy, but she seems to be setting down roots with a new beau.
Accordingly, Benson is engaged to and expecting her first child with the oil heir Brandon Davis. The two were originally linked in January 2023 after being spotted together at a Los Angeles Lakers basketball game. The following month, a source close to the couple confirmed their relationship with People. "They're head over heels in love," an insider told Us Weekly in August. "Ashley feels secure and safe with him."
If you're unfamiliar, Brandon is the grandson of the late billionaire Marvin Davis, who made his fortune through the oil and entertainment industries. The heir was publicly good friends with Paris Hilton in the 2000s, often spotted with the fellow heiress at clubs and parties, and dated actor Mischa Barton in 2004. While Benson and Davis have mostly kept their relationship lowkey, they have let their fans in on the aforementioned milestones.
The couple announced their engagement in July 2023
Ashley Benson and Brandon Davis took to Instagram in July of 2023 to share their engagement with the world. Davis originally posted a photo of a sizable diamond on his fiancé's hand to his Instagram story, writing on the photo, "the love of my life" (per Page Six). Benson reposted the snapshot to her own page, adding, "My best frienddddd, I love you."
At the time, the "Wilderness" actor also shared the happy news with her friend Theresa Picciallo, who publicly celebrated the announcement with her own Instagram story. "Our babies are getting married!!!!!!" Picciallo wrote on a FaceTime screenshot of Benson and her new ring. "We love you both unconditionally, endlessly, forever and always. Congratulations to our best friends!!!"
In August, the couple was spotted out on a Hollywood date. As Davis held a door open for her, Benson was photographed holding her hands up to her face, seemingly showing off her sparkly new jewelry. With this news in mind, we can't wait to see what wedding plans the duo has in store for the future.
Benson is expecting a baby with her fiancé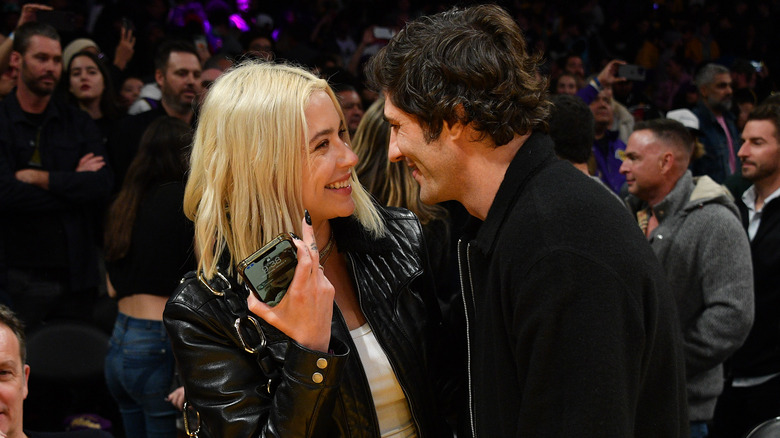 Allen Berezovsky/Getty Images
In addition to their engagement news, Ashley Benson and Brandon Davis are also expecting a baby together. The pregnancy was confirmed by Us Weekly in October, though neither Benson nor Davis have commented publicly about the news. "She's around the four month [mark] and so excited to be a mom, she's been eating really well and taking care of her body," an insider told the outlet, adding that her family is extremely happy for the duo.
Another source shared that the pregnancy was no surprise to the couple, as both Benson and Davis were interested in having children. "She initially wasn't expecting to have kids at this time in her life but that changed after falling so deeply in love with him," the informant explained, mentioning that starting a family was "extremely important" to the oil industry heir.
In the past, the "Pretty Little Liars" star has expressed her own desire for children. "I'm obsessed with babies," she told People in 2019. "I want, like, 25 kids" (per Yahoo). Despite her love for little ones, Benson wasn't quite ready for kids at the time of the interview. Now, it seems that her newfound love created the perfect time to start a family.