Inside Kate Middleton's Final Weeks Before Becoming A Royal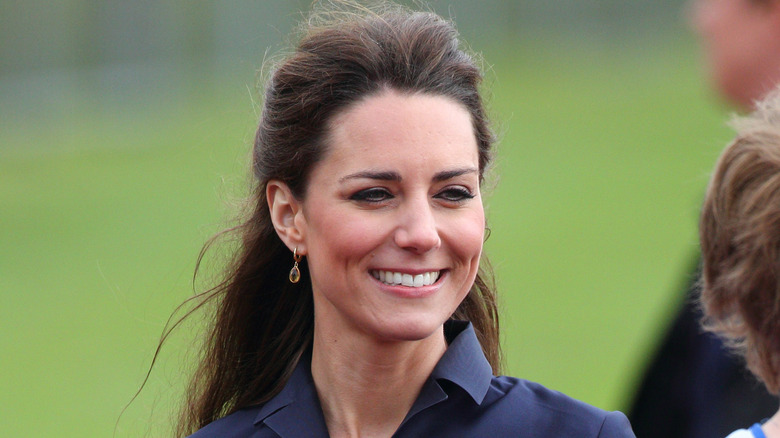 Mike Marsland/Getty Images
On April 29, 2011, Catherine Elizabeth Middleton married her longtime love, Prince William, and officially took her place in the British royal family. As millions watched worldwide, they exchanged vows in a memorable wedding ceremony in Westminster Abbey that was attended by various royal families, dignitaries, and celebrities.
Prior to their engagement in November 2010, the couple had been together for eight years after reuniting (it is believed that Princess Catherine and William first met as kids, although there is no indication that they struck up a friendship back then) and getting to know each other better while attending St. Andrews University in Scotland. And while they split briefly in 2007, William and Catherine eventually rekindled their romance and became engaged while vacationing together in Kenya.
Since then, it became clear that Catherine would eventually become a senior royal and more importantly, Britain's future queen. And in the weeks before her wedding, the then-princess-in-waiting found herself juggling wedding planning with pre-royal duties. Here's how Catherine, Princess of Wales, spent her final days as a commoner. 
She was confirmed in the Church of England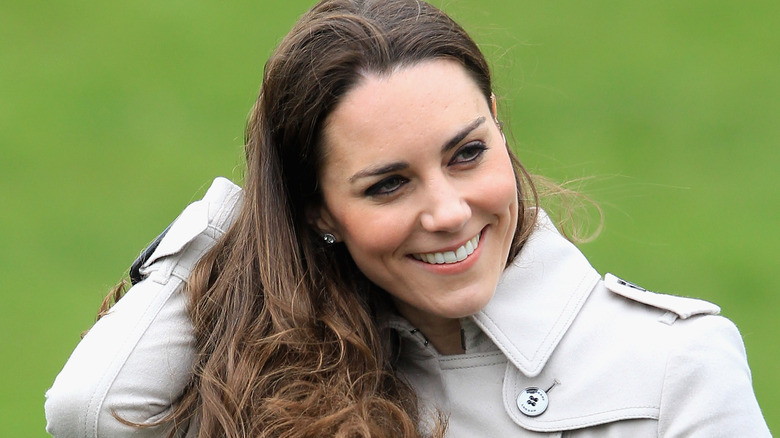 Chris Jackson/Getty Images
With two weeks left before the royal wedding, it was revealed that Catherine, Princess of Wales, decided to undergo confirmation in The Church of England as part of her personal preparations for the wedding. In a statement to Reuters, a spokesperson from St James's Palace confirmed that the private ceremony took place at St James's Palace on March 10, 2011, with Prince William and Catherine's family in attendance.
According to The Church of England, anyone over the age of 10 can be confirmed, but they must be baptized first. While godparents play a key role during a christening, they are not a part of a confirmation ceremony. That said, one may opt to have someone by their side during the ceremony. It is unclear if Catherine opted to have someone stand with her for her own confirmation. Typically, the service features hymns and readings, and afterward, the bishop would lay his hand on the person's head and offer special prayers. Bishop of London Richard Chartres carried out Catherine's private confirmation ceremony. He also confirmed Prince William when the royal was 14. Bishop Chartres later took part in the couple's royal wedding ceremony where he delivered a speech.
After the ceremony, an unnamed source told the Express that getting confirmed was important to Catherine. "This is a matter of personal choice. It's something she's been thinking about," they said. "It was a decision she came to after spending time with the Bishop of London, preparing for the wedding."
She did a final pre-wedding appearance with Prince William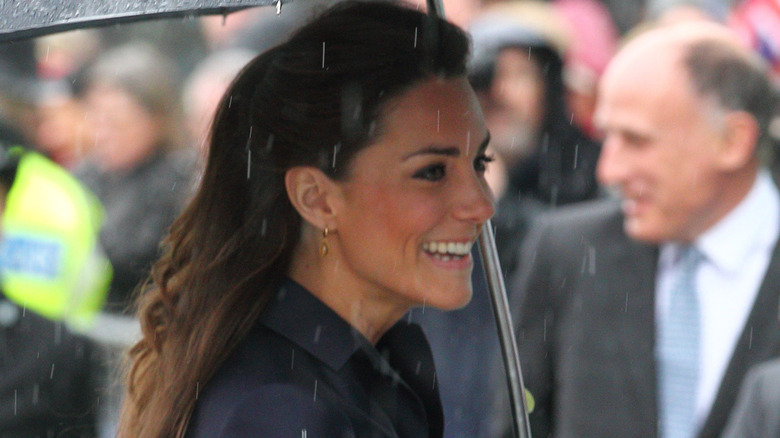 Mike Marsland/Getty Images
Less than two weeks before the nuptials, Catherine joined Prince William for their final pre-wedding public appearance. Since announcing their engagement, the couple had been on a tour, launching a lifeboat in Wales; stopping by their old school, St. Andrews, in Scotland' and flipping pancakes in Belfast, Northern Ireland.
On April 11, 2011, the couple made their final tour stop at Darwen Lancashire where they headed to the Darwen Aldridge Community Academy to launch the SkillForce Prince's Award, an honor that recognizes the contribution of young people to their very own local community. They also later joined officials at the sports pavilion in Witton Country Park where Catherine signaled the start of a 100-meter race with a flag.
Amid the pouring rain, well-wishers also gathered to greet the couple in the area. During their walkabout, Catherine also got candid with some of the attendees regarding the wedding. "I asked her if she was nervous about her wedding. And she said, 'Yes of course I am'. Then I told her she's ­beautiful," Amanda Wood, who was in the crowd, told Mirror. Fortunately, those jitters never got the better of her: As Rowan Williams, the former Archbishop of Canterbury who acted as William and Catherine's officiant, recalled in BBC Two's "Royal Wedding: A Day to Remember" (via the Independent), "They didn't seem unduly nervous. Yes, as it happens, a couple billion people were watching, but they were still talking to one another, from the centre, where it matters."
She did some shopping for her honeymoon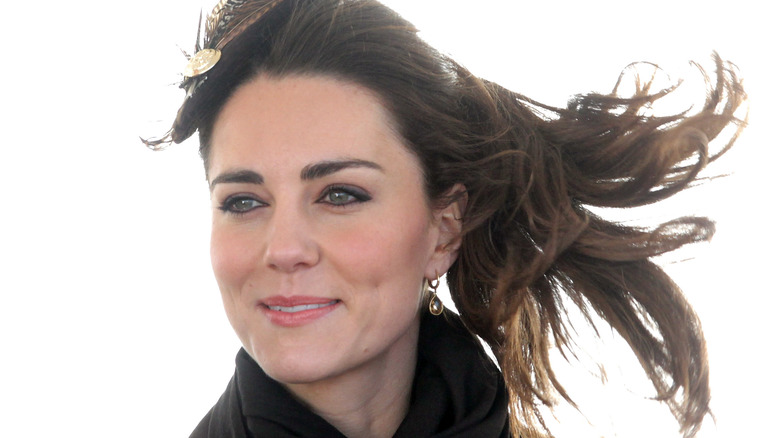 Chris Jackson/Getty Images
Princess Catherine may be a royal who works with a stylist and has access to the finest clothes the world has to offer, but that does not mean she has stopped hitting retail stores like the rest of us commoners. In the days leading up to her wedding, Prince William's other half was spotted out and about doing a little shopping. Much of the attention had been on the bride's wedding gown at that time but for Catherine, there was also a honeymoon that she had to get ready for.
The week of her wedding, Catherine visited various boutiques and shops in West London. (Hey, what's better for pre-wedding nerves than a little retail therapy?) Photographers captured the then-future royal buying something from the boutique Whistles before shopping some more at Warehouse. At Warehouse, Catherine was seen buying several dresses and a blouse. According to Inside Edition, this included a floral halter dress, which would have been perfect for her honeymoon with Prince William. At Warehouse, she reportedly shelled out £225. Not too bad a price point for clothes deemed fit for a royal honeymoon wardrobe. 
Catherine and Prince William eventually flew out for their honeymoon a few days after their wedding. While details surrounding the newlywed's holiday were kept under wraps, it was eventually revealed that the royal couple headed to the ultra-private North Island in Seychelles.
She did several hair rehearsals with her stylist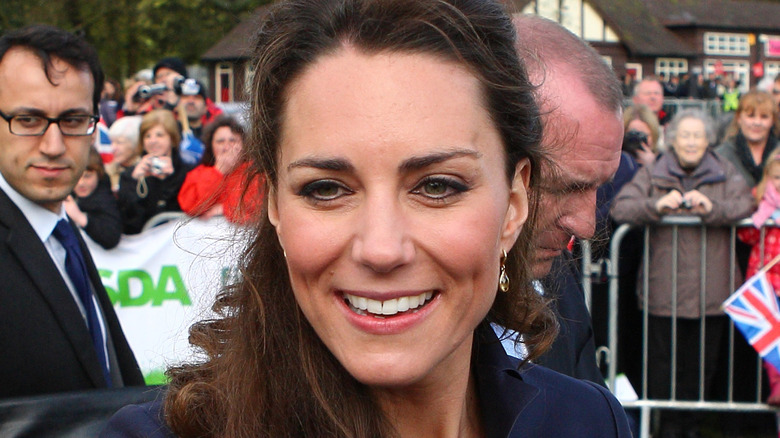 Mike Marsland/Getty Images
On the day of their wedding, all eyes were on Princess Catherine's incredibly intricate Alexander McQueen wedding gown and long, flowy hair with dramatic bridal curls. It may have looked effortlessly elegant on her, but it took a lot of practice to get that wedding day hairdo just right.
Richard Ward, who started working with Catherine long before she became a royal, had already been thinking about how to style the royal bride's hair months before the wedding. Along with hairdresser James Pryce, they presented Catherine with various options using mood boards and magazine photos. "Kate decided in February how she wanted to wear her hair," Pryce told the Daily Mail. That was when Ward and Pryce came up with the half-bun or demi-chignon. Since then, Ward and Pryce conducted several hair rehearsals, even practicing the style on one of their PAs. Pryce recalled, "Kate was amazingly generous with her time and told us we could have as long as we wanted with her so as to get it right."
Days ahead of the ceremony, Catherine was spotted wearing her hair in an updo, and there was chatter about whether or not it was the big day hairstyle. As ABC News' Duncan Larcombe speculated, "She's letting the paparazzi photographers that she loathes so much get the idea that this is the big picture, this is the hairdo."
She visited Princess Diana's grave with Prince William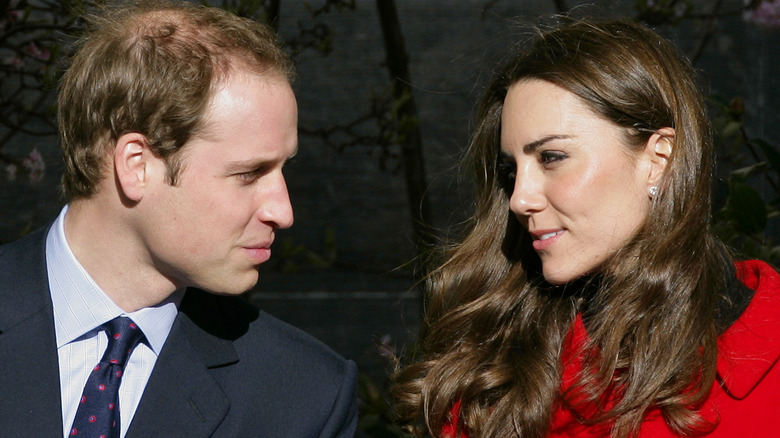 Max Mumby/indigo/Getty Images
The memory of the late Princess Diana was certainly on Prince William's mind when he proposed to his now-wife. He even presented Catherine, Princess of Wales, with his mother's old engagement ring, a 12-carat oval-shaped sapphire ring that is adorned with 14 diamonds. In the days leading up to the wedding, the prince and his then-fiancée also decided to visit the late royal. 
Amid all the wedding preparations, Prince William and Catherine quietly made their way to Althorp Estate in Northamptonshire, England. It has served as the home of Princess Diana and the rest of her family since the Spencers acquired the property in 1508. Upon Princess Diana's death in 1997, her body was buried in an island inside the estate known as The Oval. When Prince William and Catherine visited Althorp, the couple made their way to The Oval by boat. Once there, they laid flowers at Princess Diana's grave. As a source told the Mirror, "It is tragic that [Diana] won't be there to see the wedding, and that she never got to meet [William's] bride. ... But even though Kate never met Diana she knows what an incredible woman she was and it is very important to her to be able to share and understand William's love and grief for his mum."
Meanwhile, the late Queen Elizabeth II also met with Catherine's parents, Michael and Carole Middleton, for the first time while Catherine and William were away.
She spent Easter Sunday with Prince William and the Middletons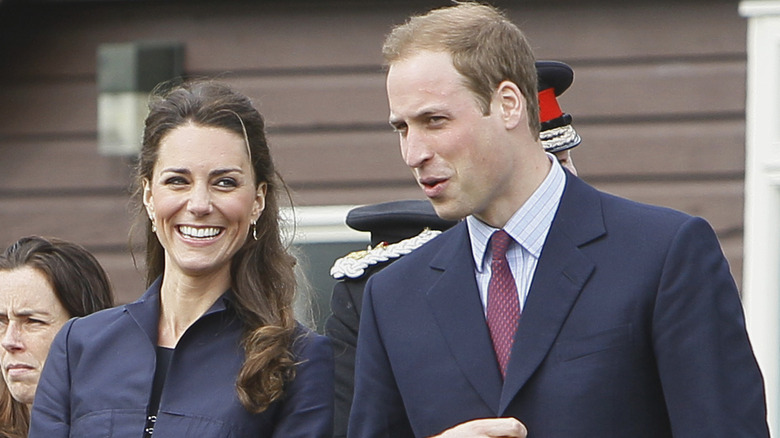 Wpa Pool/Getty Images
Some holidays may be public affairs for the royals, but back in 2011, Prince William and Princess Catherine were determined to keep things low-key on Easter Sunday. Instead of stepping out with the queen and the rest of the royals, the prince made his way to the Middletons' five-bedroom home in Bucklebury instead. "Prince William is very close to Catherine's family, and he intends to make sure that the couple spend their fair share of time with them at special periods of the year such as Christmas and Easter," a source dished to the Express. Taking a brief break from their wedding preparations, Prince William joined Catherine and her family as they attended service at a nearby church. The group also reportedly enjoyed a long Easter lunch. A royal aide was also spotted bringing in a box, presumably filled with chocolate eggs. The following year, Catherine and William spent their first Easter as a married couple at Balmoral Castle in Scotland. They were joined by King Charles III and Camilla, Queen Consort. 
William and Catherine have indeed continued to spend some holidays with both families. That said, it sure sounds like there have been moments where it has been easier said than done. In 2019, for example, the Express reported that William and Catherine headed straight to the royal family's Easter service from the Middleton family's own Easter festivities — but apparently, the Waleses arrived late. The queen supposedly looked "forlorn" when she realized William and Catherine were tardy.
She moved boxes into Clarence House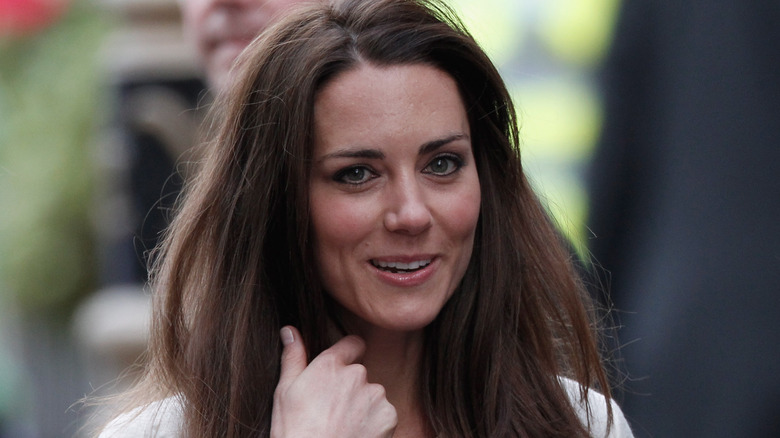 Chris Furlong/gp/Getty Images
With just a few days before the big day, many may have expected Princess Catherine to be busy with all sorts of wedding preparations. However, just two days before the wedding, the then-future princess could be seen moving some boxes into Clarence House instead.
Clarence House has long served as the residence of King Charles III and Camilla, Queen Consort (the couple has also continued to stay at the property following King Charles' ascension to the throne). It is believed that Prince William and Catherine stayed at an apartment in Clarence House after their wedding (although they also rented a home in Anglesey, North Wales, at that time as William was still serving as a search and rescue pilot for the Royal Air Force). That may explain why Catherine was spotted with moving boxes shortly before the royal wedding happened. 
Months after their nuptials, a spokesperson for St. James Palace confirmed that the couple would make Kensington Palace their home for the time being. The spokesperson also noted that they hoped to eventually relocate to a bigger property. "While it more than suffices for occasional visits to London for now, and the Royal couple are very grateful for it, the Duke and Duchess are considering options for a more permanent official London residence," they said, per The Telegraph. Prince William and Catherine later moved to Windsor, which allowed their young family to be closer to the late queen.
She attended a final wedding rehearsal at Westminster Abbey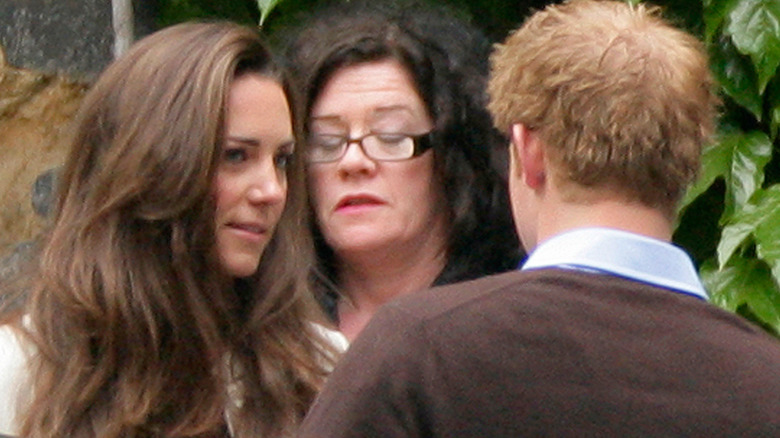 Max Mumby/indigo/Getty Images
As Britain's future king and queen consort, Prince William and Princess Catherine were leaving nothing to chance when it came to their royal wedding. Just before their big day, the couple made their way to Westminster Abbey for a final run-through just as military members participating in the festivities also conducted their own dress rehearsal. Upon their arrival at the abbey, Prince William and Catherine were pictured entering the church with Prince William's brother, Prince Harry, who also served as their best man. The group was also joined by the bride's parents, Carole and Michael Middleton, as well as Catherine's sister, Pippa Middleton, who was the maid of honor.
Before the Westminster Abbey rehearsal, the couple and the rest of the party also practiced for the wedding ceremony at Clarence House. Meanwhile, Catherine also rehearsed for the wedding at the abbey two weeks before they walked down the aisle. At that time, however, Prince William wasn't present since he still had RAF duties. Prince Harry accompanied the bride instead.
Catherine and William's families weren't the only ones to participate in the run-through. Ahead of the wedding, the RAF, army, and navy had a royal wedding rehearsal of their own.
She checked into The Goring with the Middletons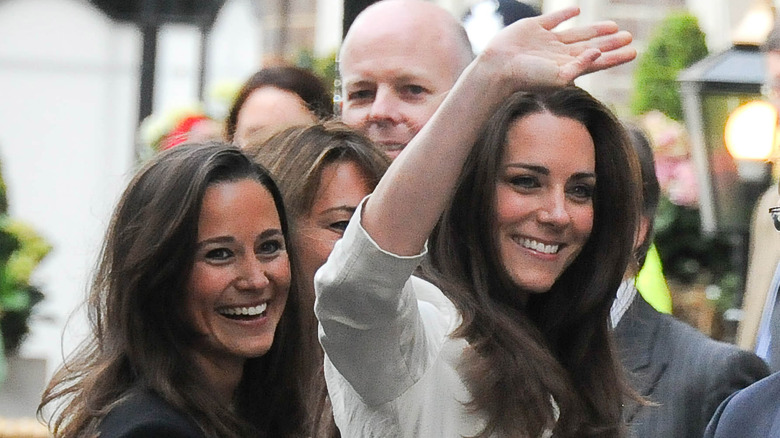 George Pimentel/Getty Images
As it is tradition for the bride and groom to spend the night before the wedding apart, Prince William stayed with his father, King Charles III, at Clarence House while Catherine, Princess of Wales, made her way to The Goring with her family. The property proved to be a fitting choice since The Goring has enjoyed close ties with the royals since it first opened in 1910. Over the years, regulars at the property included Queen Elizabeth the Queen Mother who was fond of the hotel's eggs with lobster. Meanwhile, during the coronation of Queen Elizabeth II in 1953, The Goring also welcomed several foreign royals who stayed at the hotel since it was the closest to Buckingham Palace. 
During their stay, the family reportedly booked out all 71 rooms at the hotel. As for Catherine herself, it is believed that she stayed in a suite located at the top of the hotel. Aside from utilizing The Goring for wedding preparations, Catherine's parents, Carole and Michael Middleton, also used the hotel as a venue for some parties before and after the wedding. The day before the ceremony, Catherine reportedly treated family and friends to a buffet lunch at The Goring. Meanwhile, on the day of the wedding, the Middletons also hosted a party at the hotel for guests who did not get an invitation to the dinner reception at Buckingham Palace. Among their guests was best man Prince Harry who showed up with then-girlfriend Chelsy Davy.
She secretly did a final fitting of her wedding gown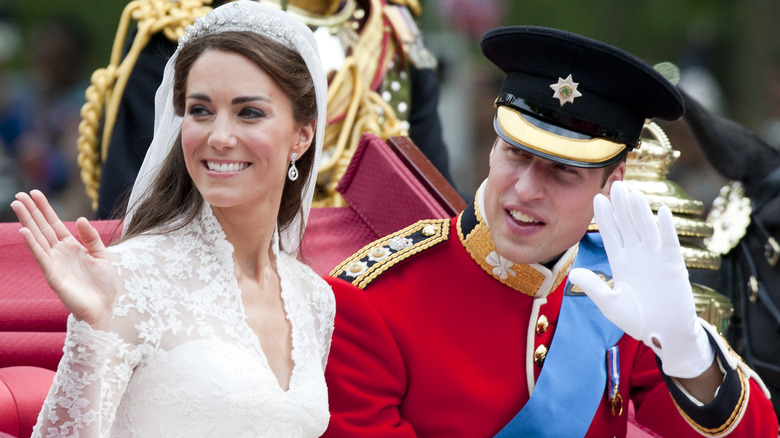 John Phillips/Getty Images
Especially in the weeks leading up to the big day, there was much speculation about who had been commissioned to design the bride's wedding dress. We now know that Catherine, Princess of Wales, asked designer Sarah Burton to create the gown, but the palace went to great lengths to keep this information under wraps.
The day before the wedding, Burton and Catherine met for a final fitting. Presumably in an effort to avoid getting snapped by photographers, Catherine made her way to Burton's salon very early in the morning where a team, including embroiderer Chloe Savage, was already waiting for her. "We hadn't finalized the lace down the seams yet," Savage recalled to People. "We had most of it on the dress but had left the lace loose in the seam to accommodate for that final fitting." Savage and the rest of the team finished working on Catherine's gown by 9 p.m. "Around 10 p.m., Sarah Burton did her final inspection, then we carefully packed everything all up and handed it to the guy who was escorting the dress to Kate," she added.
Meanwhile, photographers also spotted Burton trying to sneak into The Goring with a furry hood over her head. On the day of the wedding, Clarence House finally confirmed that Burton, indeed, designed Catherine's wedding gown. It would become one of the most iconic wedding dresses of all time.