Why Princess Diana's Engagement Ring Was A Perfect Fit For Kate Middleton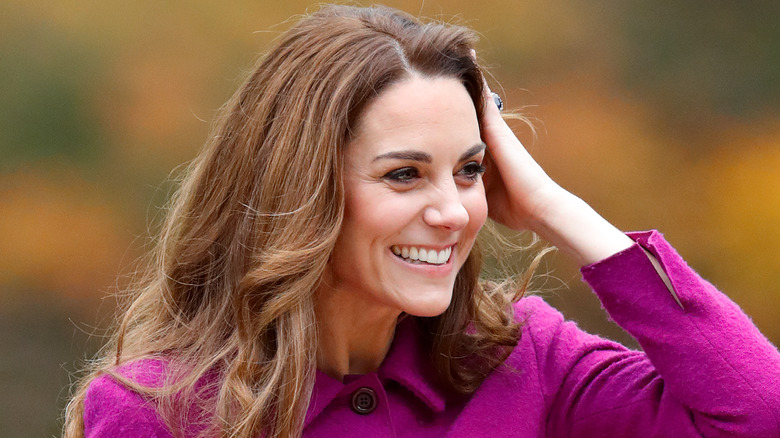 Max Mumby/indigo/Getty Images
Princess Diana's sapphire engagement ring is an instantly recognizable piece of royal jewelry. Now worn by Catherine, Princess of Wales, the deep blue 12-carat sapphire takes center stage and is orbited by 14 glittering diamonds. While the piece has a similar aesthetic to a bridal brooch worn by Queen Victoria, Diana's favored ring choice broke royal tradition, since it was featured in a catalog and available for anyone to buy rather than being custom-made.However, it's doubtful Diana would have caused something similar to her daughter-in-law's "Kate effect." Back in 1981, a person would have needed a serious chunk of change to get their hands on the design. "It cost £47,000(or $60,000) at the time it was purchased," Greg Kwiat, CEO and owner of Kwiat Diamonds and Fred Leighton told The Knot.
Sapphire rings have been a popular choice among royal family members. Back in 1923, the Queen Mother received one when she and George VI got engaged. Princess Anne owned two different sapphire rings to mark her two marriages. William, Prince of Wales, chose to pass on his mother's ring to honor Diana since she wouldn't be able "to share in the fun and excitement of it all," as he explained to ITV after he and Kate announced their engagement. 
Princess Diana was said to have selected the sapphire to complement her blue eyes and, although Kate's eyes are green, there is another way in which her mother-in-law's ring is a perfect fit.
Diana's ring didn't have to be resized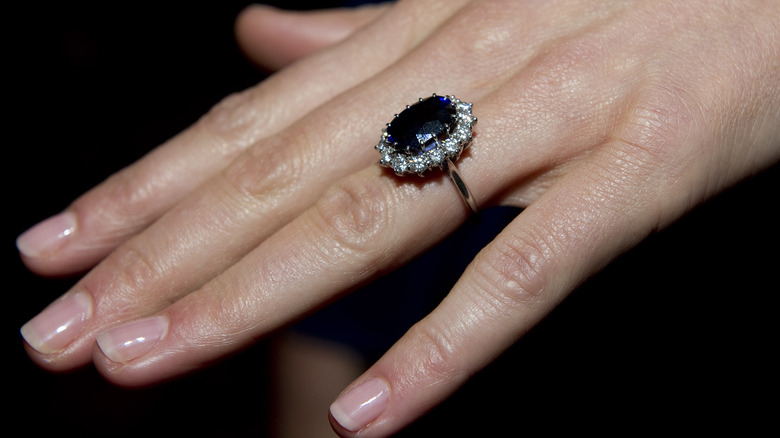 Wpa Pool/Getty Images
During a royal appearance in Wales, Catherine, Princess of Wales shared some details about her engagement ring. "It's the same ring and it's exactly the same size as when I tried it on," Kate told a fan who recorded a video of the exchange (via Today). "It's very special. What an honor to be able to wear it." Even though the ring's size hasn't changed since Diana's time, she and Kate aren't the same ring size. To accommodate Kate's smaller finger, platinum beads were inserted into the ring's interior to achieve a comfortable fit, rather than cutting the band of this historic ring. The added metal can be removed if needed in the future. 
William, Prince of Wales presented it to Kate in 2010, but before that, the history of Diana's iconic engagement ring is a little murky. According to Paul Burrell, Princess Diana's former butler, Prince Harry originally kept the ring as a keepsake after Diana tragically died in 1997. "Harry said, 'Well, can I have mummy's engagement ring? Because that's the ring I remember from my childhood,'" Burrell told the Mirror.
Harry, however, has a very different recollection of these events. "I never gave Willy that ring because it wasn't mine to give," the Duke of Sussex wrote in "Spare" (via Bustle). "[William] had already had it. He'd asked for it after Mummy died, and I'd been more than happy to let it go." 
Kate regularly rocks Diana's jewelry — including her Princess of Wales pin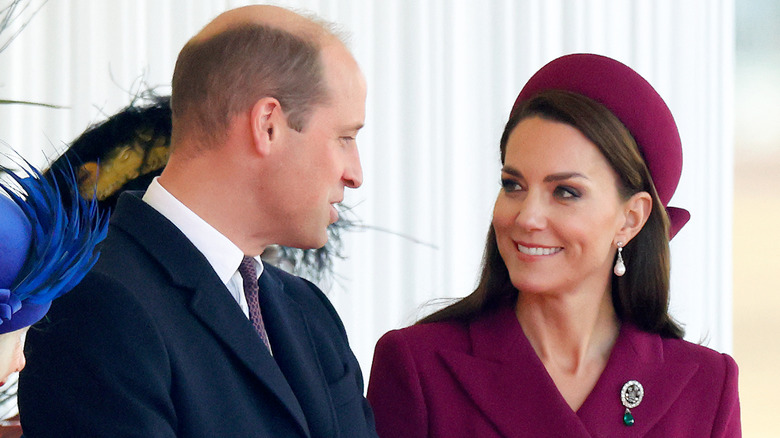 Max Mumby/indigo/Getty Images
Princess Diana intended to share her jewelry collection with her future daughters-in-law. In a "letter of wishes," Diana instructed, "I would like you to allocate all my jewelry to the share to be held by my sons, so that their wives may, in due course, have it or use it," (per The Telegraph). 
In the years she's been part of the royal family, Catherine, Princess of Wales has stunned in Diana's jewelry on numerous occasions. Besides her engagement ring, Kate carried on her mother-in-law's style by wearing Diana's dual sapphire drop earrings at the 2022 Trooping the Colour.
For the 2022 Earthshot Awards, Kate chose a bold emerald and diamond necklace with a long royal history. Originally belonging to Queen Mary, Diana received the brilliant necklace as a wedding present from Queen Elizabeth. Now that she's inherited Princess Diana's title of Princess of Wales, Kate has been wearing another emerald piece — the Princess of Wales Feather Brooch. This pin features a crown and feather design with 18 diamonds and emerald accents. A larger emerald dangles from the bottom. While Diana combined the pin with a diamond chain to make a necklace, as a brooch, the 1863 accessory is a stunning accompaniment to Kate's tailored coat dresses. She's also paired the pin with another of Diana's go-to jewels: the Collingwood Pearl Earrings. Kate's worn these pearls for state occasions, her 40th birthday official photo, and at Prince Philip's 2022 memorial service.