The Meaning Behind Melania Trump's 'Operation Block Ivanka' Mission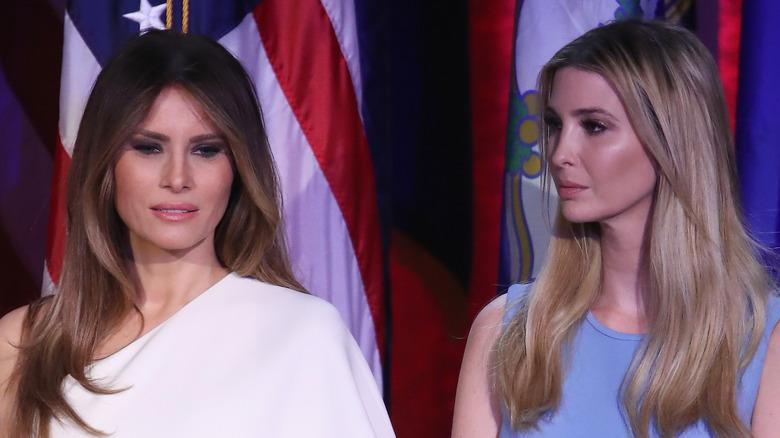 Mark Wilson/Getty Images
Former President Donald Trump was sworn into office in January 2017 flanked by his wife, Melania Trump, and their son, Barron Trump, with his elder children Donald Jr., Tiffany, Eric, and Ivanka Trump squeezed off to the side, almost out of frame. According to a salacious new memoir by a former advisor to the ex-First Lady, Stephanie Winston Wolkoff, this allegedly deliberate arrangement was part of a subtle maneuver titled "Operation Block Ivanka."
Wolkoff's book, "Melania and Me: The Rise and Fall of My Friendship With the First Lady," offers not only a dramatic look into the Vogue alum's relationship with Melania. It also outlines the former model's feelings toward her husband, her role as First Lady, the public, and her apparent animosity toward her adult step-children — or, at the very least, Ivanka, whom she sarcastically called "Princess," per Melania's ex-friend's memoir (via Vanity Fair).
"Operation Block Ivanka," a byproduct of these hard feelings, had one goal: block Ivanka out of the frame of inaugural photographs and videos, thereby keeping her "face out of that iconic 'special moment,'" per the New York Times.
Stephanie Wolkfoff and her team pored over inaugural sketches ahead of the event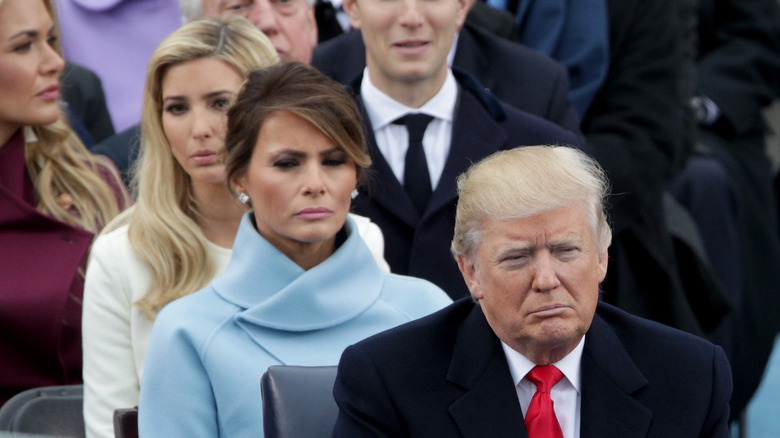 Alex Wong/Getty Images
As a close friend and advisor to former First Lady Melania Trump, Stephanie Winston Wolkoff and her team were the masterminds behind "Operation Block Ivanka." Wolkoff's titillating memoir outlines how she and her team studied sketches and pre-set camera angles to determine which of former President Donald Trump's family members would be in the frame during the ceremony.
"We were able to figure out whose face would be visible when Donald and Melania sat in their seats, and then when the family stood with Chief Justice John Roberts for Donald to take the oath of office," Wolkoff wrote (via Elle). "If Ivanka was not on the aisle, her face would be hidden while she was seated. For the standing part, we put Barron [Trump] between Donald and Melania [Trump] and made sure that Don [Trump] Jr. stood next to Melania, not Ivanka ... Yes, Operation Block Ivanka was petty. Melania was in on this mission. But in our minds, Ivanka shouldn't have made herself the center of attention in her father's inauguration."
While it's unclear whether Ivanka was fully aware of Wolkoff and Melania's "operation," Wolkoff's account suggests that Ivanka could sense her place in the proceedings being questioned. Wolkoff recalled Ivanka sending her a photograph of Sasha and Malia Obama standing with former President Barack Obama at his inauguration. "FYI regarding the swearing-in," Wolkoff says Ivanka wrote. "It is nice to have family with him for this special moment."
Tensions between the Melania Trump and Ivanka Trump didn't stop after the inauguration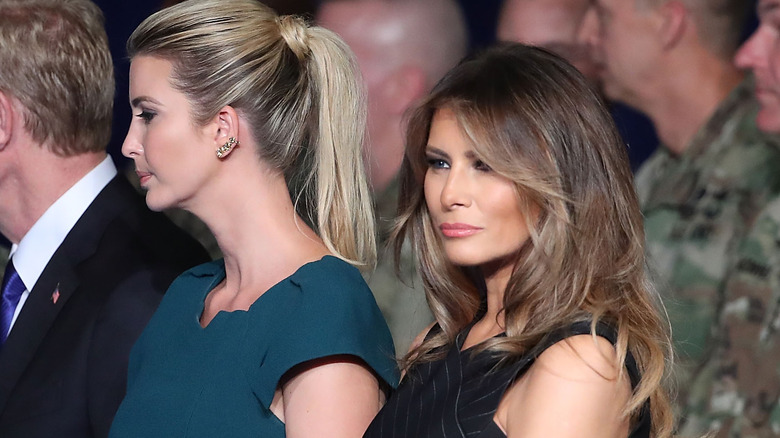 Mark Wilson/Getty Images
The former First Lady's ex-advisor Stephanie Winston Wolkoff's tell-all memoir alleges that the tensions between Melania and Ivanka Trump existed long before Melania kept Ivanka out of inauguration photos. "Melania was not thrilled about Ivanka steering the [inaugural] schedule and would not allow it," Wolkoff wrote, per the New York Times. "Neither was she happy to hear that Ivanka insisted on walking in the Pennsylvania Avenue parade."
Wolkoff was publicly fired in 2018 after news broke of her firm pocketing millions of dollars while planning Trump's inauguration. In a statement to People responding to Wolkoff's memoir, Melania's Chief of Staff Stephanie Grisham seems to allude to this moment, calling the book "full of mistruths and paranoia ... based on some imagined need for revenge." Still, Wolkoff isn't the first to point out perceived tensions between Melania and Ivanka. 
Body language expert Dr. Jack Brown posted a video of the two women smiling briefly at each other at the 2020 Republican National Convention on X, formerly known as Twitter. The clip shows Melania's smile dramatically falling after Ivanka passed, and the physician argued that Melania's body language "shows that she has considerable anger and deep disgust toward Ivanka Trump." As Ivanka Trump continues to distance herself from her dad, it's unclear when (or if) the relationship between the stepmother and stepdaughter will improve.