How Hallmark's Sara Rue Taught Her Daughter Body Positivity After Her Weight Loss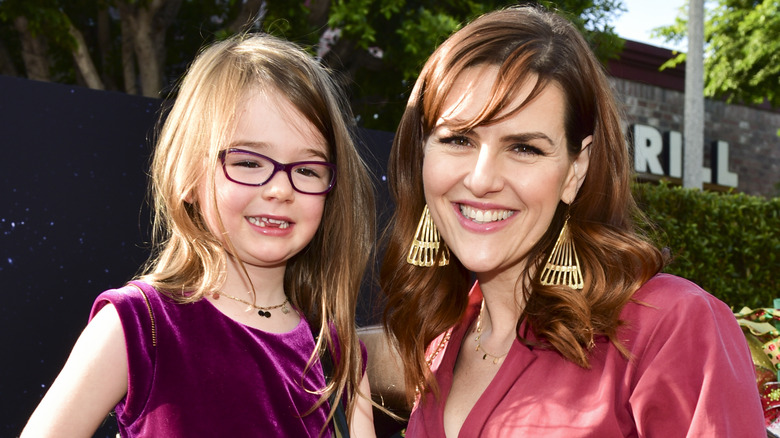 Rodin Eckenroth/Getty Images
Sara Rue's stunning weight-loss transformation has been inspiring others since she dropped 50 pounds and became a Jenny Craig ambassador in 2010. Rue has been active in the weight-loss world ever since and even developed a weight-loss initiative with Takeda Pharmaceuticals. But for Rue, her most important audience was right at home: Her young daughter, Talulah Rue.
The "Less Than Perfect" star spoke to Yahoo! Entertainment about how she approaches diet and exercise with her daughter, admitting that it can be difficult to find a balance between committing to a healthy regimen and obsessing over one's self-image.
"I try to gently steer her away from things I don't want her to eat too much of, but I also don't want her to be the kid at the birthday party who eats the entire cake because mommy never lets her eat it at home," she told the site. For Sara and Talulah Rue, this tender balance involves leading by example, making healthy foods fun, and sometimes, a bit of toddler diversion.
Sara Rue wants her daughter Talulah Rue to have a positive relationship with herself and food
To encourage a healthy relationship with food, Hallmark actor Sara Rue told Yahoo! Entertainment that she avoids using negative language about specific foods. "I never say, 'This is good for you, this is bad for you' — ever," she said. "There's a lot of diversion. I can still get away with, 'Hey, look at this pretty butterfly,' which I do sometimes [laughs]. But it's all positive. 'Yes, that does look yummy, but you know what else looks yummy? This apple. Want to share it with me?'"
In addition to positive reinforcement through her word choices, Rue teaches her daughter how to eat healthily by example. The "Impastor" actor said she'll opt for "fun" veggie choices, like multi-colored heirloom carrots, to keep healthy eating exciting for her young daughter. But Rue is also a realist, and she kept it real when talking about her time constraints as a busy parent.
"I'm not going to say there aren't nights where she has mac and cheese," the actor admitted. "There are. I'm a working mom. I live in reality. I don't have a personal chef. But I try to buy the organic kind, and sometimes, that is just the best I can do."
Talulah Rue encourages Sara Rue to stay committed to her own health journey
Just as actor, producer, and weight-loss ambassador Sara Rue inspires her daughter, Talulah Rue (pictured here with her stepfather, Kevin Price, and adopted sister, Adelaide Price), to make mindful, healthy choices, Talulah also serves as her mother's source of inspiration. "I'm more motivated than ever to stay on course because I'm now a mom," Rue said in an interview with Cosmopolitan. "I just want to be as healthy of a role model as I can be for her."
Rue told Yahoo! that she opts for a non-diet approach to eating, choosing to focus on conscious, mindful eating as opposed to intense restriction. Still, maintaining a healthy body weight and diet is challenging for many people — Rue included. "It's hard. It's a struggle," Rue told People. "There are days where I'll say, "I feel off the rails.' But I don't give myself excuses."
The former "Shedding for the Wedding" host told Cosmopolitan that she'll use Talulah as encouragement on days where committing to her health journey proves extra difficult. "If I have a bad food day, I look at my daughter, and I'm like, 'I made this beautiful, perfect creature. Therefore, I am awesome.' And I try to love myself for that," she said.