Jennie Garth's Daughters Have Grown Up To Be Gorgeous
Jennie Garth, the ageless beauty from "Beverly Hills, 90210," attended the Taylor Swift "Eras Tour" in August 2023, per photos posted to her Instagram. Alongside her were three stunning ladies, each bearing a striking resemblance to the star. And while Garth might not look like a mother of three young women, the trio — Luca, Lola, and Fiona Eve Facinelli — provides undeniable evidence. They notably all wore whimsical matching dresses with a flirty touch of pink, too. 
Our hearts warmed at their obviously genuine relationship despite Garth's divorce from their father, fellow actor Peter Facinelli, in 2013. The former teen star subsequently married Dave Abrams in 2015 but hasn't had any other children, so Fiona remains the youngest of the clan. She was born on September 30, 2006, shortly after Garth wrapped up her stint on the hit TV series, "What I Like About You," in which she starred alongside Amanda Bynes. 
Fiona isn't as publicly accessible as her sisters and has fewer posts on her Instagram, showcasing just two gorgeous vacation photos at the time of writing. She was heavily criticized when Garth gifted her a white BMW for her birthday in 2022. Fans quickly came to the family's defense, though, with one commenter arguing, "I see no brat; I [see] a [grateful], happy teenager." One thing is clear, though; the three sisters definitely take after their mom. 
Lola Facinelli suffered from the same painful ailment as her mom
Jennie Garth's middle child, Lola Ray Facinelli, was born on December 6, 2002. Garth's genes seem to run deep as we can't help but catch a glimpse of blue-eyed Kelly Taylor, Garth's character in "BH90210," when looking at photos of her. Not surprisingly, Lola has also taken a liking to acting. She appeared alongside her mother in the 2011 movie "Accidentally in Love," which was co-written by Peter Facinelli.
Lola also loves art and her Instagram page hosts a collection of gorgeous photos and handmade crafts. Although her life looks almost perfect from the outside, in reality, Lola's journey hasn't been without its challenges. She battled Still's Disease, a form of arthritis, when she was just five years old. However, like her mother, who also dealt with arthritis, Lola triumphed over the ailment. 
The pair have a bond to die for, and it was unbelievably sweet to discover that Jennie Garth made her daughter's prom dress. Most teens would pick designer outfits if they could access them, but Lola modeled her mom's first sewing project on her big day with pride. The middle Garth-Facinelli daughter is currently embracing college life at New York University. 
Luca Facinelli is already following in Jennie Garth's acting footsteps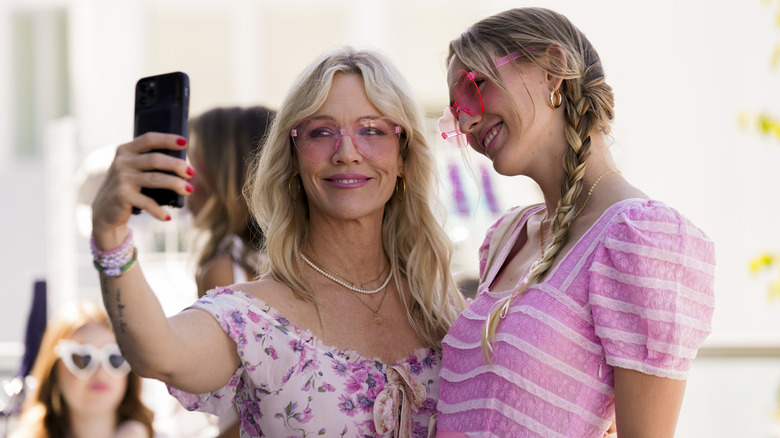 Presley Ann/Getty Images
Born on June 29, 1997, Jennie Garth's eldest daughter, Luca Bella Facinelli, was introduced to the limelight early on. One thing that only true fans noticed in "BH90210" was that the actor was actually pregnant with her during the hit show's run. Garth revealed to People in 2009 that the set had no childcare at the time, so she had to make some changes once Luca arrived.
The actor created a makeshift outdoor space complete with a waterslide, baby pool, and even a picket fence to ensure her safety. Garth's and Peter Facinelli's active careers meant that their first child's early years included lots of film sets and trailers. Considering this and her good looks — courtesy of her parents — it's no wonder Luca gravitated towards acting herself. 
She already has five film credits to date, including one project with her mom, Lifetime's "Your Family or Your Life." Elsewhere, she's starred in "Interracial," "Ad Out," and most recently, 2020's "Find a Way or Make One." However, she took a break from acting to focus on her education. Luca graduated from The New School, in NYC, in May 2023, with her parents proudly cheering her on.