What Has August Alsina Been Up To Since His Jada Pinkett-Smith Entanglement?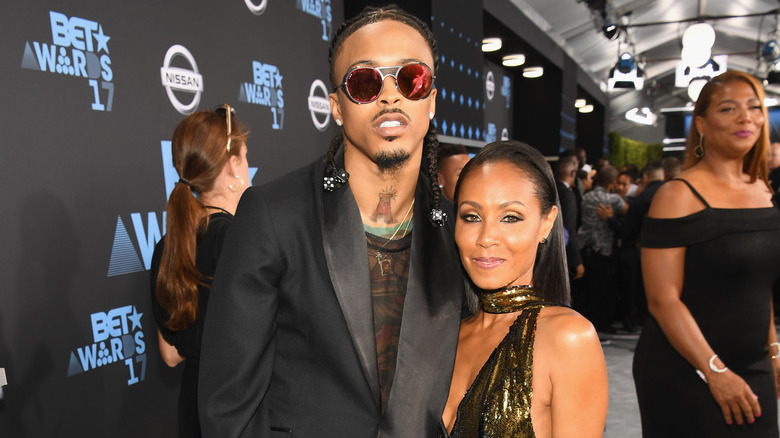 Paras Griffin/Getty Images
When the stunning Jada Pinkett-Smith revealed to the world that she and singer August Alsina had an affair, which she famously called an "entanglement," their fans were left shocked. However, the confession didn't come out of nowhere. Alsina actually alluded to a relationship with Pinkett-Smith during his 2019 song, "Nunya." In the visual for the record, Alsina was seen texting a lover with the name Koren, which happens to be Pinkett-Smith's middle name. One song lyric goes, "You're just an actress putting on a show." 
Online sleuths wasted no time piecing together a connection, and in a June 2020 interview with Angela Yee, Alsina finally came clean about his affair with Pinkett-Smith. One month later, in July 2020, Pinkett-Smith confessed to the romance during an episode of her now-canceled "Red Table Talk" Facebook show. She was joined by her husband, Will Smith, who also confirmed that the two were separated when Jada Pinkett-Smith got with August Alsina.
After the viral "Red Table Talk," Alsina released a single titled "Entanglement," apparently looking to capitalize on the moment. Still, he expressed his love for not only Pinkett-Smith but her entire family. The entertainer and the "Girl's Trip" star no longer speak, and though many have suspected Alsina of referencing Smith in another record, he has seemingly moved on with his life. 
August Alsina launched his skincare and wellness company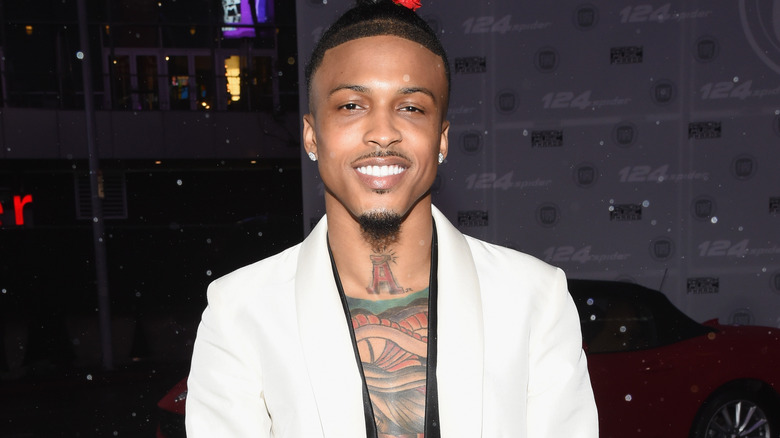 Michael Kovac/ama2016/Getty Images
Aside from music, August Alsina found a new passion in the form of skincare. In July 2022, he launched Encina Wellness. The company offers a variety of goods, including its facial cleanser, facial cream, serum, and exfoliator. Encina's products are formulated with all genders in mind, with prices ranging from $32 to $155 for the complete regimen. While most of his fans know him for records such as "No Love" and "Kissing On My Tattoos," Alsina is taking his new venture seriously, even giving his social media followers an inside look at the Encina production factory.
In January 2023, Alsina announced a major update for his company. Urban Outfitters had begun carrying Encina Wellness. Retailer Thirteen Lune also sells Alsina's products. The brand being available in two stores is a fantastic achievement for a startup company. It seems he has the support of his fans and a new potential lover who has not only helped push the Encina brand but has assisted Alsina in coming to terms with his sexuality.
August Alsina 'sort of' revealed he had a male partner
Two years after his romance with Jada Pinkett-Smith came to light, August Alsina's love life was again thrust into the spotlight. During the November 2022 finale of VH1's "The Surreal Life," Alsina shared in his confessional that he was happy with a new person and told viewers that he wanted to showcase his new union because "it defies all of the constructs that one would say love is supposed to be or love is supposed to look like." After this disclosure, in walked a handsome male who embraced Alsina on camera. That gentleman was later identified as an artist named Zu.
Not much is known about Zu, though he and Alsina do have a song together titled "2 A.M.". He and Alsina have not shared many photos together recently, but he continues to showcase Alsina's Encina Wellness brand on his Instagram. He even has the link to the company's website in his bio, offering unwavering support for his rumored partner.
While Alsina has remained quiet on most recent revelations about the Smiths, a source told the New York Post that Alsina did get a laugh from Chris Rock's Netflix standup special, "Selective Outrage," addressing the infamous Oscar slap by Will Smith. With his ex-fling's recent press run surrounding her memoir "Worthy," Alsina hasn't had much to say on Jada's latest revelations about her marriage. Instead, he has seemingly gone on with his life, which is likely for the best.