Tom Bergeron's Exit From DWTS Was More Fiery Than We Thought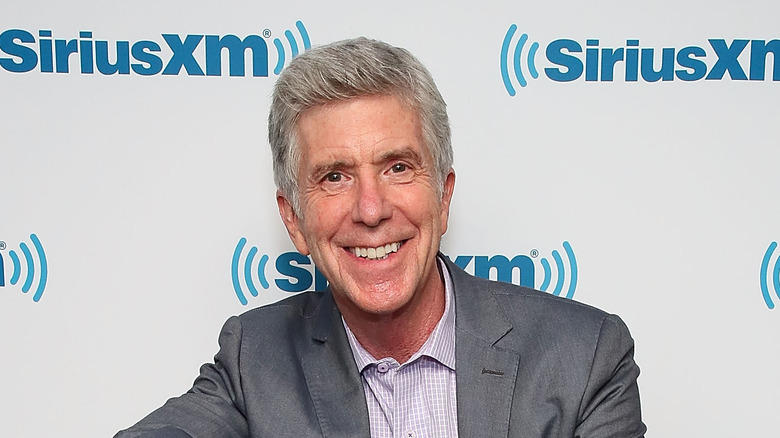 Astrid Stawiarz/Getty Images
Erin Andrews and Tom Bergeron were fired from "Dancing With the Stars" in 2020 after spending 15 years hosting the popular competition show. It was a casting decision that no one saw coming. Bergeron told the world about his firing via X, formerly known as Twitter, saying (via Deadline): "It's been an incredible 15 year run and the most unexpected gift of my career. I'm grateful for that and for the lifelong friendships made." But only now are we finding out about the behind-the-scenes drama that really led to Bergeron leaving "DWTS."
Bergeron went on Cheryl Burke's podcast "Sex, Lies, and Spray Tans," and Burke said Bergeron hadn't really yet told the world everything that happened, so he spelled it all out. In the summer of 2019, Bergeron said that "he'd signed a new contract for three seasons," and showrunners asked Bergeron what he thought the show should focus on in the upcoming season. Bergeron said the showrunners agreed with him that the show should be an "escape" from politics in the run-up to the presidential election. Then Bergeron found out that they'd booked Sean Spicer, former President Donald Trump's first press secretary, for the upcoming season, and that was really not okay for Bergeron considering that they'd talked about keeping politics out of the show — he saw that as a betrayal from higher-ups.
Tom Bergeron called out the show's producers for betraying him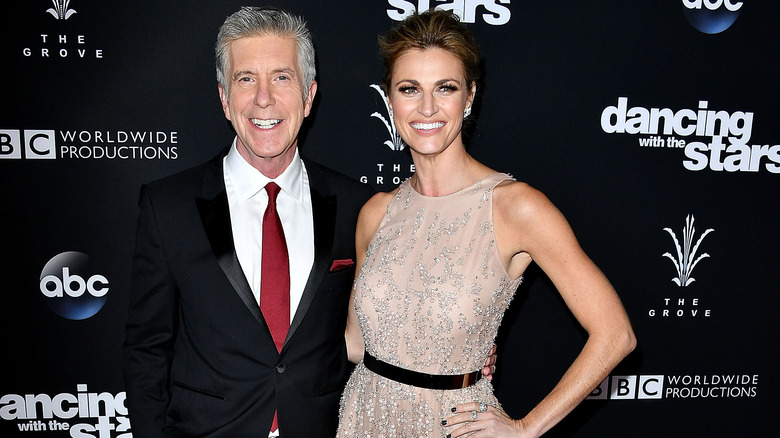 Steve Granitz/Getty Images
Tom Bergeron told Cheryl Burke how he responded when he found out that Sean Spicer was going to appear on "Dancing With the Stars," much to his dismay: "I said, 'Guys, this is exactly what we said we wouldn't do. Don't go there. This is not the right time, play to our strengths, be the show that gives people a break from all this bulls–t." Bergeron explained that it wasn't just about Spicer; he would have felt just as angry and betrayed if they booked a Democrat on the show.
Bergeron felt so strongly about the Spicer situation that he posted a statement on X voicing his displeasure. He notably didn't refer to Spicer by name, but he made it clear he had previously thought he was on the same page with producers about not including anyone political on the show, and he disagreed with them seemingly changing their minds to include Spicer. It was that public statement that Bergeron said really sealed the deal for his firing. "[Those running the show] don't like being called a liar in public," Bergeron said. 
While he wasn't let go immediately, he felt like it was only a matter of time. Bergeron did stay on as the host through Spicer's time on the show, but he didn't like being there. "I was miserable the whole season," he told Burke.
Tom Bergeron wanted DWTS to avoid politics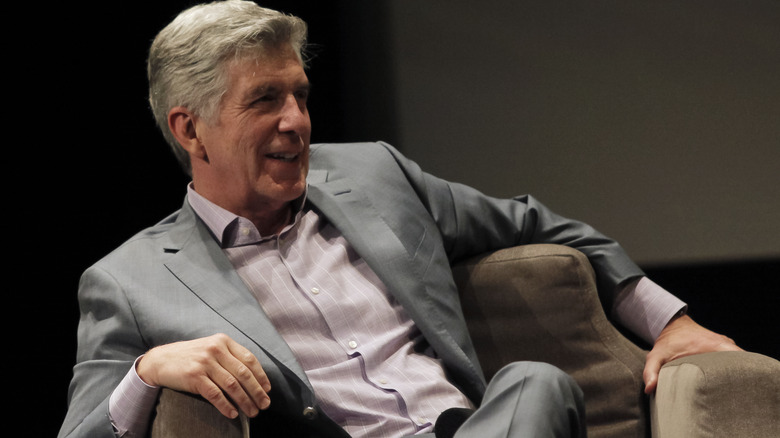 Tibrina Hobson/Getty Images
It was more than just a personal betrayal for Tom Bergeron when the show decided to include someone from politics on "Dancing With the Stars." Bergeron thought the decision was bad for the country as a whole. "We were in a divided country to an extent I'd never experienced before," Bergeron said to Cheryl Burke. "This to me felt like a darker period of our history and we were fueling that fire. I felt it was wrong; I felt it was a disservice to the show."
Bergeron wasn't the only one who was angered by Sean Spicer's casting for Season 28. And while Spicer was a consistently poor performer on the show, he managed to stay on for eight weeks, potentially thanks to tweets of support he got from then-President Donald Trump. Spicer's casting may have been more divisive than most, but he wasn't the first politician on "DWTS." Former Texas U.S. representative Tom DeLay was on Season 9, and former energy secretary Rick Perry was on Season 23.
"DWTS" replaced Erin Andrews and Bergeron with Tyra Banks. ABC Studios for its part released a statement about Bergeron's exit at the time that didn't hint at what was really going on (via People). "As we embark on a new creative direction, he departs the show with our sincerest thanks and gratitude for his trademark wit and charm that helped make this show a success," said the network.