Body Language Expert Tells Us Taylor Swift & Travis Kelce's Kiss Crystalizes Their Playful Romance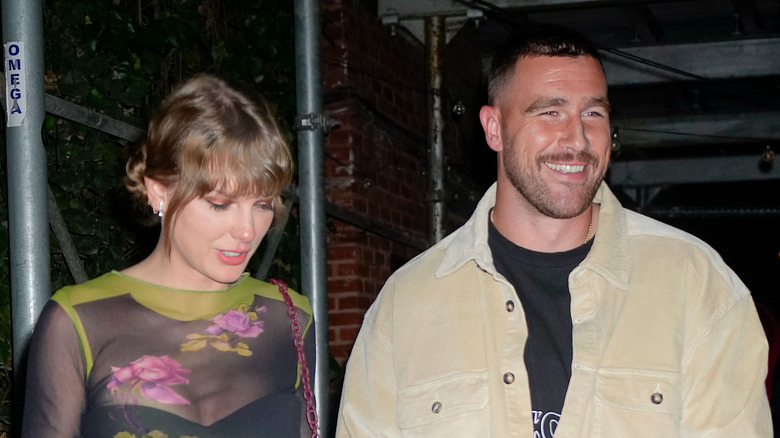 Gotham/Getty Images
Superstar Taylor Swift's relationship with Kansas City Chiefs tight end Travis Kelce is certainly the talk of the town these days. From Swift's presence at Kelce's games to Kelce subtly confirming he's a Swiftie while gushing over the star, everything this pair does has fans excited. With all eyes on the celeb couple's every move, it's certainly no surprise that a recent photo of Swift planting a smooch on her new rumored beau has everyone talking. 
Chariah Gordon, an entrepreneur and girlfriend of Kelce's teammate, Mecole Hardman Jr., recently gave the world a bit of insight into Swift and Kelce's romance courtesy of Instagram. Gordon posted three photos featuring her, Hardman, Kelce, and Swift. The second photo in the post makes it pretty clear that Swift isn't hiding her affection for her new man; she's sporting a Kansas City Chiefs T-shirt while kissing Kelce on the cheek. While Swift didn't post the photos herself, it's clear by her poses for the camera that this was a big and deliberate step for the couple. And, as far as one body language expert is concerned, it may be even more telling than we thought. 
Taylor Swift and Travis Kelce are getting more serious
Anyone can glean a few things from the now-famous photo of Taylor Swift and Travis Kelce after Kelce's game on October 22. But, besides the fact that this couple is getting more comfortable being in front of the camera with each other and is certainly happy to be together, there's more than meets the eye. We talked to Jess Ponce III, a body language expert, communication coach, and author of "A.W.E.S.O.M.E.," and he's not surprised to see a photo like this popping up on social media. "When it comes to showing emotion, Taylor Swift is neither shy nor reserved about her feelings. This is on stage and off. So, it should come as no surprise that PDA with her beau, Travis Kelce, has increased in recent weeks," Ponce explained. 
Still, despite the predictable influx in public appearances, Swift and Kelce are also making it clear that they're getting more serious about each other. "At first, it seemed as if the two were just vibing it out," Ponce noted. "But as time progresses, we're witnessing something special developing between the two of them," he added. And, as far as he's concerned, this photo is deliberate proof. He explained, "This weekend's kiss was sweet and picture-perfect. The media-savvy couple posed for camera and gave us something we loved — an endearing, brief peck on the cheek."
We'll likely be seeing more proof that this couple is the real deal
Taylor Swift and Travis Kelce are no strangers to media attention, so they were unarguably sending a message to fans by posing for this photo. But, letting the world into this intimate moment isn't just evidence that the couple is getting more serious. It's also one of the first times that we're seeing what the pair is really like together as a couple. "It's as if we got our first inside peek into their relationship," says Jess Ponce III," adding that it's "one that is fun and playful." 
Despite the steady increase in photos of Kelce and Swift entering and exiting events together and supporting each others' passions, this is one of the first times that the public has caught a glimpse of the happy couple in their element, spending time with friends, and just enjoying each other. And, it's a safe bet that this is far from the last time we'll see this side of Swift and Kelce's relationship. After all, these two aren't afraid of living life in the public eye. And, luckily for them, the world is just as excited to see this romance blossoming as they are to show us. As Ponce said, "we're eating it up. More of this please," and we couldn't agree more.