Johnny And Chanel's Long Road To Love On Days Of Our Lives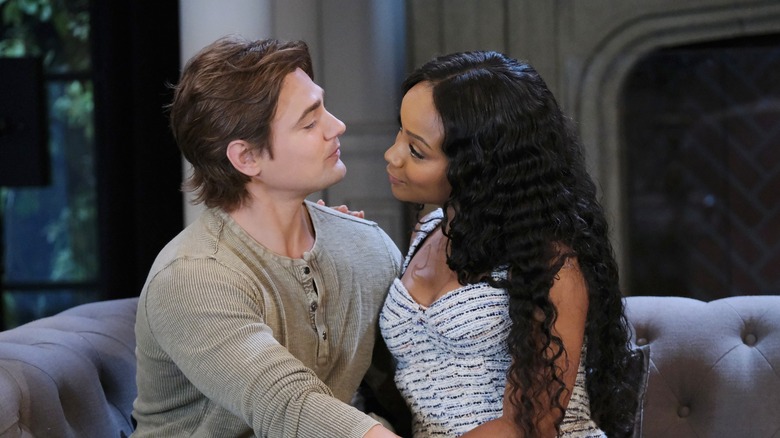 XJJohnson/jpistudios.com
"Days of Our Lives" is home to some of soap opera's most famous super couples. Bo (Peter Reckell) and Hope (Kristian Alfonso), John (Drake Hogestyn) and Marlena (Deidre Hall), Steve (Stephen Nichols) and Kayla (Mary Beth Evans), and Ben (Robert Scott Wilson) and Ciara (Victoria Konefal) all call Salem home, and they have been hailed as some of the best pairings on "Days." One couple who has had some major ups and downs in their relationship is Johnny DiMera (Carson Boatman) and Chanel Dupree (Raven Bowens).
Chanel came to Salem on the heels of her mother Paulina Price (Jackée Harry) in March 2021. Originally played by Precious Way, Raven Bowens took over the role later that year when Way exited the soap. Upon arriving in Salem, Chanel reconnected with her old friend Allie Horton (Lindsay Arnold) and they soon realized that their feelings went much deeper than friendship. However, Allie decided she didn't want to pursue a relationship with Chanel; so instead, Chanel took up with Allie's twin brother, Johnny.
Chanel and Johnny faced obstacles to their relationship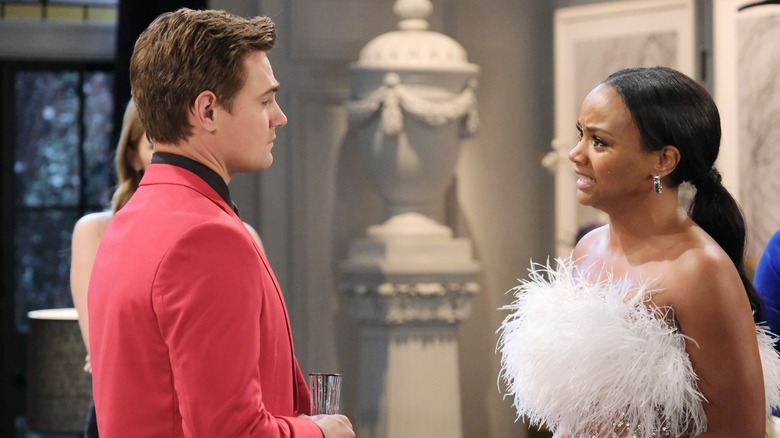 XJJohnson/jpistudios.com
Chanel and Johnny immediately hit it off and started dating. They fell in love, and on a romantic whim, Johnny and Chanel traveled to Italy and eloped over the holidays, returning to Salem and surprising their families with the good news, which did not garner the support they had hoped. Johnny's father, EJ DiMera (Dan Feuerriegel), and Paulina both expressed their disapproval of the match, insisting that the two were moving too fast. Chanel reassured her mother that she knew what she was doing, but the devil had other plans; after possessing Marlena and Doug Williams (Bill Hayes), it set its sights on Johnny. Possessed Johnny broke up with Chanel during a party to celebrate their marriage, and a heartbroken Chanel slept with Allie that same night.
Johnny and Chanel divorced, leaving Chanel free to pursue a relationship with Allie. They were happy for a while, until Allie cheated with Alex Kiriakis (Robert Scott Wilson) and left town after breaking up with Chanel. Once Allie was out of the picture, Chanel and Johnny slowly became friends again, although there always seemed to be another obstacle in their way. Johnny had become interested in Wendy Shin (Victoria Grace) and Chanel started dating Talia Hunter (Aketra Sevillian). However, they couldn't deny that they still had feelings for each other, and eventually, it became too strong to resist.
Johnny and Chanel finally found their way back to each other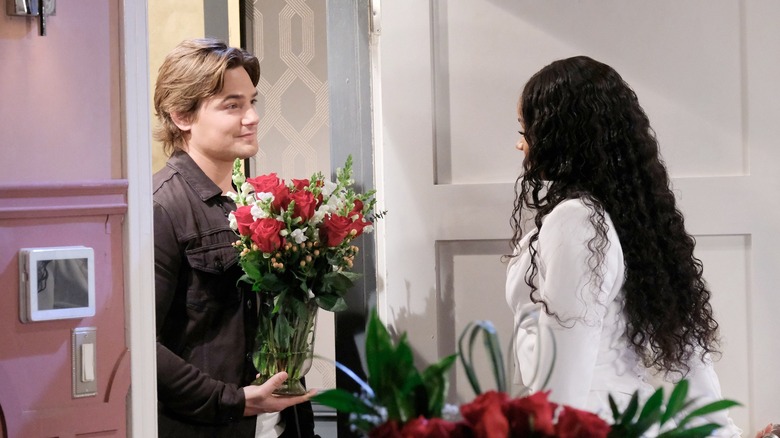 XJJohnson/jpistudios.com
Wendy turned Johnny down when he confessed his feelings for her, insisting that he was really in love with Chanel but didn't want to admit it to himself. Johnny finally realized that he wanted Chanel, and he told her how he felt. She reciprocated his feelings and broke up with Talia, reuniting with him. Finally, after demonic possession, familial disapproval, and love triangles galore, Johnny and Chanel found their way back to each other. And based on the response the couple has garnered, fans couldn't be happier about it.
At the 2023 "Day of Days" event, the promotional trailer for the season was released, and Johnny and Chanel looked quite cozy in a few of the clips. Fans of the couple went wild, with one expressing in a tweet, "I am so ready to see this, more romance for Johnny and Chanel and a proposal!  #Janel #Days."  Another responded to the trailer in a tweet, "They will be practicing living together again like Johnny wanted. Definitely agree no more interlopers for Janel. Looking forward to a new story for them."