What To Know About Hallmark's As Luck Would Have It Star JoAnna Garcia Swisher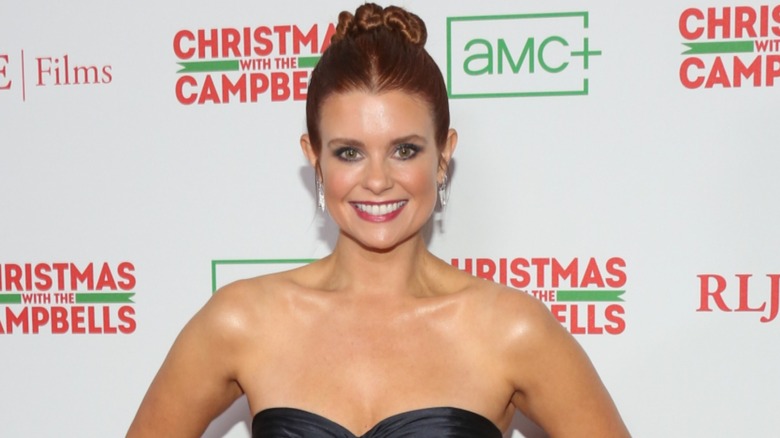 Paul Archuleta/Getty
JoAnna Garcia Swisher has been interested in acting since she was 10. After getting involved in local theater, she had guest-starring roles on shows such as "Clarissa Explains It All" and "SeaQuest 2032." Garcia Swisher then starred in Seasons 3 through 5 of "Are You Afraid of the Dark?" and all six seasons of "Reba." She also had a variety of other roles and guest-starring appearances, including the hosting gig for 2023's dating show "The Ultimatum: Queer Love."
Fans of Hallmark's romance films probably remember Garcia Swisher from her role as Lindsey in 2021's "As Luck Would Have It," which she starred in alongside Allen Leech. She also stars as Maddie Townsend in Netflix's "Sweet Magnolias," which will return for Season 4. 
Garcia Swisher previously spoke with The List in an exclusive interview on "Sweet Magnolias" Season 3, and she said, "There is something to be said for your family, your friends, and being there through thick and thin." She continued to talk more about what the season would entail and how friendships go through ups and downs. She added, "That's an important element and something that's really real, and I think it was about time that we honored that. You start to see how they struggle through life together, with each other, with other people, and it's a tribute to strong female friendships. ... This is a really relatable show. I'm so proud of it."
Who is Garcia Swisher's family?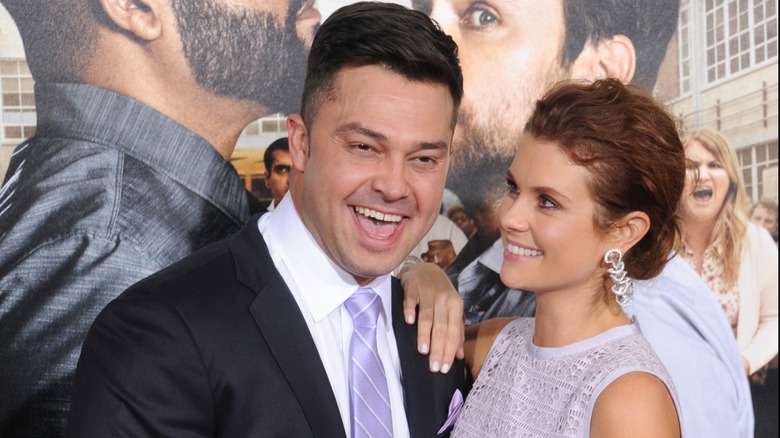 Gregg Deguire/Getty
While she is a famous actor, JoAnna Garcia Swisher's husband Nick Swisher is famous too — he's a retired professional baseball player who played for the Yankees. The couple met in 2009 and were married about a year later. Garcia Swisher told Us Weekly in 2018 about her great first impression of the athlete, and how he was very open with her. "He was like, 'I'm only going to be dating you and you are the only one and until you believe that I'll be here reminding you of that,'" Garcia Swisher told the outlet. "And that just really struck me like he's in it to win it." The actor and baseball player have two daughters.
Unfortunately, Garcia Swisher has suffered losses in her family. Her father passed away in November 2019, her grandmother passed away in February 2021, and her mother passed away in March 2021. She spoke with People in April 2021 about how difficult mourning can be. "It's a gaping hole," Garcia Swisher said. "But I really believe that it's not what happens to you, it's what happens for you. And even in their passing, I know that it's not for nothing." The "Sweet Magnolias" actor also said that she doesn't hide how she's feeling from her children, even on the bad days.
Garcia Swisher already knew her 'As Look Would Have It' costar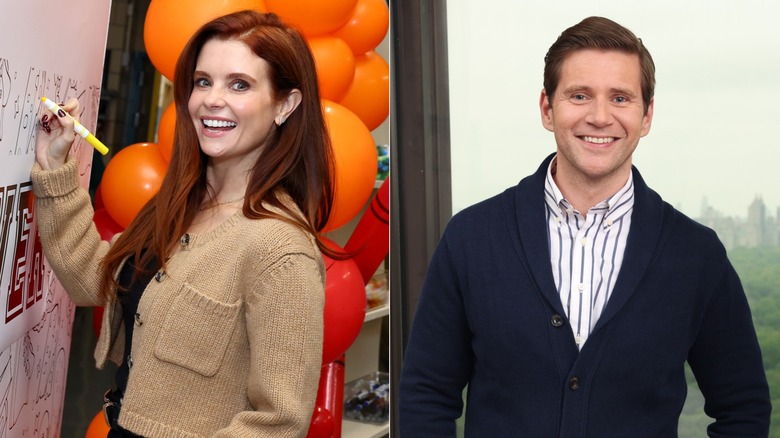 Arturo Holmes & Monica Schipper/Getty
"As Luck Would Have It" was JoAnna Garcia Swisher's first Hallmark movie, and she was inspired to take the role due to her grandmother's love of the Hallmark films. Garcia Swisher actually had a personal connection to her Hallmark co-star, Allen Leech, who also starred in "Downton Abbey." The duo were friends because Leech married the sister of one of Garcia Swisher's friends.
"Very early on when they asked me to do it," Garcia Swisher told Entertainment Tonight, "I asked, 'Is there anyone you're hoping for to play Brennan?' They had mentioned Allen and Allen happens to be a great friend of mine." She also told the outlet how Leech's mother made her dinner a few times while they were filming the movie in Ireland.
Cooking seems to be something Garcia Swisher likes to do as well. She has collaborated with food brands Mrs. T's Pierogies and McCormick in the past. McCormick's "After School Tac'over" was also a collaboration with the Big Brothers Big Sisters of America, and in the press release, Garcia Swisher expressed the importance of family meals: "It's not just about the food, but the laughter and memories we create together and share at the dinner table."