JoAnna Garcia Swisher On Her Family And Sweet Magnolias Season 3 - Exclusive Interview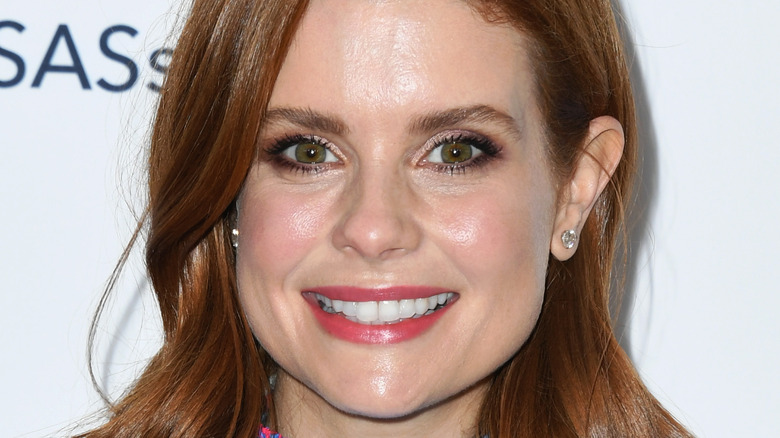 Jon Kopaloff/Getty Images
Calling all "Reba" fans — because The List spoke with JoAnna Garcia Swisher. The actress, well-known for her character Cheyenne Hart-Montgomery on the famous sitcom, has acquired many gigs since then, including the protagonist in Netflix's hit television series "Sweet Magnolias." The 3rd season of the show is set to drop this spring (with no exact release date yet) and features recent divorcée Maddie Townsend, played by Garcia Swisher, trying to navigate life with her best friends.
During an exclusive interview with The List, the "Once Upon a Time" star discussed the most important gig of them all — being a mom. Garcia Swisher has partnered up with Mrs. T's Pierogies to promote the All-Star Moms campaign, which highlights supermoms who seamlessly juggle a myriad of responsibilities. In addition to her recent collaboration, Garcia Swisher opened up about her favorite family activities, what fans can expect in the next season of "Sweet Magnolias," and her newest hosting debut on "The Ultimatum: Queer Love." Dare we say that the entrepreneur's résumé has us both exhausted and thoroughly impressed!
Find time to make a relaxation space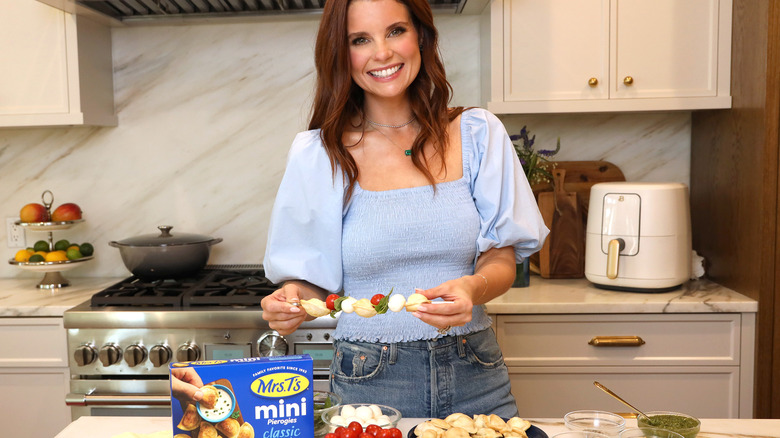 Mrs. T's pierogies
You partnered up with Mrs. T's Pierogies for its All-Star Moms campaign. As a mom of two, how do you find ways to recharge or reset in a busy household?
Prioritizing that time and that space, which is why I was so excited to partner with Mrs. T's on this All-Star Moms campaign. It's about reminding and inspiring moms to take a little bit of time and also creating this amazing space that you can feel like you can relax in and recharge [in] because it doesn't take much to recharge those batteries, and we all know that we need it.
Do you have any simple design tips for creating a relaxing space for your home?
You have to have something that's cozy and something that you feel really comfortable in that actually suits what you're interested in doing to recharge [in] the space. I love having little personal touches that make you feel comfortable, whether it be an antique little picture frame [or] some little piece of something that makes you feel like it's yours and yours alone, something that's easy to clean. My list goes on and on, but [it's] about creating and carving a space that feels personalized to you.
Absolutely. I recently saw a red UV light that you could put over your desk, and it's really relaxing.
I have a red UV light that I very much love.
Cooking in the kitchen is a great way to bond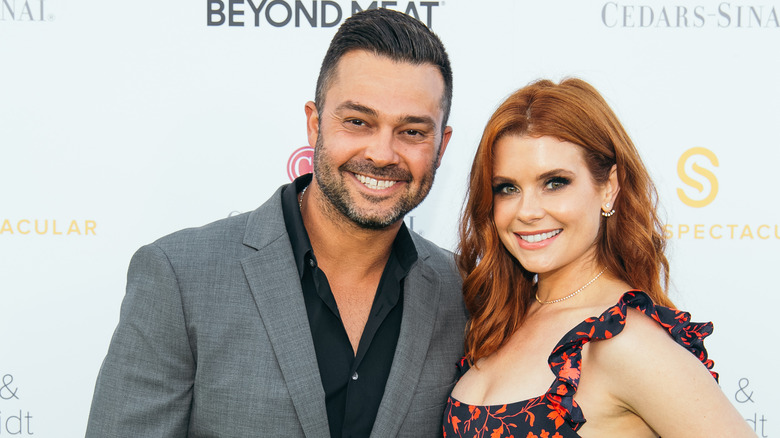 Emma Mcintyre/Getty Images
How do you and your husband keep the kids busy? What are your favorite activities to do with them?
We spend a lot of time together. We cook together; we play Uno and play a lot of board games together. [We try] to slow the time down. It all goes so fast, but I'm enjoying every moment. My kids are in such a fun stage. I have a six-year-old and a nine-year-old, so things are busy. That's why I was so excited to be a part of this campaign, because there are so many times where I have to remind myself to take a deep breath and say, "Give me a second." We're all running in a million different directions, and it is really important to take care of ourselves so we're not spread so thin.
What is your go-to dinner recipe that you've been cooking up right now?
I just created a recipe with Mrs. T's Pierogies. It's a margarita pizza pierogi skewer that's so easy. Mrs. T's mini classic cheddar pierogies are so delicious, and my kids love them, so I'm always trying to find new ways to create a little bit of a different spin on it. This recipe is an air-fried pierogi with some mozzarella and Roma tomato and delicious homemade pesto, although you could buy store-bought pesto because there's some amazing opportunities to buy that too. Keep it really simple. I love quick and easy snacks because it does keep my kids entertained and it gives me a chance to step away. And when my kids are fed and my husband's fed, they're happy. That is number one.
Do your kids tend to help you in the kitchen? What do they normally do?
My kids help me in the kitchen, whether it be a giant mess or ... I really enjoy that. We are in the kitchen a lot. We also craft a lot, but the kitchen is the heart of our home and everything in our family. All of our traditions and our time spent usually is surrounding a meal or some sort of delicious snack, so they're budding little chefs.
Sweet Magnolias Season 3 is all about self-reflection
I'm going to switch gears here to your acting career. "Sweet Magnolias" Season 3 is set to come out this year. Are you able to share what fans can expect from this new season?
It's definitely going to not disappoint the "Sweet Magnolias" fans. There's a lot of love and romance, and you're going to get to see a deeper side of our friendship. For my character, you start to see a little bit more self-reflection. She's coming out of that dark cloud of divorce and seeing where she's landing. Towards the end, you start to see that there is a glimmer of what's to come for Maddie. It was a really rewarding season because I feel like it was pedal to the metal for the first two seasons with all the things that were coming at Maddie, and this year and this season, she got an opportunity to reflect and become a better friend and a different person and grow a little bit. It was a special season for me.
I would love to talk about her growth a little more because I know Maddie Townsend [is] a protagonist in the series, but in what ways do you feel like you are like her in real life?
We're both pretty tough. We have a big heart and we always mean well, but we both are survivors and we are not afraid of a challenge, and we both figure it out.
The show centers strongly around sisterhood as well, which I'm sure goes along with your survival idea. With Maddie's friendships with Dana Sue and Helen, what is one piece of advice you're hoping the audience gain[s] from these relationships?
There is something to be said for your family, your friends, and being there through thick and thin. This season, you're going to see a deeper side of their friendship. It's not always rainbows and butterflies, and sometimes there's some cloudy days. That's an important element and something that's really real, and I think it was about time that we honored that. You start to see how they struggle through life together, with each other, with other people, and it's a tribute to strong female friendships. ... This is a really relatable show. I'm so proud of it.
What makes The Ultimatum: Queer Love important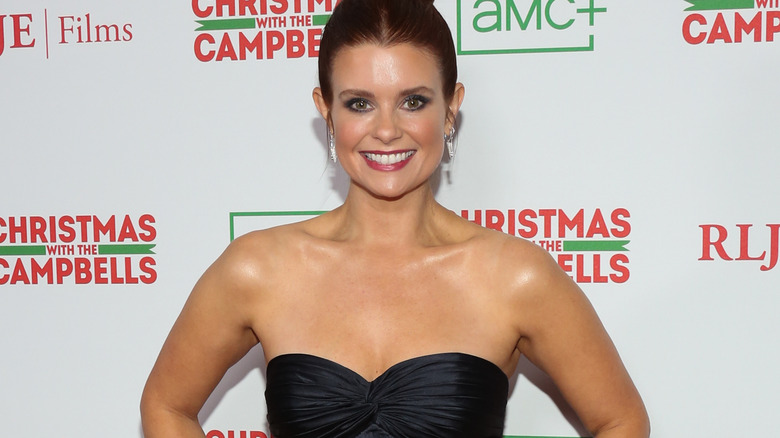 Paul Archuleta/Getty Images
You are also set to host "The Ultimatum: Queer Love," which is a spinoff of "[The] Ultimatum: Marry or Move On." How do you feel about the promotion of inclusivity and diversity in the new series?
It's so important. I can't wait for people to see this show. It's really important to celebrate, normalize, talk about, and show the inner workings of what queer relationships look like. The people that participated on this show are absolutely incredible. It's really heart-wrenching at times and so heartwarming at times and super meaningful, and I think it's really important. I'm so proud to be a part of it. 
I was so grateful to all the people that participated for allowing me to be a part of intimate and deeply personal moments in their life and in their relationships. There was so much growth and reflection, and I felt really special. It felt like a really special experience, and I'm so excited for people to be able to take it all in.
The release date and cast [haven't] been confirmed yet. Are you able to give any details as to how cast members are chosen or what the setup's going to be like?
It's a similar format, but this is a very unique story. It stands alone. These are different situations, different relationships, different people that are involved. I can assure you that they're all incredibly dynamic, interesting, vulnerable, and real humans that I can't wait for people to get to know.
The new series comes off the hype of "Love Is Blind," which just [aired] its 3rd season. Did you watch the show at all?
I haven't watched the 3rd season of "Love Is Blind." I was way [into] the "Ultimatum" world, but I love all of the shows. This company and these producers are so incredible. The one thing that is so special about them is that [they are] allowing for people to have the experience within the show and not manipulating anything and allowing us [to be] along for the ride on their journey of discovery. I think that's what makes them so compelling. I've never experienced anything like this, so I had no frame of reference, but this was as real as it could get.
Do you have any other upcoming projects besides what we just talked about?
No, I'm just so excited to be chatting today about the All-Star Moms campaign [from] Mrs. T's Pierogies. When they approached me and said that they wanted to celebrate supermoms, I thought, "I am in." I am all about celebrating moms everywhere. 
From February 28 to March 28, you can nominate yourself or a supermom in your life, and they have an opportunity to win a recharging room designed by me and $20,000 to be able to bring it to life. There's also all of these other fun prize packages that include cash and pierogies. There's so many opportunities to celebrate moms, and I feel so excited to be a part of this campaign.
You can search through the rest of Mrs. T's Pierogies' products on its website. Keep up with JoAnna Garcia Swisher's latest television projects on her Instagram page. "Sweet Magnolias" Season 3 is set to be released on Netflix in spring 2023.