Derick Dillard Has Valid Concerns About The Duggars' Childhood On Reality TV
The following article contains references to the abuse and sexual abuse of children.
Jill Duggar Dillard's memoir, "Counting the Cost," discusses her childhood being raised in the Institute in Basic Life Principles (IBLP) organization and her time on reality TV as a star of "19 Kids and Counting" and "Counting On." The book was written with Derick Dillard (Jill's husband) and Craig Borlase. Jill and Derick sat down with the Los Angeles Times to discuss the book, their experiences on the show, and the issues with having children on reality TV. A major concern is education, which is something Derick brought up.
"If a family sees an opportunity to make money," Derick said, "they can justify taking away their kids' time [in school] because, well, they don't need education, they can just have this money to support them." Although Jill was able to take higher education classes and got certified as a midwife, Derick said her siblings seem to only have a seventh-grade education level, because shooting "19 Kids and Counting" was always a priority.
Jill backed up her husband, saying that TV networks need to ensure the kids they work with "are being protected, and that they're getting the education they need, that [the TV show] is not taking priority and that their rights are not being violated." Jill admitted that she was forced to put certain moments from her life on television that she didn't want to.
Homeschool regulations are lax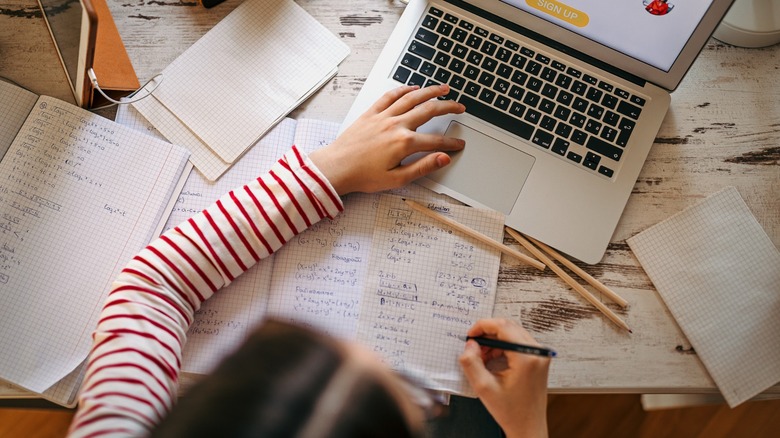 Mixetto/Getty
The Duggars' homeschool program is very concerning, for both educational and safety reasons. According to Child Welfare Monitor, the religious organization that the Duggars followed — IBLP — teaches that fathers are dominant over everyone else in the family. Cycles of abuse are perpetuated because IBLP encourages teaching obedience in children through physical punishment (something called "blanket training"). Child Welfare Monitor reported as well that the school books published by IBLP are not so educational and instead focus on religious teachings. Some lessons are rooted in misogyny, such as lessons in dressing modestly for girls. Although it's not directly related to homeschooling, there are also questionable IBLP teachings about what to do regarding sexual abuse in the home (via Recovering Grace).
Eve Ettinger, who was homeschooled and raised in a large Christian family like the Duggars, wrote an article for Salon on how homeschooling can turn abusive. They explain that laws regarding homeschooling have been deregulated over time. Due to laws in Virginia (where Ettinger was homeschooled), their parents could have prevented them from going to a doctor or learning anything educational beyond religious teachings, and that wouldn't have been illegal. Ettinger also said only two states prevent registered sex offenders or those who've been convicted of abusing children from homeschooling. Going to school out of the home can save children because teachers are mandated reporters and are required to report signs of child abuse. 
If you or someone you know is dealing with domestic abuse or has been a victim of sexual assault, contact the relevant resources below: 
•The National Domestic Violence Hotline at 1−800−799−7233 or their website.
•The Rape, Abuse & Incest National Network website or contact RAINN's National Helpline at 1-800-656-HOPE (4673).
Jill and Derick enrolled one of their sons in public school
The "Shiny Happy People" documentary series about IBLP and the Duggar family sparked conversations about fundamentalism and its effects on families and on American politics as a whole. The docuseries shared troubling Duggar parenting techniques, including the homeschooling that didn't provide the Duggar siblings with a quality education. Olivia Crist, one of the directors of the documentary, spoke with TV Insider and said the documentary, "isn't an anti-homeschooling piece by any means." She explained: There is a right way to homeschool, and there's a wrong way to homeschool. The wrong way, as we've seen from the show and a lot of other pieces that are popping up now, involves a lot of abuse."
In 2020, Jill Duggar Dillard and Derick Dillard broke form by enrolling their eldest son in public school for kindergarten. Based on Derick's comments in their LA Times interview, it makes sense that they would want to provide their kids with a different kind of education than what the Duggar children received, although he did tell YouTuber Without A Crystal Ball in 2020 that he and Jill were "open to both homeschooling and public schooling." Still, he was adamant about raising his kids differently than his in-laws raised theirs. Some have speculated that the Dillard children have switched to homeschooling based on some Instagram posts that Jill has shared, but there has been no confirmation of that.