The 5 Most Troubling Duggar Parenting Techniques Alleged In Shiny Happy People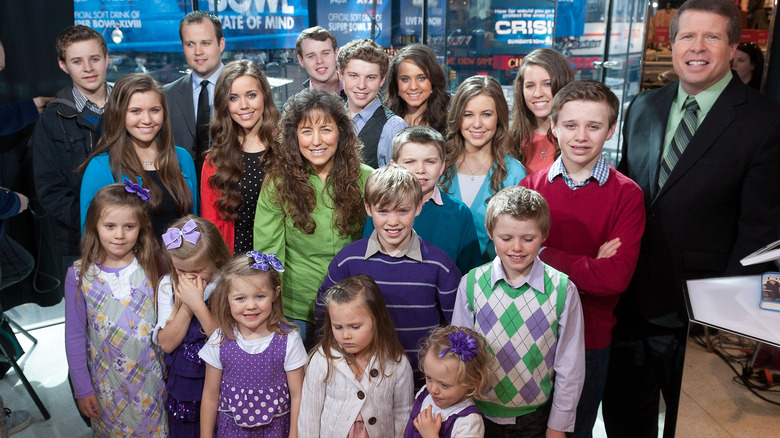 D Dipasupil/Getty Images
The following article contains references to the sexual abuse of children.
The Amazon Prime docuseries "Shiny Happy People: Duggar Family Secrets" is the "LuLaRich" of the Duggar family — a close look at the darker side of what appears to be a wholesome, all-American lifestyle. Millions of viewers watched the "19 Kids and Counting" clan grow up under the guidance of parents Jim Bob and Michelle Duggar. Their household was a neat and efficient one where the mom barely ever raised her voice, and the children spent their days playing music and studying the Bible instead of watching TV or texting their friends. 
But as "Shiny Happy People" revealed, the Duggars' parenting methods are anchored in the teachings of the Institute in Basic Life Principles (IBLP), a Christian sect whose ultimate aim is to bring ultra-conservative values to American government. Former IBLP members — including daughter Jill Duggar Dillard and her cousin Amy Duggar King — describe it as a cult. Families adhere to the rules set down by founder Bill Gothard, believing this will earn them a place in heaven and protect them from evil. As an ex-member wrote (via Recovering Grace), "Anything bad that happened (from a pet dying to getting stuck in traffic) was portrayed as an attack from Satan that you had done something to deserve." 
Though Jim Bob and Michelle may have intended to raise their large family in the best way possible, a number of their parenting choices are questionable at best and potentially harmful at worst. These are among the most troubling.
They demand perfect obedience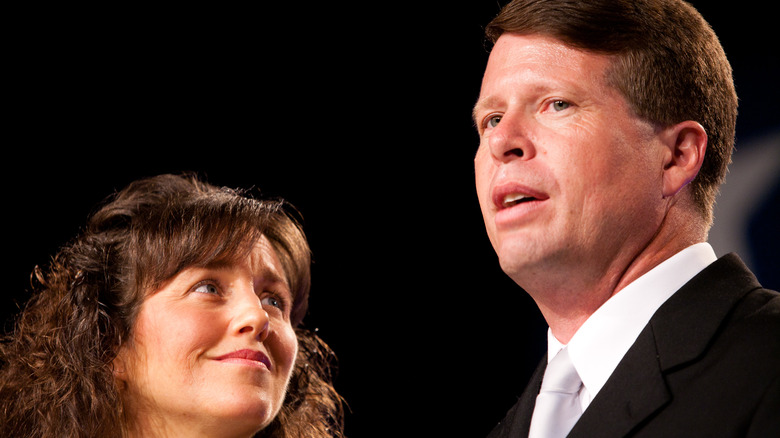 Brendan Hoffman/Getty Images
The IBLP dictates a hierarchy for families in which the father is the unquestioned authority. Children are expected not only to obey their parents, but to do so cheerfully. "Shiny Happy People" includes footage of Michelle Duggar explaining to an audience how she trains her children to sit silently in a chair with a "big old smile" to learn compliance. There's also a clip of youngest daughter Josie repeating a phrase about "instant obedience of initial prompting of God's parents" in relation to toilet training, as Michelle praises her for "self-control."  
To a parent, it may seem blissful to have a child who doesn't put up a fight about cleaning their room or finishing homework. For IBLP families like the Duggars, however, there's a serious element of fear involved — children are taught that disobeying brings on God's wrath. Jinger Duggar Vuolo has spoken out about her upbringing, saying she lived in terror of being punished for any little infraction. Even accidentally overhearing a piece of forbidden music could send her into a panic.
Worse still, blind obedience can have dire consequences. Psychologist Laura Markham, Ph.D., tells Psychology Today that children raised never to question authority are susceptible to bullying, abduction, and sexual abuse. "[B]ullies and molesters select targets who they think won't stand up for themselves," she explains. Tragically, this may have been the case for the four Duggar sisters who were sexually abused by their oldest brother, Josh, as children. 
Amy Duggar alleged corporal punishment
Although Jim Bob and Michelle Duggar have never said so directly, their niece Amy Duggar King claimed in "Shiny Happy People" that they use corporal punishment to ensure the obedience they value so highly. What's more, they start the process early — very early. The Duggars reportedly used a controversial "blanket training" technique when their children were barely old enough to crawl. The method, promoted by the IBLP, involves setting the baby on a blanket, placing a toy just out of reach, then smacking their hand every time the baby reaches for the toy. Eventually, the baby is conditioned not to move away from their assigned spot. As their children grew, the Duggars reportedly punished disobedience by hitting the offender with a rod or other object. It was never called "spanking," however — King claimed they used a much milder term. "[I]t was in the sweetest tone ever, like, 'Do you need encouragement? I think you need encouragement,'" she said, per Decider.
The greater medical community sees physical punishment as anything but "encouraging." According to the Canadian Medical Association Journal, studies have linked child spankings and other forms of hitting to a host of troubles later on, including depression, alcohol and drug use, anxiety, and increased aggression. And though the Duggars might argue that their "encouragement" promotes Godly behavior, not everyone would agree. Avoiding pain is different from making a choice based on morality.
Their education methods are questionable
Though Jim Bob and Michelle Duggar both attended public school, they opt to teach their children at home — the younger children use workbooks, and after third grade, they switch to online learning. Homeschooling itself can be a good option, particularly for children with different needs, and it offers flexibility and individualization lacking in conventional schools. However, critics of homeschooling point to the lack of regulation and accountability in the field. Harvard Professor Emeritus Elizabeth Bartholet points out, "[I]f you look at the legal regime governing homeschooling, there are very few requirements that parents do anything."  
The quality of homeschooling also varies according to the curriculum involved. The Duggars reportedly used the IBLP's Advanced Training Institute homeschooling program, which uses Biblical passages to teach core subjects. One "Wisdom Booklet" instruction packet uses the topic of mourning to cover everything from linguistics to law to medicine ("How does mourning affect the appetite?"). "Shiny Happy People" also points out girls are taught that dressing immodestly will lead boys to lust. 
Michelle has said her older children used a now-defunct computer course called Switched-On Schoolhouse. In either case, it appears the senior Duggars do little actual teaching themselves — the kids study independently, and Jessa has said she was responsible for monitoring her siblings' grades. Higher education isn't valued in the family. Though the older children have GEDs, only a handful have taken online college courses, and none have a bachelor's degree. Have the Duggars truly prepared their kids for the outside world?
They offer their children limited life choices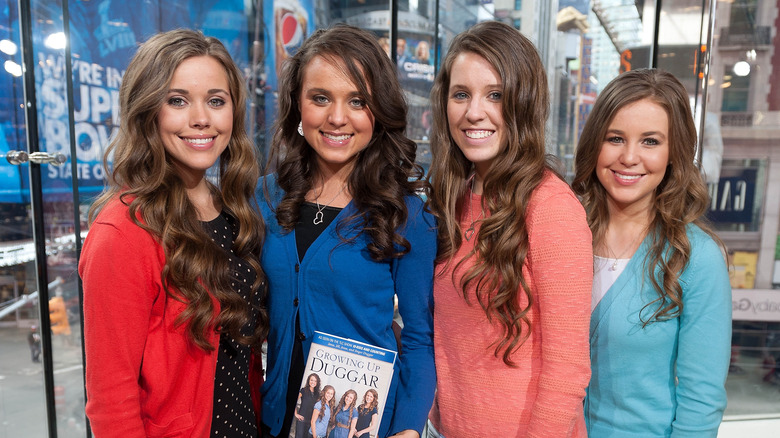 D Dipasupil/Getty Images
Schools, books, and TV shows often give children inspiring affirmations about their future: "Dream big! The world is yours! You can be whatever you want to be!" But the 19 Duggar siblings didn't hear those messages growing up. Jim Bob has said he would support his children in whatever path God has for them, but it would seem his ideal of happiness is living a life much like their own. The children's lack of higher education limits their choices right off. Most of the adult sons either work in construction or have real estate licenses (Jim Bob is a real estate broker); John-David is also a private pilot.
The daughters have even fewer options. Like all IBLP parents, Jim Bob and Michelle believe a woman's highest calling is to be a wife and mother, and they helped introduce many of their children to their future spouses. Of the five adult Duggar girls, four married young, and between them, Jill Duggar Dillard, Jinger Duggar Vuolo, Jessa Duggar Seewald, and Joy-Anna Duggar Forsyth have 12 children. Jill trained as a midwife but isn't currently certified to practice. Oldest daughter Jana, single at 33, still reportedly lives in a small building on her parents' property and shows no sign of changing her living status. There are no indications the senior Duggars are encouraging her to be independent, and indeed, the IBLP dictates daughters are under their father's jurisdiction until they marry. What could the Duggar women have done if they'd had the choice to pursue interests outside the home?
They put fame above their daughters' well-being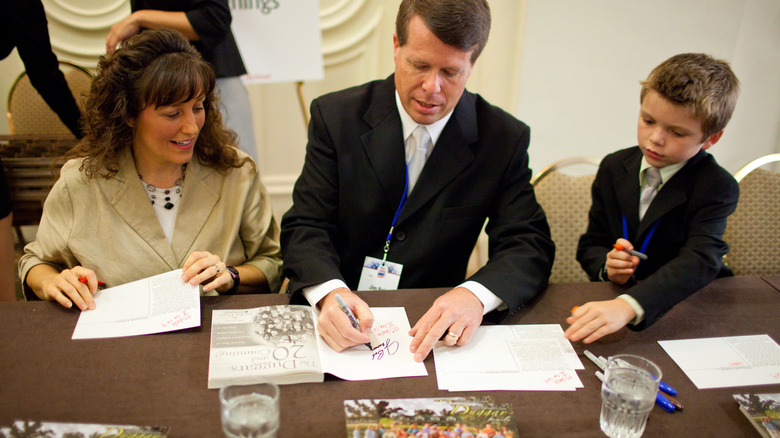 Brendan Hoffman/Getty Images
Despite their "family-first" messaging, Jim Bob and Michelle Duggar's need to promote their faith on TV has taken priority over the well-being of their children. "Shiny Happy People" reveals that when oldest son Josh Duggar confessed to molesting four of his sisters as a teen, his parents kept the news secret from the TLC network — and even withheld the information from the parents of a girl Josh had been courting. When the scandal made news, the senior Duggars, along with daughters Jessa and Jill, gave an interview to Megyn Kelly downplaying the situation. But in the docuseries, Jill Duggar Dillard exposes the truth: The Megyn Kelly interview was "damage control" orchestrated by Jim Bob in an effort to keep the show going. She felt she had no choice but to obey her father, even though it meant going public as an abuse victim. 
Both Jill and sister Jinger Duggar Vuolo continue to process the pain and trauma of years of restrictive living, constant camera scrutiny, and the harm done by their brother. Yet Jim Bob and Michelle have never publicly expressed regret for their actions or shown sympathy specifically to their daughters. Their reaction has been neutral: Most recently, they wrote, "We love every member of our family and will continue to do all we can to have a good relationship with each one." 
If you or anyone you know has been a victim of sexual assault, help is available. Visit the Rape, Abuse & Incest National Network website or contact RAINN's National Helpline at 1-800-656-HOPE (4673).