All The Details Of Britney Spears & Colin Farrell's Y2K Fling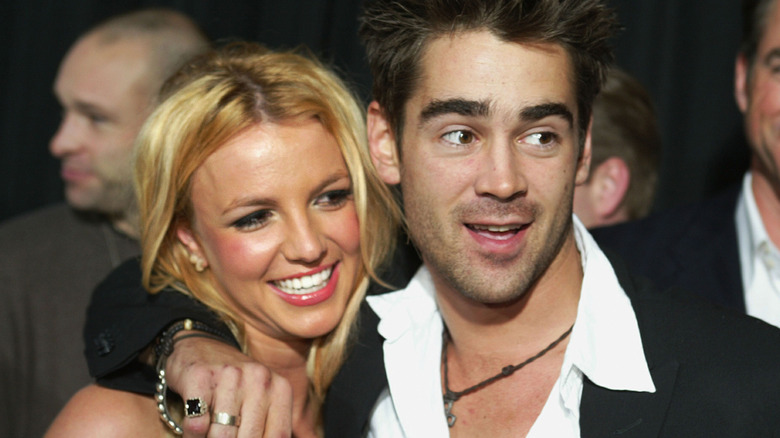 Kevin Winter/Getty Images
There have been plenty of celebrity flings that we seem to have forgotten about, Colin Farrell and Britney Spears being one of them. Though the couple only reportedly had a short two-week affair, they still made an impact because of how good they looked together and how strange their union seemed on paper. To add more fuel to their fire, Farrell was the first man Spears was spotted with following her messy breakup with Justin Timberlake, who accused her of cheating and publicly slut-shamed her several times. 
Spears and Farrell first sparked dating rumors after being spotted kissing at a nightclub in January 2003. After that, they appeared smitten at the premiere of Farrell's film, "The Recruit." When reporters at the event asked him if he was dating Spears, he replied, "We're not dating. She's a sweet, sweet girl. There's nothing going on — just mates" (via Entertainment Weekly). However, after the premiere, the two reportedly indulged in some serious PDA as they openly made out at a private afterparty at The Chateau Marmont. 
Later, W Magazine asked Spears about her relationship with Farrell, and she had a similar story to tell. "Yes, I kissed him... He's the cutest, hottest thing in the world — wooh! But it was nothing serious,"  she gushed, per People. For a while, that was all we knew about their short-lived romance. That is until 2023 when Spears released her tell-all memoir, "The Woman In Me," which included several surprising confessions, answered several burning questions, and set the record straight about their Y2K fling. 
They only went on one date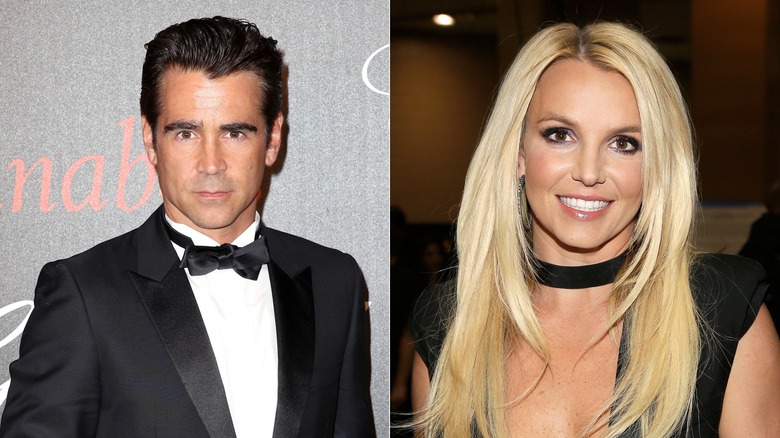 Isaac Brekken & Chris Jackson/Getty
In Britney Spears' tell-all memoir, "The Woman In Me," she recalled her short but impactful fling with Colin Farrell. The "Toxic" singer explained that she decided to move on after learning that her ex, Justin Timberlake slept with multiple women shortly after they called it quits. She chose to pursue Farrell after she saw him one time and decided he was a good-looking man. Without giving it too much thought, Spears pulled up to the set of Farrell's movie "SWAT" after a friend told her the location. 
Spears admitted she was nervous, but the cast and crew made her feel welcome. When Farrell spotted the "Gimme More" singer sitting on the director's chair, he asked her for ways in which he could improve his performance. Eventually, the relationship got physical, and Spears wrote, "We wound up having a two-week brawl. Brawl is the only word for it — we were all over each other, grappling so passionately it was like we were in a street fight."
Then, Farrell asked her to come to the "The Recruit" premiere where she met his family, who were very welcoming. However, Spears was wary about falling in love with Farrell because she still hadn't processed her breakup with Timberlake. She explained, "As I had before when I'd felt too attached to a man, I tried to convince myself in every way that it was not a big deal, that we were just having fun, that in this case, I was vulnerable because I wasn't over Justin yet."
Colin Farrell sent Britney Spears a gag gift which she didn't like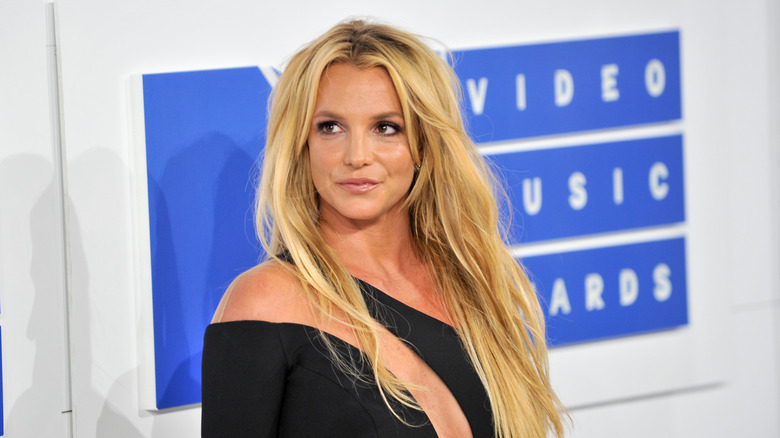 Allen Berezovsky/Getty Images
It seemed like Britney Spears' romance with Colin Farrell quickly fizzled out because they were never spotted together again following their first date. However, things weren't quite over until November 2003, when Farrell reportedly thought it would be hilarious to send Spears a shirt that read "I slept with Colin Farrell and all I got was this lousy T-shirt" and a car sticker that said, "Honk if you've slept with Colin Farrell." 
The "Circus" singer naturally wasn't a fan of these little gifts, but an insider told People that Farrell didn't mean any harm with his gesture, explaining, "He thought it would be a great gag to send her the gifts." They added that Farrell "was being a gentleman" and that the t-shirt wasn't the only gift he'd sent — he also included a bottle of perfume.  "I think Britney thought Colin was being a gentleman and had sent her some perfume, per Paper Magazine. 
In 2004 Spears followed up this short-lived fling with a 55-hour Las Vegas marriage to her childhood friend Jason Alexander. In "The Woman In Me," Spears wrote that the marriage didn't stem from mutual love, but a whole lot of alcohol. She explained, "They made way too big a deal out of innocent fun," adding, "I thought a goof-around Vegas wedding was something people might do as a joke. Then my family came and acted like I'd started World War III. I cried the whole rest of the time I was in Las Vegas."