Who Is High-Profile Tennis Girlfriend Morgan Riddle?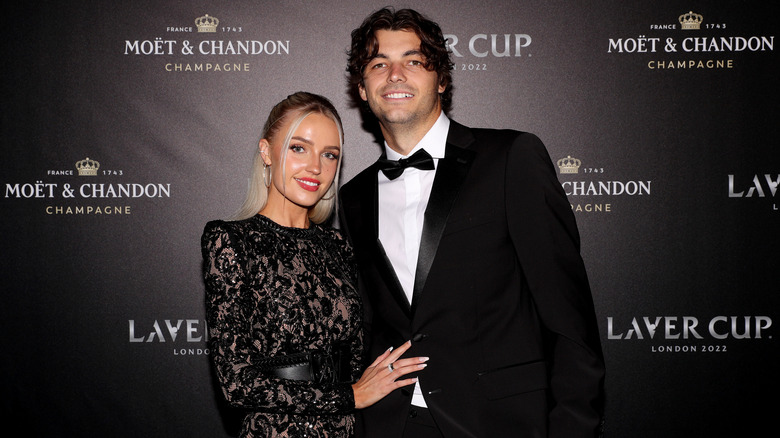 Cameron Smith/Getty Images
Do you ever wonder what it's really like to be an Instagram influencer? If so, you might learn a thing or two from Taylor Fritz's girlfriend, Morgan Riddle. The blonde beauty has around 200,000 followers on Instagram and over 400,000 on TikTok, and her name seems to be on everyone's lips. She's a rising social media star, a style icon, and Fritz's biggest fan.
The American tennis player met Riddle on the dating app Raya in 2020. They went on a date a few weeks later, and their relationship grew stronger over time. Riddle wasn't into tennis before she started dating Fritz but soon became an advocate for the sport. According to one of her TikTok videos, she's "on a personal mission to make tennis cool again." 
The New York Times called Riddle "the most famous woman in men's tennis." Although she rarely plays the sport, she's a constant presence at her boyfriend's matches. "I was a theater and speech and debate kid when I was in high school, so I am not athletic in any way, and my coordination is pretty awful," she told The Cut. The blonde bombshell may not excel at sports, but she definitely has an eye for fashion. 
Morgan Riddle is a social media content creator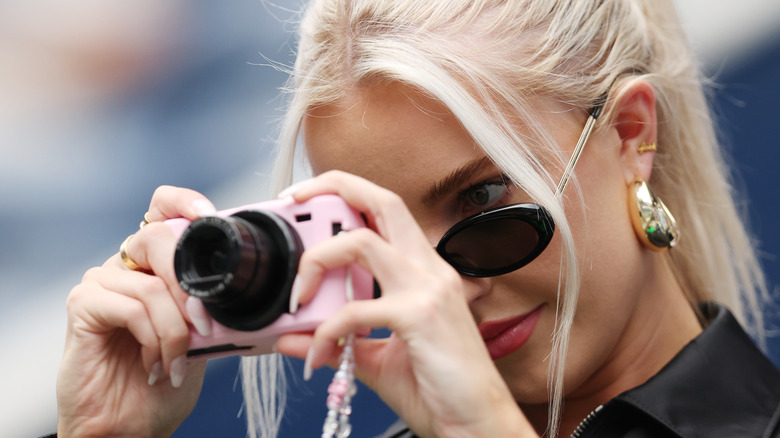 Clive Brunskill/Getty Images
Born in Los Angeles, California, Morgan Riddle rose to fame after she started dating tennis champion Taylor Fritz. When the two met, she was a media director at Love Your Melon, an apparel brand headquartered in Minneapolis. In June 2020, she quit her job and joined the news outlet HollyWire as an on-air host. Over the next two years, she worked for two other companies in L.A. 
In 2022, Riddle decided to start her own business as a full-stack media creator. "I'm really happy with what I'm doing, and I'm making good money," she told The New York Times. Her social media content revolves around fashion, tennis, and travel, and she does most of the work herself. 
Riddle is also passionate about video editing, which drove her decision to start a YouTube channel. "I always bring my Canon G7X to vlog for YouTube," she said in an interview with The Cut. The platform allows her to create longer-form content, such as vlogs, and connect with her fans on a more personal level.
But despite her efforts, she still gets a lot of criticism. "It feels like as soon as you have a big burst of success — like this big moment for me today — that's when the trolls come in. They don't want you to be happy or succeed," Riddle confessed to Town and Country Magazine. However, she accepts the criticism as part of the job and prefers to focus on the positive.
Morgan Riddle's life revolves around fashion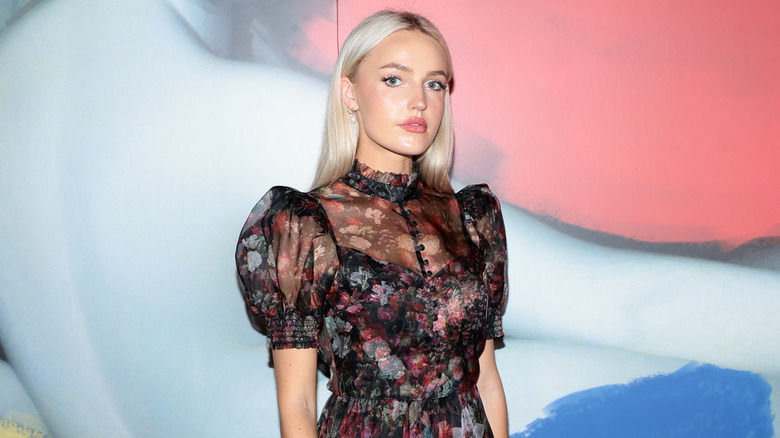 Dimitrios Kambouris/Getty Images
Blond beauty Morgan Riddle gets a lot of praise for her fashion choices. One of her Instagram fans went as far as saying she was the best-dressed attendee at the 2023 US Open. Riddle wore a Wednesday Addams–inspired dress and black block heels, along with a black leather purse. Another fan pointed out, "Your look is perfection!"
The Fédération de la Haute Couture et de la Mode described her style as "tennis chic." In an interview for the organization's website, Riddle said she's fascinated by the fashion world, especially the collaborations between designers. "I would love to see the behind-the-scenes, from ideation to execution, of one of these," she added. The social media star also seems to embrace timeless fashion trends that will still be around 20 years from now, such as blouse-and-skirt combos, babydoll dresses, and classic trench coats. As she told The Cut, she prefers style over comfort.
Over the years, Riddle has graced the covers of C Magazine and T — the New York Times' style supplement and starred in Netflix's "Break Point," a docuseries dedicated to pro tennis players. Not only did these events cement her career, but they also strengthened her bond with Taylor Fritz. "We're just having this collective goal of him having the best career possible and bringing tennis to a younger audience," she confessed during a "Break Point" reunion (via ATP Tour).