Sophia Culpo Enlisted An NFL Insider To Expose Her Ex Braxton Berrios For Cheating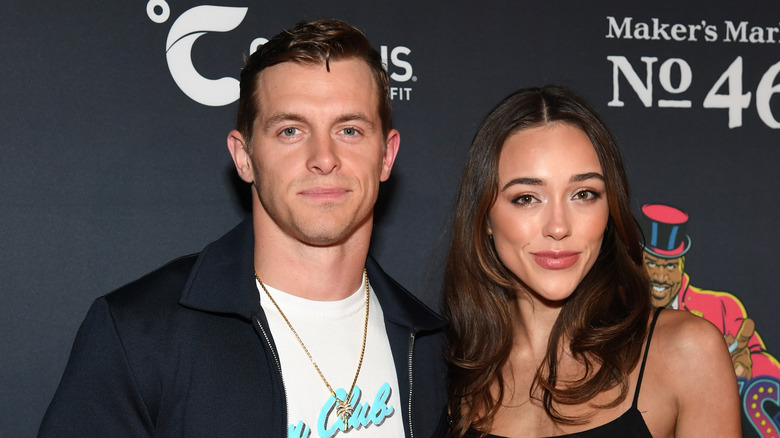 Sarah Morris/Getty Images
Throughout model Sophia Culpo and NFL player Braxton Berrios' two-year relationship, they consistently shared their love through adorable Instagram pictures. When Berrios had to move to New Jersey after signing with the New York Jets, Culpo made the move with him. However, in March 2023, she confirmed their breakup and moved out that April. 
Then, fans began to notice that the model was losing weight at an alarming rate, and Culpo wrote an Instagram story explaining that her weight loss was "unintentional" and caused by her breakup with Berrios gravely affecting her mental health (via E! News). Later, Culpo shared another Instagram story about the split, writing, "I haven't addressed this because it's been really hard to come to terms with and process. I'll say that it didn't end well or honestly. A lot of trust was broken," per Fox News.
Olivia Culpo was there for her sister with some valuable advice: "I just told her that this will all pass and someday you'll look back on this and be so proud of the strength that you had to get through the hardest moments" (via E! News). After rumors of Berrios' new romance with TikTok star Alix Earle began flying in June 2023, Culpo shaded him through a TikTok, writing, "Give it a few but call me when the love bombing ends" (via People). With this, she seemingly confirmed that Berrios cheated on her with Earle, but she still needed a little more proof to truly believe it. 
Sophia Culpo used an NFL spy to learn the truth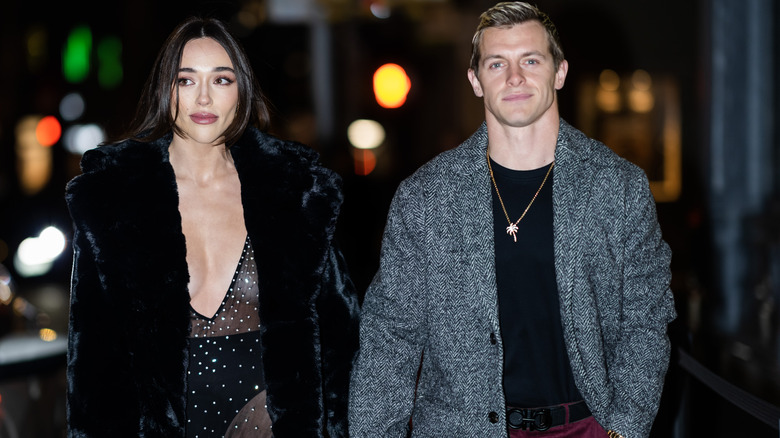 Gotham/Getty Images
When Sophia Culpo appeared on her sister Aurora Culpo's "Barely Filtered" podcast, she explained how a mysterious NFL spy helped her discover the cheating: "Someone we know was doing some digging for me around the team and ... I got confirmation that this wasn't the first girl" (via Mirror). She reportedly first found out Braxton Berrios was cheating through a frantic early morning phone call from her sister Olivia Culpo. She added that she called Berrios and gave him a chance to come clean, but he flat-out denied it.
Later, the two had a lengthy conversation to discuss what happened, and per Culpo, Berrios warned her against going public with her story. In an Instagram story, Berrios denied Culpo's allegations, explaining, "I was in a relationship for two years. It was a good and healthy relationship. Towards the end, we were having conversations along the lines of we were just not working out. So we split in January." 
He continued on E! News, "It didn't have anything to do with anybody else. It's been very weird and sad to see what's going on since then." But Culpo wasn't having it, she posted an Instagram story, writing, "The real timeline. We broke up after Drake's Super Bowl concert where he was seen making out with another girl," (via TMZ). She added screenshots of texts between them from the end of January 2023, where Berrios told Culpo he wanted to continue their relationship.
Sophia Culpo later contacted Alix Earle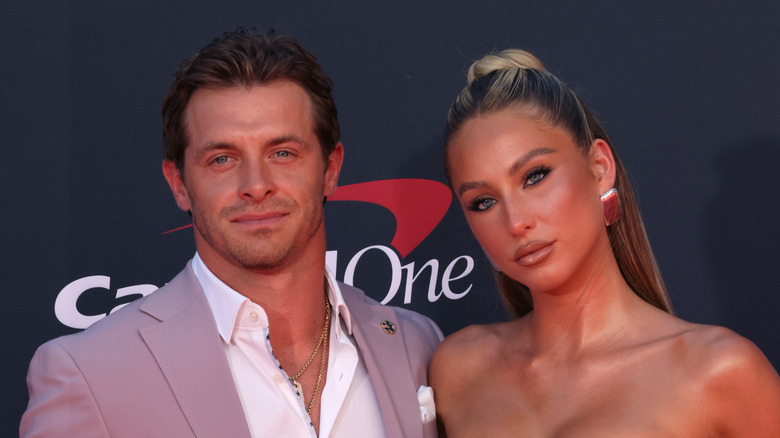 David Livingston/Getty Images
After Alix Earle was accused of destroying Braxton Berrios and Sophia Culpo's relationship, the internet didn't go easy on her. In a September 2023 episode of her "Call Her Daddy podcast," Earle shared her reaction to the hate: "I was bawling my eyes out to my friends and they were like, 'Hello, Alix, this stuff normally does not get to you." She added, "This is the worst thing you could do to another human, so why the f**k would I do that?" (via Us Weekly). 
Earle also maintained that Berrios' relationship with Culpo was over before she and Berrios got together. Per E! News, Earle said she obsessively checked things to determine if Culpo's account was true because she couldn't trust a man who did that to a former girlfriend. Then, Culpo contacted her to clear the air. On the "Barely Filtered" podcast, the model shared that she told Earle she never wanted people to pit them against each other for the love of a man (via E! News). 
Culpo also told Earle that she had no ill will towards her, and all her problems lay with Berrios. Earle agreed, and they both decided to let the past be past. The women stayed true to their word and moved on. Earle and Berrios still seem to be thriving as of October 2023. Meanwhile, Culpo has gone TikTok official with a mystery man by sharing a recap of their summer together.