Robert De Niro Has A Long History Of Speaking Out Against Donald Trump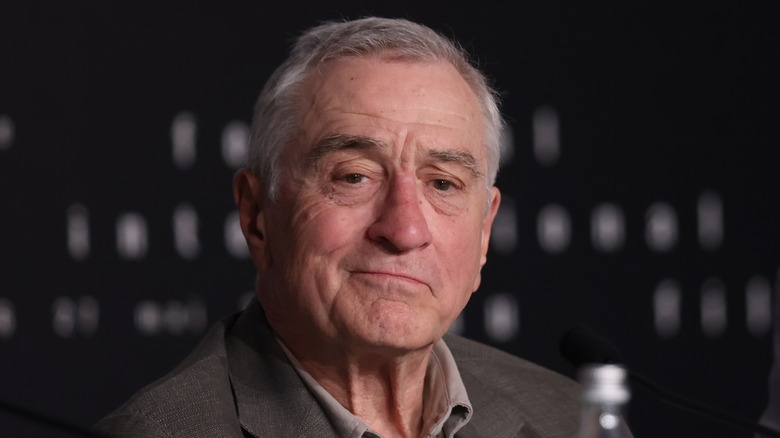 Pool/Getty Images
Robert De Niro is widely considered one of the greatest actors of all time. Making Oscar history several times over, De Niro has starred in cult classics such as "The Godfather," "Taxi Driver," and "Jackie Brown." While he is world-renowned for his acting chops, De Niro remains relatively quiet when it comes to his personal life and opinions. But there's one thing he's not shy about: his hatred for former U.S. president, Donald Trump.
Even though Trump isn't in the White House anymore, the former businessman-turned-politician remains a controversial figure. He has faced countless legal troubles after being indicted on federal charges in connection to attempts to overturn the 2020 presidential election. Despite these charges, Trump has declared he wants to return to the Oval Office with a 2024 presidential election campaign.
De Niro isn't a fan of Trump, and he's made that clear. At the 2018 Tony Awards, before introducing a performance by Bruce Springsteen, he made a special announcement for the then-president. "I'm gonna say one thing. F*** Trump," the actor told the live audience (per The Guardian). "It's no longer down with Trump. It's f*** Trump." This came after De Niro had already gotten in trouble in 2017 for threatening violence against Trump.
Robert De Niro wanted to punch Donald Trump in the face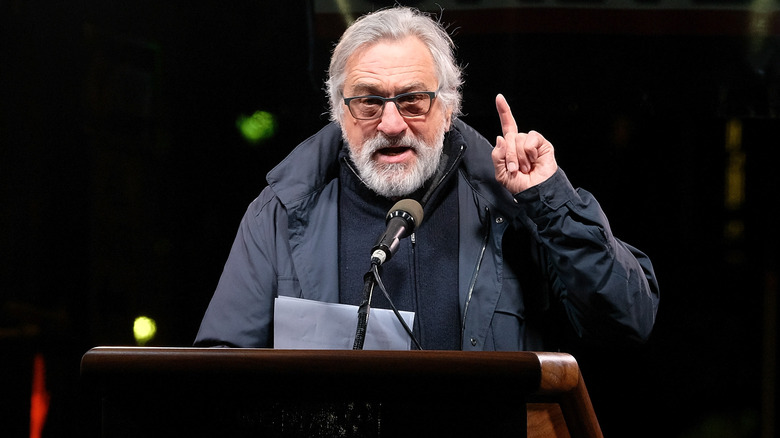 D Dipasupil/Getty Images
Robert De Niro didn't hold back when it came to criticizing the former U.S. president. In 2016, he filmed a video for "#VoteYourFuture," a campaign aimed at securing voters on both ends of the political spectrum. In clips that didn't make the final video, the "Goodfellas" actor got candid about his feelings toward Trump.
"He's so blatantly stupid. He's a punk ... A mutt who doesn't know what he's talking about," De Niro said in the inflammatory video (per The Washington Post). He continued: "I'd like to punch him in the face." After Trump won the presidency, the actor somberly retracted his statement. On "The Tonight Show with Jimmy Kimmel," De Niro acknowledged that assaulting a president would be a federal crime. However, he jested that maybe Barack Obama would throw the punch for him (via New York Daily News).
Moving forward, De Niro remained outspoken against Trump throughout his term, albeit refraining from any violence. But the president shot back at De Niro on social media in response to his tirade at the 2018 Tony Awards. "Robert De Niro, a very Low IQ individual, has received too many shots to the head by real boxers in movies," Trump tweeted on X, the platform formerly known as Twitter. "I watched him last night and truly believe he may be 'punch-drunk'." Trump was referring to De Niro's iconic roles in boxing films such as "Raging Bull" and "Hands of Stone."
De Niro was a critic of Trump before the latter became president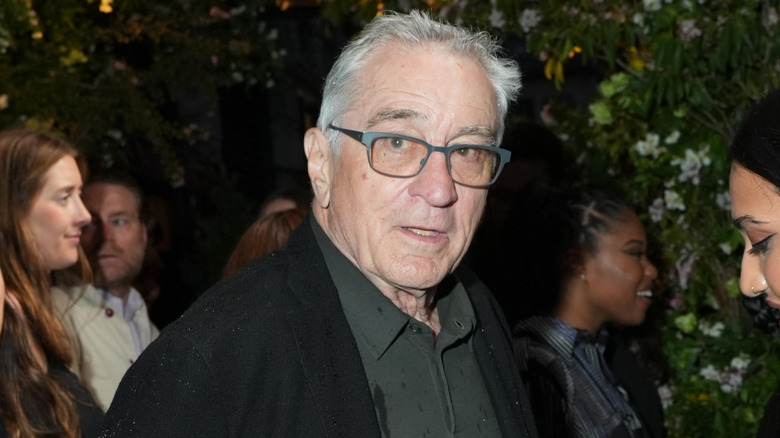 Sean Zanni/Getty Images
Robert De Niro's disapproval of Donald Trump initially came to light early in the 2016 presidential campaign. He expressed concern about what a Trump presidency might mean for the country at a screening of his film "Taxi Driver." "I don't know, it's crazy that people like Donald Trump ... he shouldn't even be where he is, so God help us," De Niro said to the audience at the Sarajevo Film Festival (via Reuters). "What he's been saying is really totally crazy, ridiculous ... he is totally nuts."
At the time, Trump was making large claims while gunning for the presidential seat. Just a couple of his campaign pledges included building a wall between the US-Mexico border and repealing Obamacare (via ABC News). When Trump won the 2016 election, De Niro continued to criticize the then-president's policies. Trump failed to be re-elected for a second term but returned with a vengeance in 2023, his eyes set on the White House once again.
De Niro called out fellow stars in positions of power for not speaking out against Trump's divisive platform over the years. "I see the phenomenon of Trump, the phenomenon of people not standing up to him, people who ought to know better," De Niro told The Guardian. "... It's like when an abusive parent rules a household, only it's not just one household, it's the whole country."
If you or someone you know may be the victim of child abuse, please contact the Childhelp National Child Abuse Hotline at 1-800-4-A-Child (1-800-422-4453) or contact their live chat services.