Lawyer Tells Us Why Trump Hasn't Been Jailed Over Gag Order Violations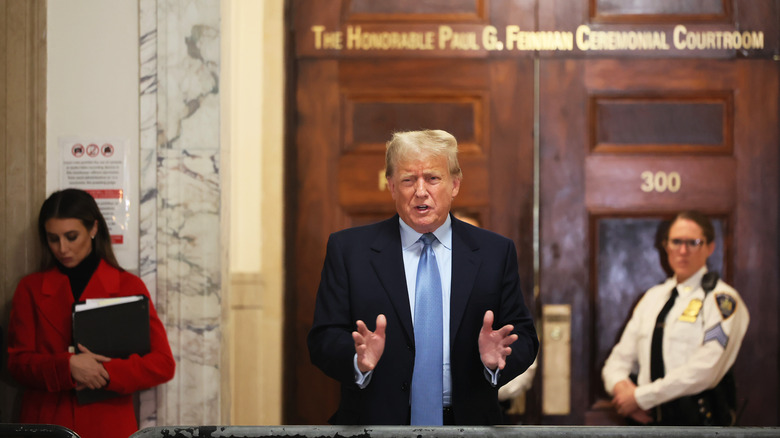 Michael M. Santiago/Getty Images
If you're having trouble keeping track of Donald Trump's legal entanglements, it's understandable: Every day seems to bring a new indictment, court date, or news about witnesses. But for the record, as of this writing, the former president is the defendant in four criminal cases, each in a different state, facing a stunning total of 91 felony charges. Most recently, Trump has appeared in New York civil court to address charges that include defrauding banks by inflating the value of his assets when applying for loans. 
Outspoken as ever, Trump has had quite a bit to say about the trial — none of it complimentary. His Truth Social feed is filled with cries of "SCAM" and "persecution," plus plenty of insults against New York Attorney General Letitia James and other major players. About the only person who hasn't been targeted for his wrath is his own daughter: The presiding judge ordered Ivanka Trump to testify against her father on the grounds that she "availed herself of doing business in New York" at the time of Trump's business deals, per CNN. But Trump's "truths" got him into trouble when Judge Arthur Engoron fined him a total of $15,000 for twice violating a gag order that prevented the ex-POTUS from publicly talking about the legal staff. 
The penalty was relatively light, considering that gag order violations can be punishable by jail time. So why didn't Engoron put Trump behind bars? The List spoke to a legal expert for answers. In essence, Trump has gotten off lightly so far due to his previous stint in the White House.
The judge went easy on the former president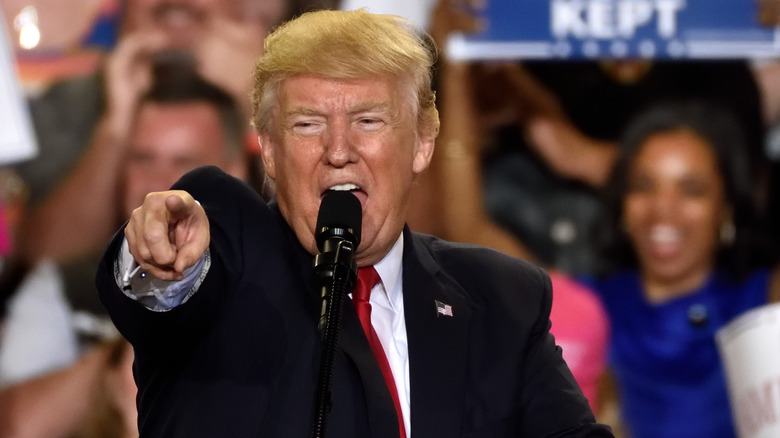 Evan El-Amin/Shutterstock
Trash-talking is never a good idea to begin with, and when that trash is being flung in defiance of a judge, that can be disastrous. Flouting the gag order about his New York fraud trial, Donald Trump first referred to law clerk Allison Greenfield as "[New York Senator Chuck] Schumer's girlfriend," and later made a statement about a "partisan" person "sitting next to" Judge Arthur Engoron, which was widely interpreted to refer again to Greenfield. Unamused, Engoron slapped the hefty fine on the former POTUS in an attempt to stop his insults.
The judge could have imposed a jail sentence, but opted not to. To get some insight on the decision, The List spoke exclusively to former federal prosecutor Neama Rahmani, president of West Coast Trial Lawyers in Los Angeles. "Trump is being given a lot more leeway than other civil or criminal defendants," he explained. "Someone else would have probably been held in contempt by now. But judges are ordinary people, and are understandably hesitant to take the unprecedented step of jailing a former president. The problem is, the judges who have overseen Trump's trials have been all [bark]* and little bite, so Trump will continue to push the limits until the orders are enforced in a meaningful way." 
A posted image of a check on X, formerly known as Twitter, indicates the fine was promptly paid.
'Will Donald Trump stay 'gagged' for long?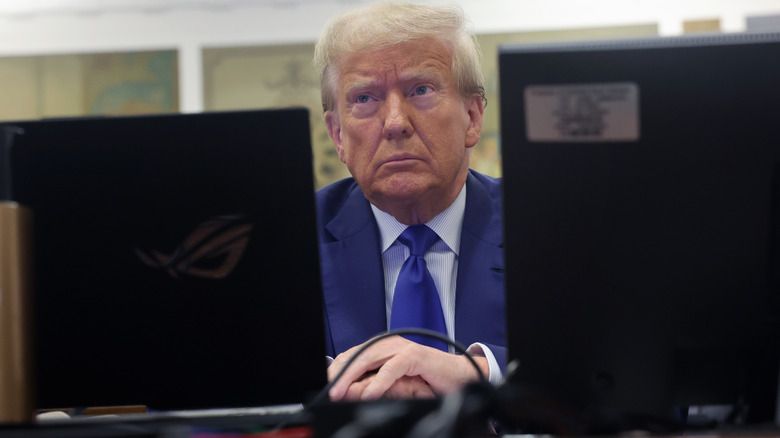 Spencer Platt/Getty Images
Will the financial slap on the wrist prompt Donald Trump to keep his thoughts to himself? Maybe not. Trump's aggressive body language at the fraud trial suggests he's not apologetic. He has consistently portrayed himself as the tragic victim of liberal lawmakers who want to thwart his bid for re-election in 2024. If Trump continues his snarky posts about law clerk Allison Greenfield — or any other person affiliated with the case — presiding judge Arthur Engoron could order the former president to cool down in the cooler. 
Given what attorney Neama Rahmani told The List, however, it seems more likely that Trump would just be given a bigger fine for any further gag order violations. Jailing a president for angry tweets might seem like overkill; the judge might feel a prison sentence would be more appropriate if Trump is found guilty of any of the felony charges being decided in his four court cases. In addition, the American Civil Liberties Union is filing an amicus brief to stop the gag order, arguing it's so broad in scope that it violates Trump's First Amendment right to free speech.
But if Trump opts to cooperate and keep his opinions of the New York legal team to himself, there's someone in his corner who might gladly pick up the slack. His oldest son, Donald Trump Jr., is equally active on social media — and equally unafraid of being controversial.