All The Times Justin Timberlake Has Been Accused Of Cheating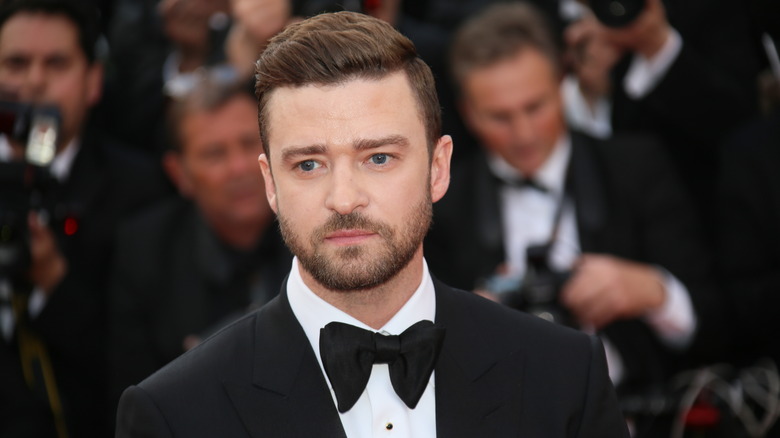 Denis Makarenko/Shutterstock
Justin Timberlake has been a major figure in the music scene for decades. The Grammy Award-winning singer has sold millions of albums as part of the boyband NSYNC and as a solo act. However, his romantic life has been just as notable as his professional achievements. In the early 2000s, he and fellow pop singer Britney Spears were the topic of tabloids, earning both praise and gossip throughout their three-year relationship. When they broke up in 2002, allegations of cheating swirled. However, infidelity rumors have followed Timberlake throughout his relationship history, even after he and Spears parted ways.
Spears made stunning revelations about Timberlake in her tell-all memoir, "The Woman In Me," which was published in October 2023. She confirmed that she knew the "End Of Time" musician sleeping around with other women during their highly publicized time together. Spears also confessed that she briefly stepped out on Timberlake, admitting to kissing choreographer Wade Robson, though she insists the incident went no further.  Though Timberlake is rumored to be upset about Spears spilling the tea about their time together, it has been speculated that he put his other exes and even his current wife, Jessica Biel, through similar experiences over the years.
Justin Timberlake denied rumors that he was cheating while dating Cameron Diaz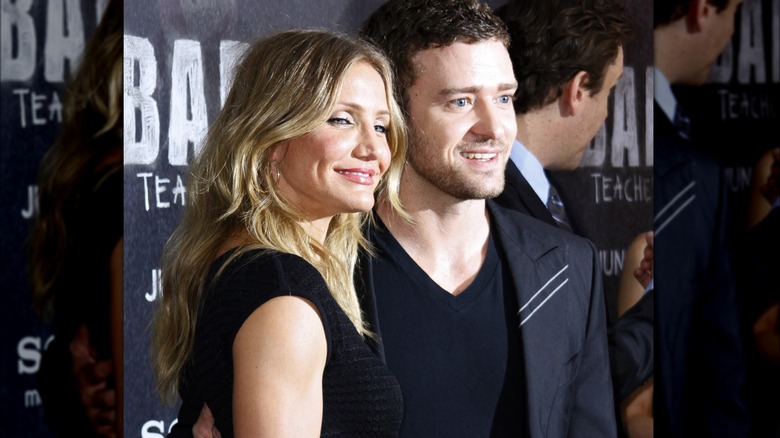 Donna Ward/Getty Images
Cameron Diaz and Justin Timberlake's past relationship may have come as a surprise to some. However, the pair enjoyed nearly four years together. With both stars being at the height of their careers, it's no surprise that gossip followed them throughout their time as a couple. In 2004, the now-defunct tabloid News of the World claimed that Timberlake had cheated on Diaz with model Lucy Clarkson.
Timberlake slammed the allegations and tried several times to have the outlet remove the story. However, when they refused, he took legal action against News of the World. In 2005, they finally admitted that the story was fabricated and was forced to remove it. Furthermore, their messy reporting cost them a payout to Timberlake, though the exact amount was confidential. Ironically, Diaz was forced to file a similar lawsuit in 2006 against American Media Incorporated, the parent company of the National Enquirer, over claims that she was having an affair with a married man, which she also denied. That case was settled in 2007 with unspecified compensation being paid to Diaz.
Timberlake was accused of cheating on his wife Jessica Biel with Alisha Wainwright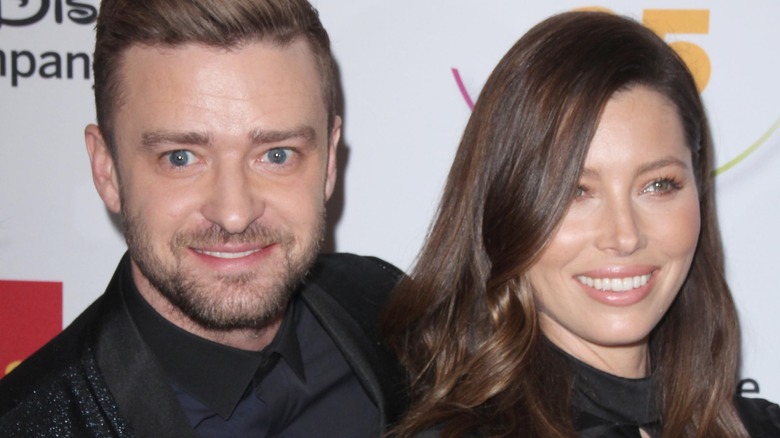 Kathy Hutchins/Shutterstock
When Justin Timberlake began dating Jessica Biel in 2007, he'd had his eye on her for a while. He began pursuing Biel around the time of the January 2007 Golden Globes. During that time, he was nearing the end of his romance with Cameron Diaz, but they hadn't officially ended things. After the ceremony, Diaz spotted Timberlake speaking with Biel at an after-party, and an argument ensued. It's unknown if the bickering had something to do with Biel. However, witnesses claimed the two had a war of words, with Biel walking away to give them their privacy.
Timberlake and Biel continued seeing one another, and in October 2012, they married. They welcomed their first child, son Silas Randall, in April 2015. Sadly, four years later, in November 2019, the couple was rocked by suggestive photos of Timberlake and his "Palmer" costar, Alisha Wainwright. While filming in New Orleans, the two chatted and held hands on a balcony with several other cast members nearby. Wainwright was also seen with her hands on Timberlake's knee. What made the images even more detrimental was that Timberlake didn't appear to be wearing his wedding ring at the time. After the photos spread online, Timberlake apologized to his wife, calling his actions a "strong lapse in judgment." Talks about the performer being unfaithful have now subsided. Hopefully, for the benefit of his family — who welcomed a second child, Phineas, in 2020 — this will remain the case.