Inside Justin Timberlake's Relationship History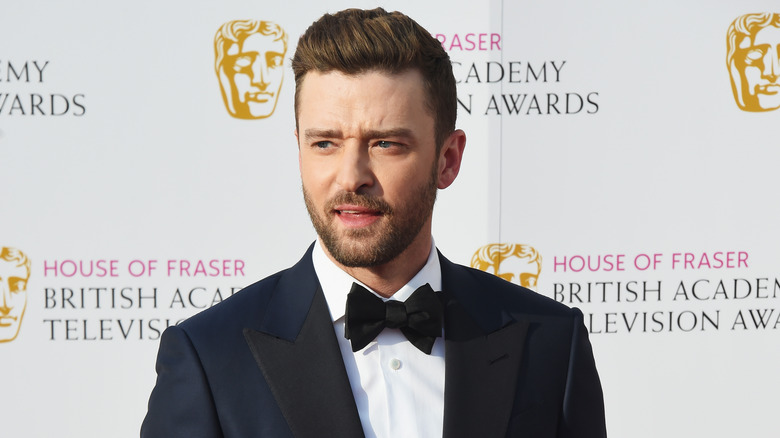 Stuart C. Wilson/Getty Images
We may receive a commission on purchases made from links.
Britney Spears may be dishing the dirt on Justin Timberlake in her new book, "The Woman in Me," but Spears is not the only famous female who has shared secrets (or her bed) with the former *NSYNC hottie. Although he's been married to "7th Heaven" star Jessica Biel for more than a decade and the couple have two adorable sons, Timberlake's little black book was once a who's who of A-list actresses, singers, and celebrities. And who can blame them? The blue-eyed boy band turned solo artist turned actor is one of the hottest things to come out of Memphis, Tennessee, since The King himself. 
A triple threat of talent, combined with classic movie star looks, Timberlake has evolved from his cute "All New Micky Mouse Club" days to those *NSYNC hair years, to the matching denim misstep at the 2001 American Music Awards, to the suave "Suit & Tie" guy he is today. Along the way, he has had no shortage of women in his wake, and the rumor mills have linked him to a bevy of beautiful babes. How many of these rumored relationships were real? Timberlake doesn't seem big on the whole kiss and tell thing, but some have been notably public, while others may or may not have gone on behind closed doors. Either way, only the "SexyBack" singer and the women know for sure, but here's a look at some of his most publicized romantic entanglements. 
Fergie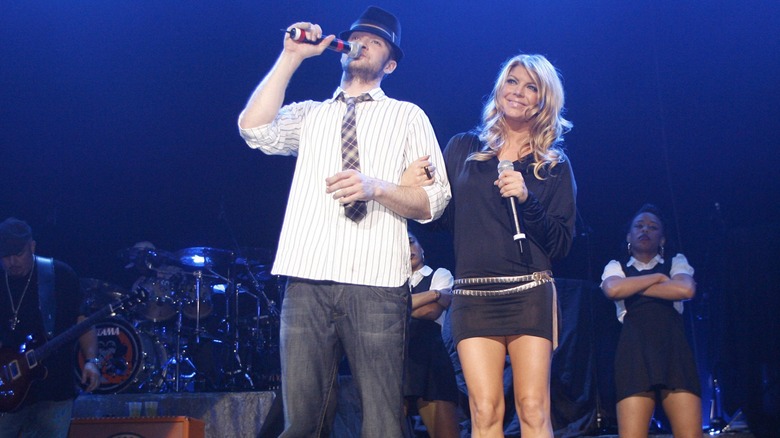 Christopher Polk/Getty
It was the "Glamourous" life for Justin Timberlake when he got lucky with a Black Eyed Pea in 2003. Namely, Stacey Ann Ferguson, or "Fergie," the band's lead singer. The pair met when Timberlake lent his smooth vocal stylings to the BEP hit "Where Is The Love," and they continued to make beautiful music together. Although Fergie is six years Timberlake's senior, the two have a lot in common. Both were part of the phenomena that is the Disney Channel child star producing machine, he on "The All-New Micky Mouse Club," and she on  "Kids Incorporated." Both obviously share a passion for music and performing and have explored solo careers outside of their respective bands. And both have landed roles on the big screen. As ideal as those conditions may seem for breeding true love, the truth about Timberlake and Fergie's relationship is that it ended before they really got it started — at least according to "The Duchess" herself. 
In an interview with Cosmopolitan in 2006, Fergie stressed that the affair was "never serious," referring to the pop star as "Mr. Right Now." Fergie went on to find her Mr. Right (or so she thought) in Josh Duhamel, whom she was married to for 10 years and shares a son. However, Timberlake must have made an impression because more than 10 years later, Fergie pled the fifth on the details during "Watch What Happens Live with Andy Cohen" in 2017.
Britney Spears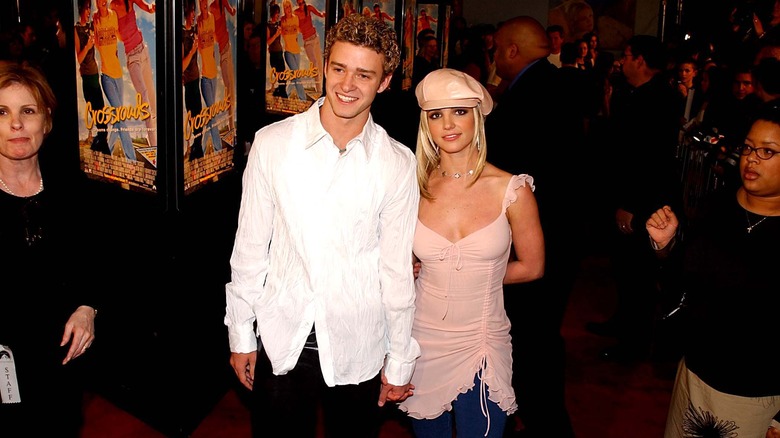 Jeff Kravitz/Getty Images
Name a hotter couple in the early aughts than Justin Timberlake and Britney Spears. Go ahead; we'll wait. One of the youngest power couples to hit the scene, these two appeared to have it all: good looks, hit albums, skyrocketing careers, and that whole prom king and queen vibe that stole America's hearts. Like a giddy schoolgirl, Spears told The Observer in 2001 that her boy band beau still gave her butterflies nearly two years in, adding, "As far as love is concerned, with him, too much is not enough. He's everything." Timberlake even admitted to GQ post-breakup that his infatuation with the blonde bombshell went all the way back to their "All-New Mickey Mouse Club" years. "I was in love with her from the start," he tells the magazine. "I was infatuated with her from the moment I saw her."
'Then, when it appeared that the dynamic duo was at the top of their game, it all came tumbling down. Amid reports of Spears' infidelity, further fueled by the now infamous "Cry Me A River" video, the couple called it quits with Timberlake allegedly breaking up with the princess of pop in a most surprising way: via text while she was filming the video for her hit "Overprotected." According to sources, Spears spills the deets on this and more in her memoir, which already has fans clamoring for her to give them more.  
Jenna Dewan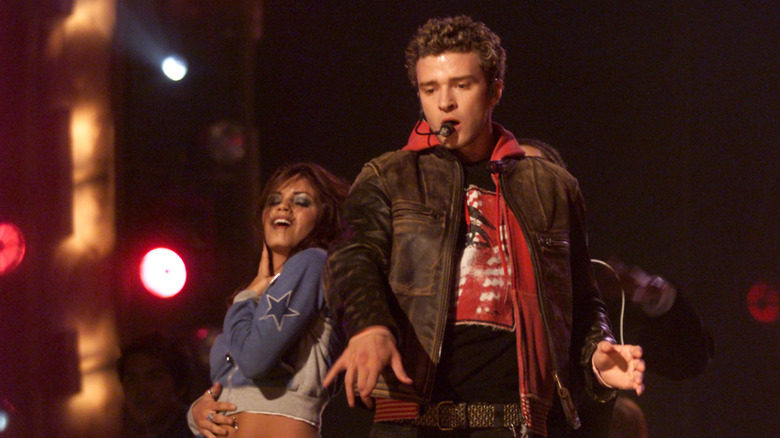 Frank Micelotta Archive/Getty Images
Some girls have all the luck. Before landing hunky "Magic Mike" star Channing Tatum, former "World of Dance" host Jenna Dewan was linked to another man with moves: Justin Timberlake. Not long after the breakup heard 'round the world, Dewan and Timberlake had a short-lived fling. And while it's true she was his backup dancer, the brunette beauty swears she wasn't his backup girlfriend. In an interview with Andy Cohen on "Watch What Happens Live," she was not the "LoveStoned" singer's "rebound chick," post-Britney Spears. Dewan told Cohen that the two started off as friends and remain friends today. "It's not as salacious as everyone thinks," she said. 
As mentioned, Dewan went on to marry her "Step Up" costar Channing in 2009 and gave birth to daughter Everly in 2013. And while the Tatum clan may have looked like the perfect family, things aren't always as they seem. Dewan spoke to Health Magazine about her marriage, saying, "We've always had the same values. But we're not perfect! Are you kidding? We fight like other couples, we disagree about things, we have days where we don't really like each other." Those days eventually won out, and the couple parted ways in 2018, releasing a statement that kept the details of the split private, saying only that their focus would remain on co-parenting their daughter. 
Alyssa Milano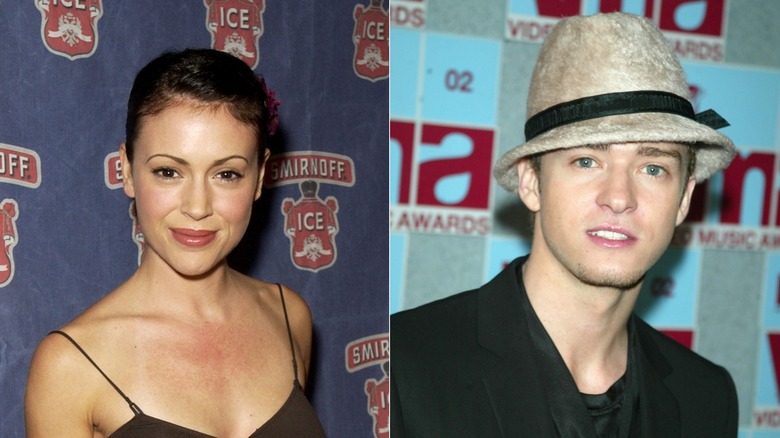 Michael Caulfield Archive & Jim Spellman/Getty
While Britney Spears may have been his love at first sight, she wasn't Justin Timberlake's first crush. That honor belongs to none other than "Who's the Boss" star Alyssa Milano. Per Daily Mirror, Timberlake revealed in a 2016 radio interview with Rove and Sam that he had a poster of his fellow child star on the wall of his childhood bedroom. As an adult, the singer got the chance to make his boyhood dreams come true when he dated Milano for a hot second in 2002. He told the radio hosts, "My big crush was Sam in [television series] 'Who's the Boss,' Alyssa Milano. Then we dated briefly, so that got weird." 
For her part, Milano was a fan of the J.T. and Spears days, telling Entertainment Tonight, "They just seemed like the perfect match." But that didn't stop Milano, who was 29 at the time, from going out with Spears' 21-year-old ex just shortly after their split. She confessed to Us Weekly that she was actually waiting in the wings. "That was right after Britney broke his heart, I swooped in for the kill!" Alas, Milano and Timberlake's was not a "Charmed" relationship and eventually fizzled out. Milano went on to date a string of leading men, including Eric Dane, David Arquette, and Scott Wolf, to whom she was briefly engaged. Today, the "Melrose Place" actress is married to talent agent David Bugliari, and they have two children, a son, Milo, and a daughter, Elizabella. 
Janet Jackson (rumored)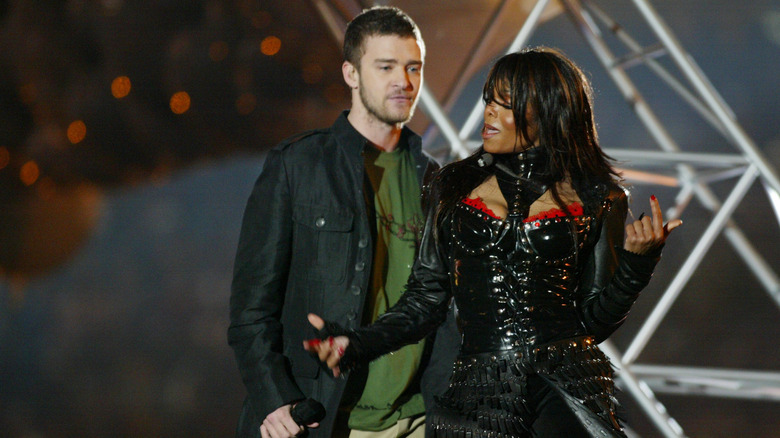 J. Shearer/Getty Images
One can't help but wonder if he calls her Miss Jackson because things got a little "Nasty" when Justin Timberlake and Janet Jackson performed together at 2004 Super Bowl. The show took a decidedly non-PG turn when a supposed wardrobe malfunction resulted in Jackson's right breast making a public appearance and generating more press than the actual game. While both singers publicly apologized, Jackson's career took a hit but turned out it would take more than a nip slip to ruin Timberlake's rise, and he survived the scandal with very little damage to his image. 
Accident or not, the incident prompted speculation as to whether the heat in the duo's performance was the real deal. Dating rumors surrounding the pair had surfaced in 2002 after an alleged make out session at a birthday party for Missy Elliott in Miami. According to ABC News, an anonymous witness said, "Janet and Justin just started making out in front of everybody." That story came on the heels of another report of Timberlake and the much older Jackson getting down and dirty on the dance floor of a Los Angeles hot spot. Both parties stayed mum about the romance rumors, but ABC News reported Timberlake's publicist Ken Sunshine seemed to enjoy stirring the pot. "Last week People magazine named Justin the most eligible bachelor in the world," Sunshine said. "I guess he's fulfilling that role well. But we never, ever comment on his personal life."
Cameron Diaz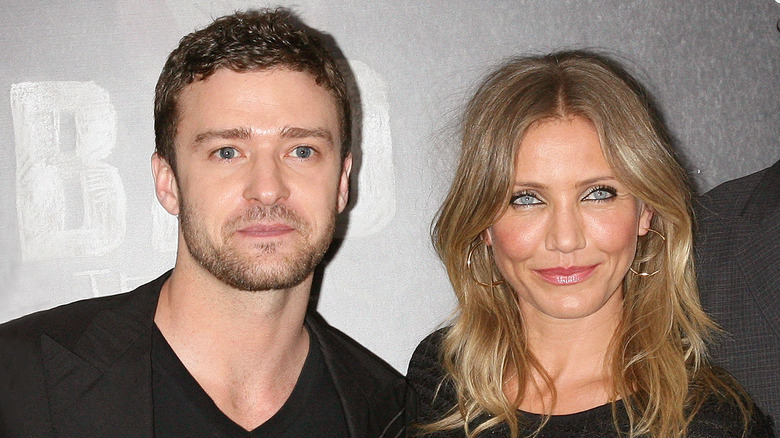 Jim Spellman/Getty Images
Some relationships start out with a bang. Others, well, with a burp. In one of the strangest meet-cute stories out there, the relationship between Justin Timberlake and Cameron Diaz began in 2003, when the 34-year-old blonde beauty presented the 25-year-old pop star with the Nickelodeon Kid's Choice Award for "Best Burp," an honor that Diaz had been bestowed with the year before. In addition to sharing a love of a good belch and a goofy sense of humor, Diaz and Timberlake seemed to share a passion for adventure. They were frequently photographed surfing, skiing, clubbing, and attending sporting events together, prompting Timberlake's friend Sharon Osbourne to tell People that the couple "are perfect together." Until they weren't. 
In 2007, the pair called it quits. Some suspected that the breakup may have had more to do with a rivalry between Diaz and Timberlake's "What Goes Around...Comes Around" video costar Scarlett Johansson, while others speculated it was his interest in Jessica Biel that caused the problem, particularly after a reported public argument at a Golden Globes after party shortly after the split.  Regardless, the duo remained professional, starring in "Bad Teacher" four years later. When asked if it was awkward, Diaz told Us Weekly, "No, it's great. Justin and I have always had a good laugh together, and to make a movie where we get to have a laugh together, and there really was no one else who was more perfect for this part."
Scarlett Johansson (rumored)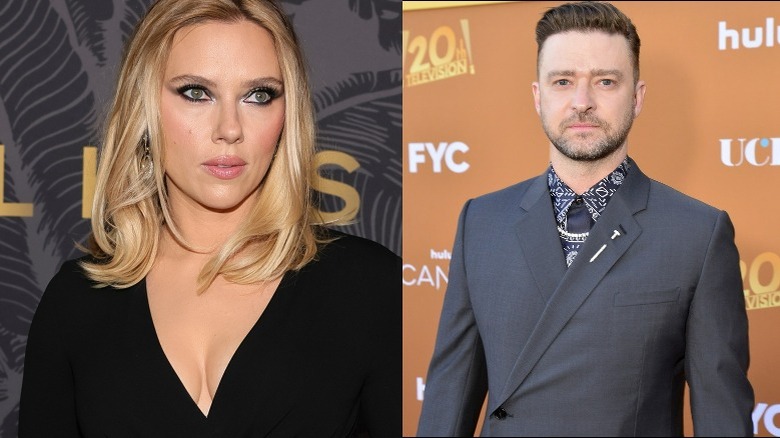 Theo Wargo & Jerod Harris/Getty & undefined
Whether or not the rumors around Cameron Diaz's displeasure at the casting of Scarlett Johansson in Justin Timberlake's "What Goes Around...Comes Around" video are true, anyone who's ever seen the steamy video wouldn't blame her for being upset. Timberlake and Johansson shared serious chemistry in some intensely sexy scenes, so it's no wonder rumors about their off-screen chemistry started to fly as well. 
For her part, the "Black Widow" star denied any involvement with Timberlake, shutting down any talk of a relationship. In a prophetic denial to Seventeen, she said, "We live in a world today where if two people are single — and one's a guy and one's a girl and they're both famous — you're going to be linked with somebody. If it's somebody one week, it's going to be somebody else the next week. It's either me or Jessica Biel." Maybe she knew something Diaz didn't, since Timberlake went on to marry Biel. As for Johansson, she found her happily ever after with her current husband, "Saturday Night Live's" Colin Jost, whom she met while appearing on the show. The couple married in 2020, and have a son, Cosmo, along with Johansson's daughter Rose Dorothy by her ex-husband Romain Dauriac.
Jessica Biel chapter one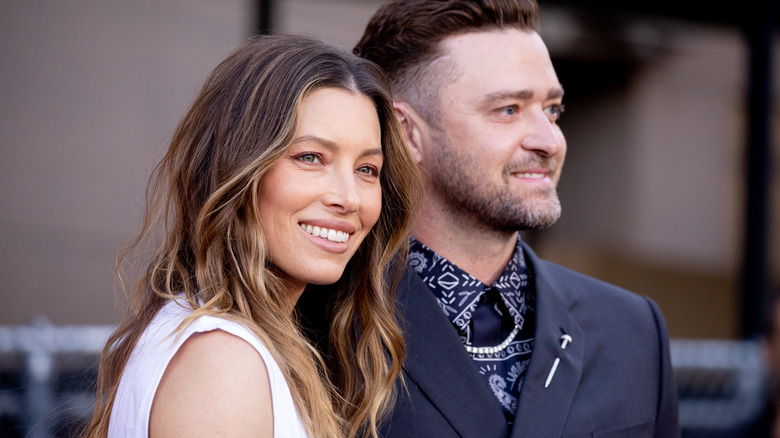 Emma Mcintyre/Getty Images
It may seem like Jessica Biel and Justin Timberlake met, fell in love, got married, and lived happily ever after, but that's not the whole story. There was a moment in between meeting and marriage where the lovebirds were, to quote a famous "Friends" line, "on a break." Shortly after his split from Cameron Diaz, Timberlake was seen chatting up Biel at a 2007 Golden Globes after party hosted by Prince. Later, in his 2018 book, "Hindsight & All the Things I Can't See in Front of Me,"  Timberlake recalls that as a pivotal point in what would be his future. From an excerpt published in InStyle, he talks about that night. "Then the Golden Globes came up, and that's when we planned on seeing each other," he wrote. "We were both still seeing other people, keeping ourselves safe from getting hurt, from really putting ourselves out there. It took a bit for both of us to admit to ourselves that we were really, really into each other." 
As into each other as they reportedly were, the couple hit a rough patch and broke up in March of 2011. A statement released by reps for the power couple and published in People, reported, "Addressing the media speculation regarding Jessica Biel and Justin Timberlake's relationship, we are confirming that they mutually have decided to part ways. The two remain friends and continue to hold the highest level of love and respect for each other." 
Rihanna (rumored)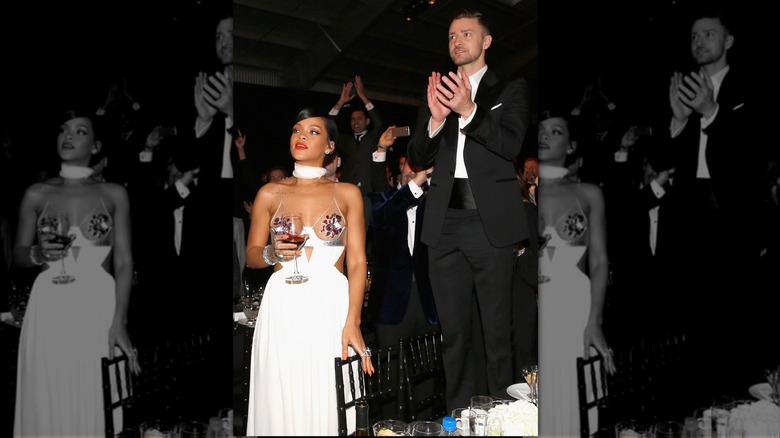 Kevin Tachman/Getty Images
Justin Timberlake has a habit of making edgy videos with some of the sexiest women in the business, but his appearance in Rihanna's "Rehab" video took the heat to a whole new level, prompting the rumor mill to start churning. Claiming that Timberlake couldn't fight the feelings he had for Ri-Ri, stories that he had cheated on Jessica Biel with the singer began circulating. Although there was no official word from either, Timberlake has a reputation for finding himself in the middle of multiple cheating rumors since he began dating Biel. 
First, it was his "Friends with Benefits" co-star Mila Kunis, a rumor that some say contributed to the singer's 2011 split from Biel. Kate Hudson, Ashley Olsen, Olivia Munn, and Lindsay Lohan have all been the subject of a Timberlake cheating rumor. While it's easy to understand that putting supernaturally attractive people together in movies or videos and throwing in some steamy sex scenes is a recipe for disaster, some celebrities survive with reputations intact, while others invite torrid tales. Timberlake is one celebrity who seems to find himself in the latter category more often than not. So, while we can't say for certain whether there's any truth to the Ri-Ri rumor, we can say that it's not the first time either one has been linked to a cheating scandal. 
Olivia Wilde (rumored)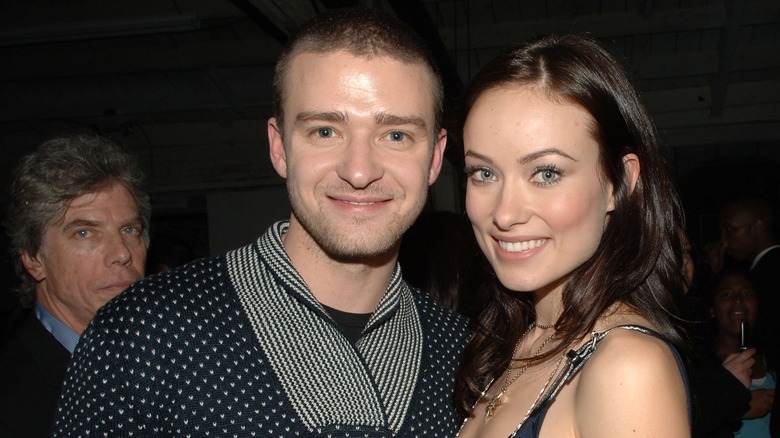 Stephen Shugerman/Getty Images
In a weird Oedipus complex situation, following his split with Jessica Biel, Justin Timberlake was rumored to be dating Olivia Wilde, who played his mother in the 2011 movie "In Time." This was not the first time the pair had worked together (they were in 2007's "Alpha Dog"), but it was the first time that rumors of anything other than a friendship began to surface after they were reportedly spotted looking more than friendly while out on the town in Los Angeles. Perhaps it was the timing, given that Timberlake was still nursing his heartache over the Biel breakup, and Wilde had just filed for divorce from husband Tao Ruspoli, to whom she'd been married for eight years. Whatever the circumstances, Us Weekly reported the couple showed up at the Roxbury in white tees and jeans (what is it with Timberlake and matching his outfits to his girlfriends?) and partied until the wee hours.
An insider told the magazine that the duo was definitely giving date vibes, saying, "They were dancing, whispering, he had his hand on her back and shoulders and they were together all night." Wilde denied the rumors in a tweet saying, "Cool it, honeybadgers. We are just friends and have been for years." Only these two gorgeous costars know what really went down that night, but obviously, it wasn't enough to worry about since Timberlake reunited with Biel, while Wilde famously was last linked with heartthrob Harry Styles.
Jessica Biel the final chapter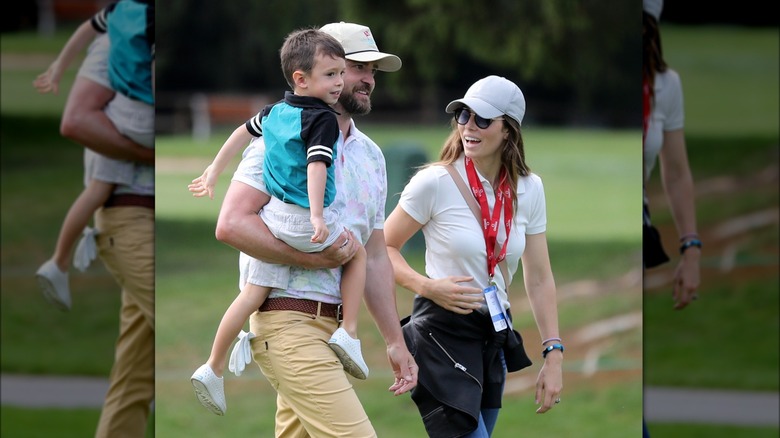 Stefan Matzke - Sampics/Getty Images
When Justin Timberlake said, "what goes around comes all the way back around," he could've been talking about his return to Jessica Biel. In a case of absence making the heart grow fonder, the lovebirds reunited just a few months after their big breakup, and this time it was for keeps. Just three months after their split, the singer talked to Vanity Fair about the "The Sinner" star. "She is the single-handedly most significant person in my life," he says. "In my 30 years, she is the most special person, okay? I don't want to say much more, because I have to protect things that are dear to me — for instance, her." By December of 2011, Timberlake put a ring on it, and the two were married eight months later. 
Two kids, a few ups and downs, and a vow renewal in Italy in 2022 later, the Timberlakes still seem to be madly in love. So, what's their secret? The "Candy" star credits her husband's romantic side, telling Entertainment Tonight, "Well, I'll have to give Justin the credit in this moment, for this one thing that he always says to me: 'We might be married, but we have to keep dating,' and it's so true." She added, "You just have to keep making time for each other and you have to keep making each other a priority. And do the things that you love together."