Inside Hallmark Star Brant Daugherty's Relationship With Wife Kimberly
If you ever wanted proof that digital dating can work, meet actors Brant and Kimberly Daugherty. The couple connected on a dating app and had their first face-to-face over coffee in 2016 (although Kimberly notes she only ordered water). Flash forward and there have been travel adventures, engagement announcements, a wedding, and babies — all worthy of their very own Hallmark movie. 
It's only fitting, given that Brant has been steaming up the TV screen in several of the network's rom-coms, including "A Royal Runaway Romance," "#XMAS," "The Baker's Son," and "Joyeux Noel." But before he became the guy you love to see fall in love as a Hallmark star, Brant was the guy you loved to hate, the devious A-Team's Noel in "Pretty Little Liars." You may also remember him as bodyguard Luke Sawyer in "Fifty Shades Freed," and yup, that was him on Season 17 of "Dancing With the Stars" (he finished in seventh place). 
Kimberly (you may know her by her maiden name, Hidalgo) is no stranger to scripts, either. She's popped up in primetime TV series like "How I Met Your Mother," "Grey's Anatomy," and "Grace and Frankie," and played Maria Calderon in the movie "The Duel" with Woody Harrelson and Liam Hemsworth. She's also starred with her husband in a very special holiday movie.
The Daughertys get creative together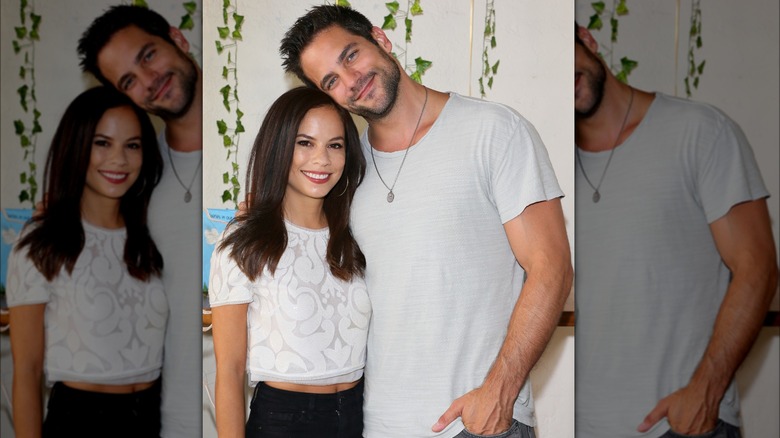 Jb Lacroix/Getty Images
When two talented people get together, there's bound to be some creative things happening. For Brant and Kimberly Daugherty, that meant writing scripts. The couple joined forces and penned their first project, a holiday romance flick titled "A Christmas Movie Christmas," which premiered on UPtv. And yes, they also starred in the movie together. "We'd both written things separately, but this was the first script we wrote together," Kimberly told Access Hollywood. "It went really smoothly and only took us a couple months from the idea to the finished script."
Making it even more special is what happened when the script was finished. On Valentine's Day in Amsterdam, on the day they finished the script in 2018, Brant dropped to one knee and popped the big question. "The day I proposed was the most nervous I've ever been in my life!" the groom confessed to People. Kimberly, of course, said yes, and the lovebirds were married in June 2019. The bride added, "Eventually we want to have a family in a few years and just continue to create and love each other. We do great things together."
To prove her point, the couple combined their powers once again to write the script for the Tubi original movie "Alone in the Dark," which Brant also directed. Experts at collaborating, they also got together for projects involving DNA and inherited genes.
The couple have increased their family size
In April 2021, Brant and Kimberly Daugherty started their much-wanted family with the birth of son Wilder David. Brant, in awe of his wife's new maternal skills, told People, "Watching her step up to motherhood makes me fall even more in love with her." Not to be outdone in the compliment arena, Kimberly shared her opinion of her husband's paternal competency with E!. "[He's] just the most hands-on and fun dad. He loves to play and spend as much time with [our son] as possible." 
Part of the couple's relationship dynamic has involved traveling all over the world, and they've made Wilder a part of their adventures. The family has taken trips to Switzerland, Italy, The Netherlands, and Belgium.  
In October 2023, the couple announced they would be adding one more passport to their travel wallet, sharing their second son would be born in very early January 2024. Brant joked he didn't expect it to be too much of a hardship to add one more into the mix, observing there would be one adult per child. As he detailed to E!, "The math is working in our favor so far."