Tori Spelling's Oldest Kids Have Grown Up To Beat Her In Height
Tori Spelling has five children with her ex, Dean McDermott. The eldest ones are quickly growing into young adults, which means that they're giving their parents a run for their money in the height department. McDermott is an impressive 6 feet, 3 inches tall, though in photos, Spelling often appears shorter in stature, though not overly so. But that's the magic of high heels because the "90210" actor is only 5 feet, 6 inches.
It's no surprise then that her two oldest children, Liam and Stella, have got her beat when it comes to stature. The two attended their high school homecoming dance in October 2023, and Spelling celebrated the occasion by posting a proud mom photo to Instagram. Her son towers over her, especially considering her sneakers look to have a pretty thick sole. Similarly, daughter Stella also seems to have at least a couple of inches on her mom.
The fact that Spelling now has to (physically) look up to her kids only drives home the reality that they are growing up! "Forever in my eyes they'll appear their 2- and 3-year-old selves with me holding their hands. Now, both taller than me. It happens!" she wrote. The actor went on to gush about how much she adores her not-so-little kiddos.
Her daughter Hattie is catching up, too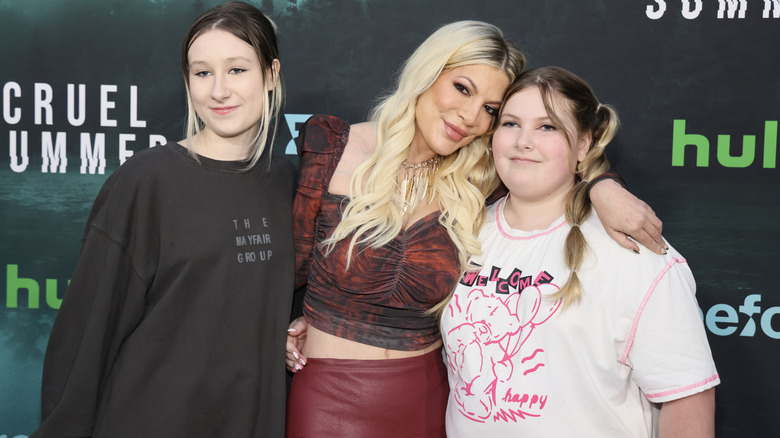 Rodin Eckenroth/Getty Images
Tori Spelling's homecoming snap wasn't the first time the mom of five realized that soon, all of her kids might be head and shoulders taller than her. In May 2023, the actor appeared on the red carpet for the "Cruel Summer" Season 2 premiere alongside daughters Stella and Hattie. At the time, the two were 14 and 11, respectively.
As the trio posed for adorable mother-daughter photos, it became abundantly clear that after another growth spurt, Spelling could easily become the shortest member of the group. Stella was just about her mom's height, wearing green high-top sneakers while her mother donned a high-heeled black boot. Just a few inches shy of measuring up to her mom, Hattie also wore flat sneakers with no added lift.
In one photo, Spelling bent down to rest her head atop Hattie's. But we're guessing this tender sign of affection will be short-lived; soon, all of the McDermott kids will put their chin atop their mom's head when going in for a hug!
Tori's youngest kids have a ways to go
The youngest members of the McDermott clan have a ways to go to catch up with their mom, Tori Spelling. Finn McDermott, born in 2012, is only in his preteen years and hasn't quite caught up to his mom. Similarly, his little brother Beau, born in 2017, is still as cute as can be in his early childhood years, and we can't blame Spelling for not wanting them to grow up too fast. 
In the summer of 2023, the family posted a picture of them all together, and it's clear that Finn and Beau are the two shortest members of the pack. But if their dad's height is any indication of their future, both boys could easily surpass their mom in stature. 
Dean McDermott has another son, Jack, with his ex-wife Mary Jo Eustace. Now well into his young adult years, Jack is as tall as (if not taller) than his dad. Photos of the blended family lead us to believe that all of the kids tend to take after their dad when it comes to height. Therefore, it's not hard to envision all of Spelling's kids being somewhere near 6 feet tall if the McDermott genes hold true.