Inside Matthew Perry's Friendship With Bruce Willis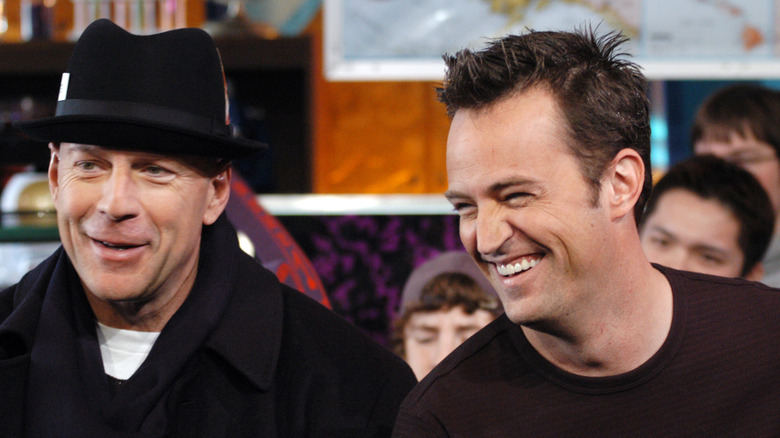 Stephen Lovekin/Getty Images
We may receive a commission on purchases made from links.
In the same year he was starring as Chandler Bing in the sixth season of "Friends," Matthew Perry also took over the silver screen alongside Bruce Willis in "The Whole Nine Yards." In the 2000 comedy film, Perry plays Oz, a dentist, whose life is thrown for a loop when contract killer Jimmy Tudeski, played by Willis, moves in next door. The hilarious chemistry between the two leading actors was undeniable, and led to a sequel, "The Whole Ten Yards" in 2004. 
Not only were Perry and Willis great on-screen together, but the two formed a strong bond behind the scenes. Perry even recounted in his 2022 memoir, "Friends, Lovers and the Big Terrible Thing," that the two would party together. Of course, Perry admitted that the huge difference between them was Willis knew when to stop partying, while Perry suffered from an alcohol and prescription drug addiction. Perry wrote, "He can party like crazy, then get a script like 'The Sixth Sense' and stop the partying and nail the movie sober." That was something Perry couldn't relate to, but that didn't stop the two from having a close relationship. 
Bruce Willis was 'the coolest man' Matthew Perry met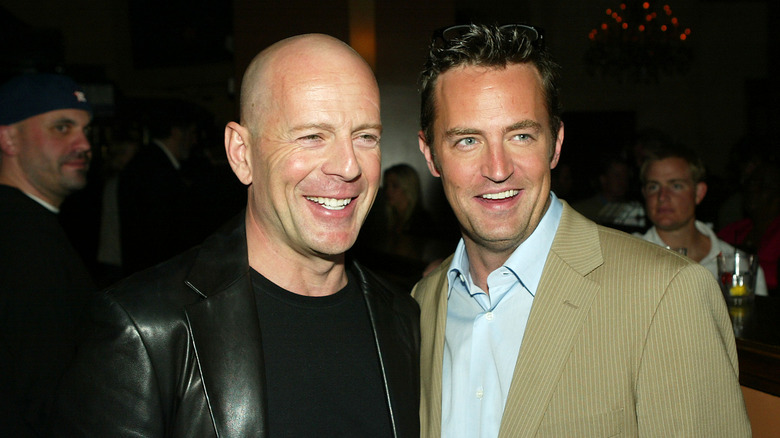 Kevin Winter/Getty Images
In the same chapter of his memoir, which was titled "Bruce Willis," Matthew Perry shared that at the end of a night of partying the two co-stars would "just sit and talk." "That's when I saw the real Bruce Willis — a good-hearted man, a caring man, selfless. A wonderful parent. And a wonderful actor. And most important, a good guy." Willis even guest starred on an episode of "Friends" after a bet he made with Perry on the set of "The Whole Nine Yards." 
The two remained good friends until Perry's death in October 2023. After hearing of his passing, Willis' daughter, Rumer Willis, shared on her Instagram Story that Perry was "so kind and funny and sweet" to her and her siblings while they visited their dad on the set of "The Whole Nine Yards" and its sequel. 
After it was revealed that Bruce was diagnosed with aphasia in 2022, Perry took to X, formerly Twitter, to reach out to his former co-star. "Dear Bruce Willis, I'm so sorry to hear what you are going through, but you're still the coolest man I've met in my entire life," Perry wrote. He even wanted to get together with his old friend to "watch the whole 10 yards and get a couple of hours of sleep." Following the news of Perry's death, many fans took to X to share their love of "The Whole Nine Yards" franchise and just how good both Perry and Bruce were in the film together.