Matthew Perry's Final Interviewer Used Two Words To Describe Him That Mean Something Entirely Different Now
Phillip Faraone/Getty Images
The following article includes mentions of substance abuse and addiction.
Matthew Perry, best known for his role as Chandler Bing on the long-running sitcom "Friends," died suddenly on October 28, 2023, from an apparent drowning in his Los Angeles home, TMZ reports. The star, who had very publicly struggled with addiction for much of his career, had celebrated his sobriety in recent years. Just last year, Perry released his memoir, "Friends, Lovers, and the Big Terrible Thing," which chronicled his addiction and recovery. 
In November 2022, Perry gave what would become his final interview while on "The Jennifer Hudson Show" to promote his book. Near the beginning of the interview, Hudson described the star in two words that take on new meaning after Perry's unexpected death. After describing all the detoxes, rehab stints, and near-death experiences that Perry revealed in his memoir, Hudson remarked, "When you walked out here, all I saw was a miracle."
Perry not only miraculously defied the odds of addiction, he used his sobriety in big ways. In 2013, Perry converted his Malibu, California home into a men's sober living community called Perry House to help others on their road to recovery. He also advocated for drug reform, including specialized drug courts so that non-violent drug offenders could receive treatment rather than jail time. The same year he opened Perry House, Perry told People in a print issue interview, "When I die, I'd like 'Friends' to be listed behind helping people."
Helping people was Matthew Perry's true calling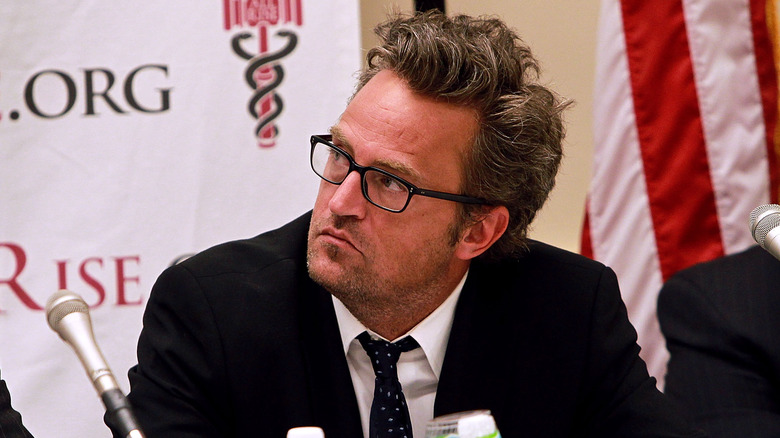 Paul Morigi/Getty Images
Of his advocacy work, Matthew Perry told Jennifer Hudson that, after he became famous, he realized that it did not "fix the inside" or fill the piece he felt he was missing. Instead, he used his fame to give voice to others struggling with addiction. The star revealed, "What I found [to fill that void] was helping people, and helping people on a grand scale sometimes, because I was fortunate enough to be on that show."
Indeed, helping people was Perry's passion once he achieved sobriety. In 2013, Perry was honored with a Champion of Recovery award from President Barack Obama's Administration's Office of National Drug Control Policy for his work advocating for drug courts and for "giving a voice to the millions of Americans in recovery." Not only did his advocacy work change the lives of others battling addiction, but it was life-changing for the star, too. "I found I got the same amount of juice from helping one guy as 100,000 people," Perry further told Hudson. "You see the light come on in their eyes and they start to come to life because of stuff that you've said and that's the dream come true." 
This was met with cheers from the audience, as Hudson reiterated that Perry was a "walking miracle." For the countless people Perry helped, and will continue to help even after his death, his life and sobriety were indeed miraculous.
If you or anyone you know needs help with addiction issues, help is available. Visit the Substance Abuse and Mental Health Services Administration website or contact SAMHSA's National Helpline at 1-800-662-HELP (4357).