What Matthew Perry's Relationship With His Mom Suzanne Was Really Like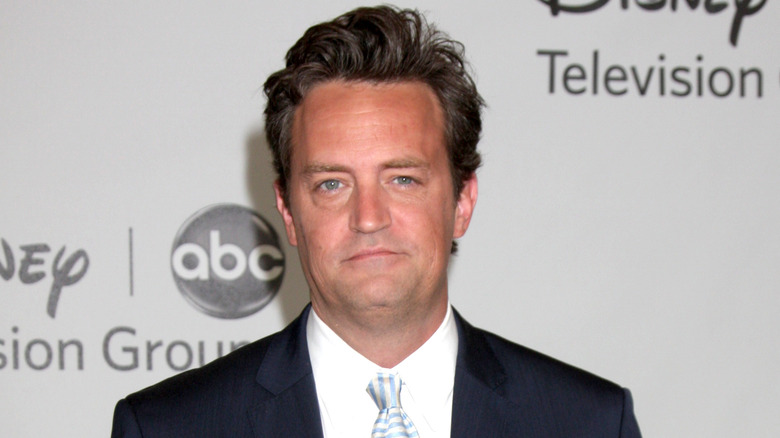 Kathy Hutchins/Shutterstock
The world reeled in collective shock when the death of actor Matthew Perry was announced on October 28, 2023. Best known for his role as Chandler Bing on the hit NBC sitcom "Friends," the 54-year-old died in his Los Angeles house, leaving behind legions of fans.
A few short hours after emergency responders were called to Perry's home, his mother Suzanne was seen entering his house, alongside Perry's stepfather, Keith Morrison. The family later released a statement, as reported by People. "We are heartbroken by the tragic loss of our beloved son and brother. Matthew brought so much joy to the world, both as an actor and a friend. You all meant so much to him and we appreciate the tremendous outpouring of love." 
Perry released his autobiography, "Friends, Lovers, and the Big, Terrible Thing," last fall, and was still riding its monumental success as a "New York Times" best-seller, appearing at book festivals as recently as spring 2023. He shared many personal details about his life and his relationship with his family, including his mother, Suzanne.
Perry's mother had a demanding career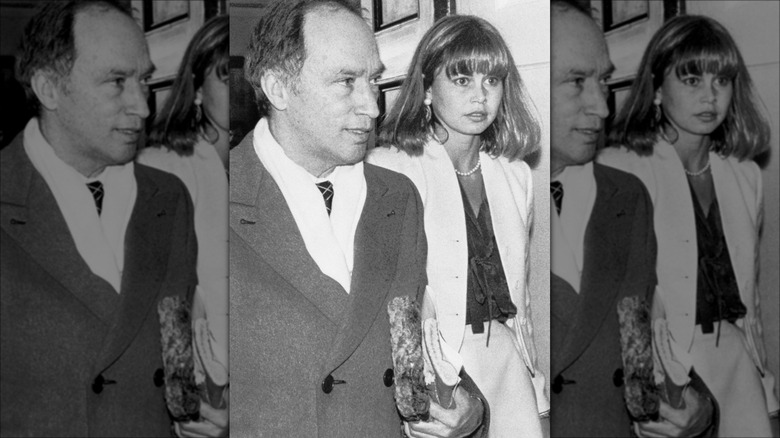 Bettmann/Getty Images
The son of John Bennett Perry and Suzanne Perry Morrison, Matthew Perry never knew his parents as a married couple. When the actor was less than a year old, his mom and dad divorced, with John moving to Los Angeles to pursue his Hollywood dreams and Suzanne raising Matthew in her native Canada. Suzanne had her own prominent career, serving as the press secretary for Prime Minister Pierre Trudeau (pictured), and Perry remembers having to share his mom with her job.
Today reported a quote from "The Odd Couple" actor's book, "Friends, Lovers, and the Big, Terrible Thing," where he revealed his feelings about his mother's busy career. "I was left to compete with the ongoing concerns of a major Western democracy and its charismatic swordsman leader if I wanted a little attention."
He also remembers some good times, although they weren't always as pure as he might have wanted. As noted by Canada's City News, Perry shared a memory from his childhood when he and his mother watched the movie "Annie Hall." "That is my absolute favorite childhood memory — sitting with my mom and watching that movie," Perry wrote in his book. "But now the prime minister of Canada was calling, so I was about to lose my mom again."
Perry always wanted his mother's attention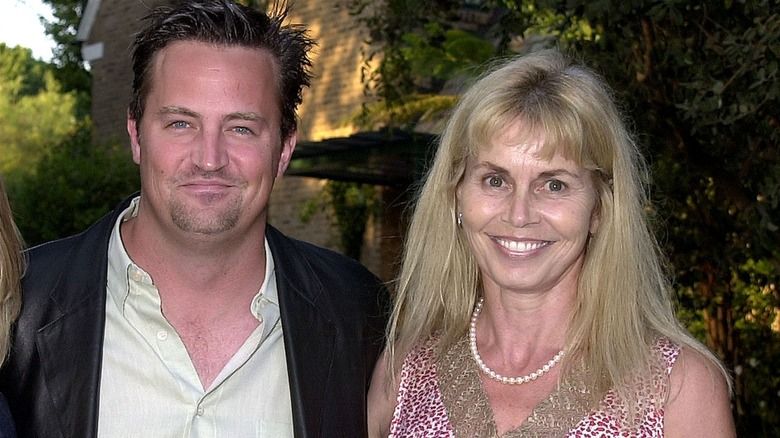 Gregg Deguire/Getty Images
After Suzanne Perry left her job with the prime minister of Canada, she went on to become an anchor with a national Canadian news outlet. When her son Matthew Perry was 12 years old, she married her second husband, Keith Morrison, who eventually went on to work with "Dateline." Perry has spoken fondly of his stepfather and their relationship, and although he moved to Los Angeles when he was 15 to live with his father, he remained close to his mother. When he was hospitalized in 2018 due to a burst colon brought on by his addiction, both his mother and father were there to support him.
However, the "Friends" cast member admitted his early years of wanting to be in his mother's orbit had a definite influence on his adult life. During an interview with Tom Power, he shared a time when he accompanied Suzanne to work. As she entered into a ballroom, into the spotlight, he trailed after her. "All I wanted was for her to turn around and focus on me, be with me. And she never really did that." He went on to explain that he doesn't blame his mother for his reactions, "She didn't do anything wrong, she was just doing her job," he remarked. "But that's something from a young age that hurt me."
The actor also exposed that he still had those feelings as an adult. "I still want the unavailable, the person who's not turning around. I still want that person to turn around and notice me."