How Taylor Swift And Brittany Mahomes Caused A Stir With A Special Handshake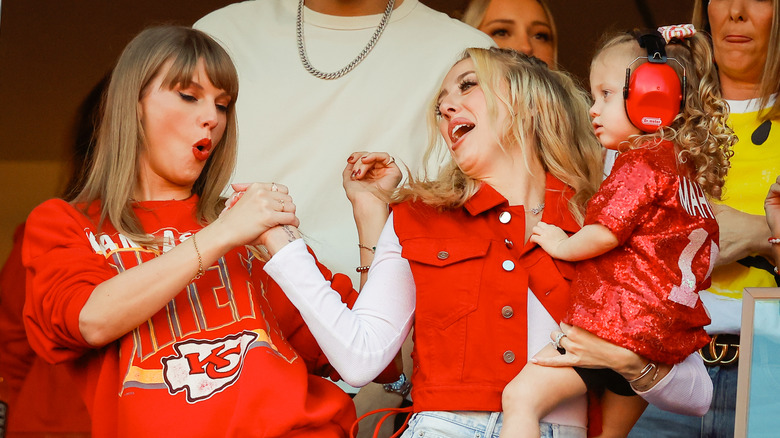 David Eulitt/Getty Images
Taylor Swift has entered the NFL chat. Since she's been spotted at games cheering on Kansas City Chiefs Travis Kelce and bonding with Kelce's mom, fans have no choice but to get on board — football has officially been taken over by the mega popstar. However, as fellow WAGs (wives and girlfriends, usually of pro athletes) can attest, it's not always the most welcoming environment. The public can have major opinions of these women's every move at the highly watched games.
Case in point — the stir caused by Taylor Swift and Brittany Mahomes' special handshake. Brittany, wife of Kansas City Chiefs star Patrick Mahomes, is no stranger to the scrutiny, but now Taylor's getting a taste. The two took in the action together in Mahomes' personal suite during the October 22, 2023, game. When their guys pulled off a play that resulted in a touchdown, Taylor and Brittany introduced the world to their super-secret handshake. For any millennial obsessed with "The Parent Trap," it sparked vivid memories of the handshake between Lindsay Lohan's character and the butler, played by Simon Kunz.
Nostalgia aside, witnesses were super divided on the women's celebration. In a video posted to X, formerly Twitter, the WAGs were seen rehearsing their routine before their debut. "Love seeing talented people coming together and having a great time!" commented one fan. While another lamented, "Oh my gosh. The Chiefs just got 100x more unbearable."
Can Taylor take the heat?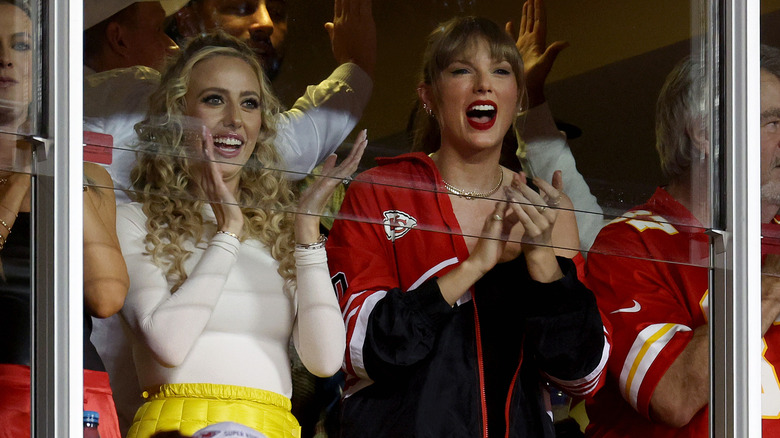 Jamie Squire/Getty Images
Unfortunately, some of the negative comments on Taylor Swift and Brittany Mahomes' handshake were likely due to the fact that the wife of Patrick Mahomes has already faced some tough scrutiny. Comments on the video of the duo practicing alluded to this, with one reading, "Oh Brittany found someone else to hitch her publicity / influencer wagon to." When the NFL retweeted the post, others chimed in, "Holy Cringe."
Brittany has been slammed for everything from ragging on other teams and denouncing the game's referees to buying a pricey Chanel purse for her toddler and attracting attention at the games for her over-the-top behavior. While you could argue that she's only a target for haters because rival teams will jump at any chance to pick on the skilled Kansas City Chiefs, sometimes even the squad's loyal supporters are quick to call her out.
Whatever the reasons, Brittany's detractors can be brutal. It seems like Taylor has only newly begun her friendship with the longtime WAG, but reportedly, they have plans in the works to go on a double date, reveals Daily Mail. Undoubtedly, if Brittany and Taylor become besties and continue to proudly proclaim it at games, all the Swifties in the world won't be able to protect the pop star from some negative comments.
Their guys have clapped back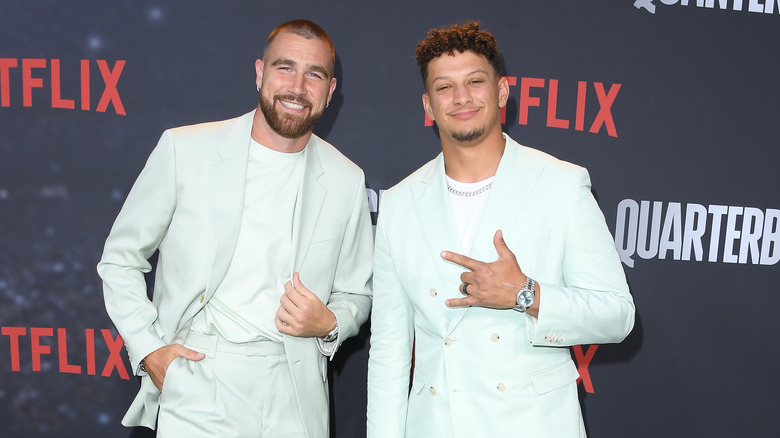 Steve Granitz/Getty Images
After the handshake heard around the world was performed by Taylor Swift and Brittany Mahomes, the two women's pro footballers clapped back. Not at haters, though. The guys have plans to out-handshake their significant others. During an interview with a Kansas City radio station, KCSP, a few days after the Brittany-Taylor event, Patrick Mahomes said, "I need to talk to Travis, because me and Travis don't even have a handshake yet. So I mean, they're ahead of the game on us. So we're gonna have to get on the whiteboard, and we're gonna figure out a handshake so that we can try to one up theirs," via Us Weekly.
Patrick, the Kansas City Chiefs quarterback, has a known friendship with teammate Travis Kelce. The pair showed up dressed in identical suits to the red carpet premiere of Netflix's show "Quarterback." During an Interview with NBC Sports at the American Century golf championship, Travis poked fun at his BFF by giving him a wet willy, licking his finger, and sticking it in Patrick's ear mid-conversation. The bromance can be seen in full force on the field, too, such as when they embraced after winning the Super Bowl.
It's fathomable that Taylor befriended Brittany out of necessity due to the bond between Travis and Patrick. But with a source telling Us Weekly that Brittany is "thrilled to be building a genuine friendship with Taylor," our money is on the two WAGs becoming authentic BFFs.