Taylor Swift Has A Knack For Bonding With Her Boyfriends' Moms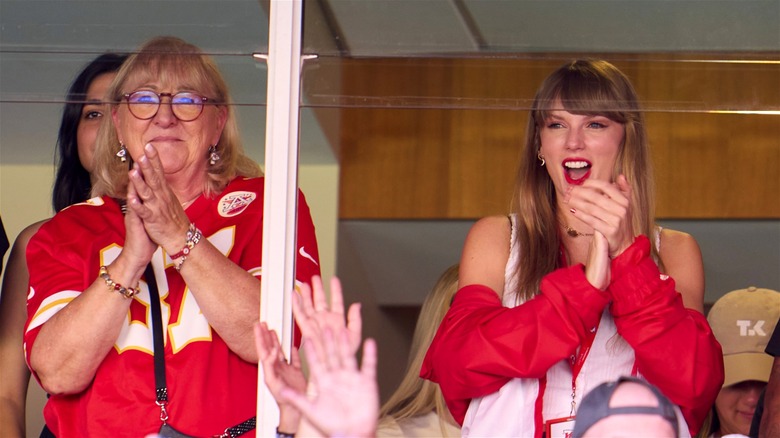 Cooper Neill/Getty Images
Is Taylor Swift already getting in good with new flame Travis Kelce's mom? Swifties think so. On September 24, the "Cruel Summer" singer was spotted at a Kansas City Chiefs game looking fiercely stunning in red as she cheered on Kelce. Cheering at her side was Travis Kelce's mom, Donna Kelce, who was also wearing her son's team colors. As the game progressed, Swift was seen giving Donna hugs while Travis' mom returned the gesture with a smile. Their sweet bonding moments already have fans picturing Swift as a future member of the Kelce family and praising her for winning over mom. A source with the Daily Mail confirmed that Donna has given Swift her "stamp of approval" if they do begin to date (if they aren't already).
Seeing Swift become fast friends with her rumored boyfriend's mom gives us life, but we're not surprised to see it happen. This isn't the first time Swift has proven she can get along with her partner's parents, as her relationships from the past have shown us.  
She met Tom Hiddleston's mom right away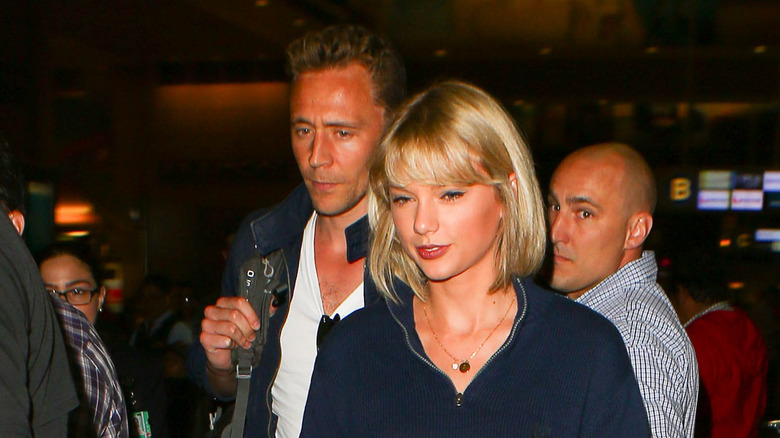 Starzfly/bauer-griffin/Getty Images
Out of all of Taylor Swift's famous exes, Tom Hiddleston is the one who always seems to be forgotten. That's not because he's any less famous than her other exes — the actor is well-known for his iconic role as the trickster god Loki in the Marvel Cinematic Universe along with his other work. The only reason Swifties tend to forget about him is because his whirlwind relationship with Swift was over in the blink of an eye. Their romance began after they met at the 2016 Met Gala but didn't last long. After three months, People reported that the two had amicably gone their separate ways.
Although their time together was brief, neither wasted any time in meeting the other's parents. Per E! Online, Swift flew over to England to hang out with Hiddleston and his mom, Diane Hiddleston, less than two weeks after the celebs made their relationship public. It was clear that Hiddleston's mom was already smitten with the captivating songstress. The trio were seen with their arms wrapped around each other as they took a stroll along the beach and around Suffolk. Even though things didn't work out in Hiddleston and Swift's fast-paced relationship, we're pretty sure she left a good impression on his mom.
Swift quarantined with Joe Alwyn's mom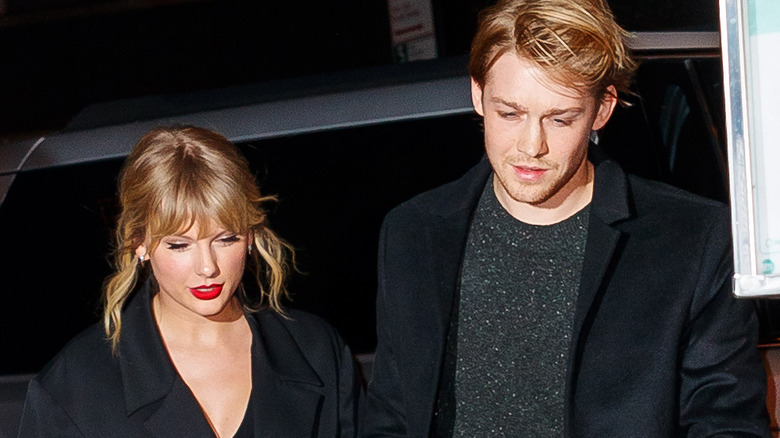 Jackson Lee/Getty Images
When you're able to live peacefully in the same house as your partner's family, you know you're in good.
That's just the case with Taylor Swift and her most recent ex-boyfriend, Joe Alwyn. Swift and the British actor made their relationship public in 2017. This would turn into Swift's longest-lasting relationship to date. Swift got along so well with Alwyn and his family that she even quarantined with them during the height of the COVID-19 pandemic in 2021. Again, Swift seemed to grow close to her ex-boyfriend's mom. E! Online spotted the singer walking around North London with Joe and his mom, Elizabeth Alwyn. A source noted that Swift and Joe's families "all seem very close and very happy."
Swift and Joe officially called it quits in April 2023, per Entertainment Tonight. Despite the ups and downs of her past romances, Swift's close bond with her exes' moms proves once again that she's just a likable person, through and through.