What We Think Taylor Swift's 1989 Vault Track Say Don't Go Really Means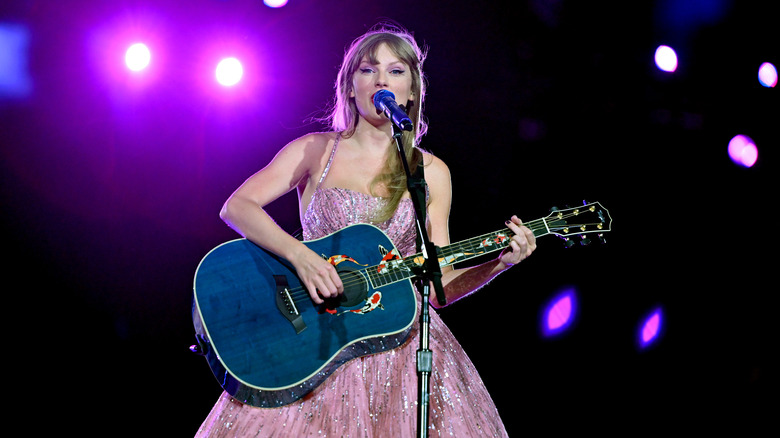 Tom Cooper/tas23/Getty Images
For months, Taylor Swift's fans seemed convinced that the singer would announce the re-recording of her fifth studio album "1989" on August 9, and they were right. Just when Swift's fans thought they couldn't be happier, the singer wrote a post on X, formerly known as Twitter, explaining that the re-recording housed some of her favorite songs that were left behind. Following the release of "1989 (Taylor's Version)," fans also agreed that her vault tunes were some of her best because of sad bops like "Say Don't Go," a track Swift penned with iconic songwriter Diane Warren.
When Warren sat down with Rolling Stone, she revealed that she was pleasantly surprised that Swift showed up for the track's demo recording on New Year's Day instead of taking the day off like most artists. Warren also offered a glimpse into Swift's songwriting process, explaining, "She was very particular about how she said certain things. It was a really interesting experience. She gets her audience," she continued. "She's deeply aware of how her fans want to hear something. I can't explain it, but that's probably why she's the biggest f***** star in the world." 
Despite co-writing the song, Warren only heard the completed version shortly before the album's release. Warren also shared her reaction to the finished version, "I said, 'Oh my god, this is f****** awesome,'" she added. "It was such a surprise to me that the record version was as good as it was." Despite the song being nearly nine years old during release, Warren believed it could be a massive hit. 
'Say Don't Go' is about mismatched feelings of love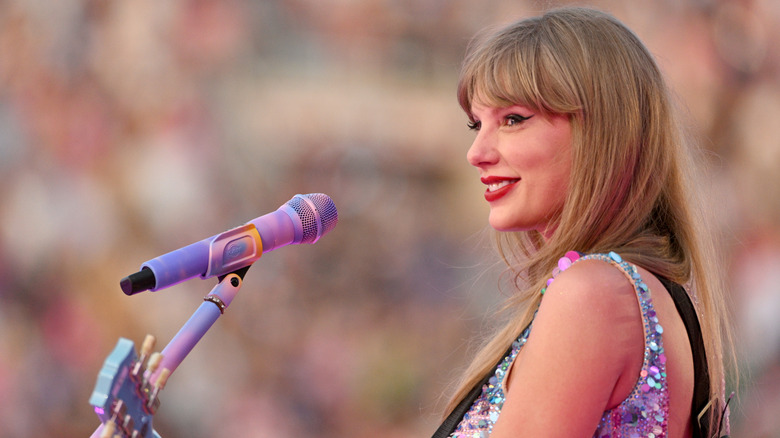 Fernando Leon/tas23/Getty Images
Taylor Swift's "Say Don't Go" is all too relatable for someone stuck in a situationship. Like most of us, Swift knows that the right thing would be to leave it all behind and find someone new. But instead, she sits around, hoping her partner will come around. The track's opening lines describe how Swift's new love was doomed from the start, "We're a shot in the darkest dark. [...] I'm unarmed." 
Then, Swift expertly alludes to the fragility and uncertainty of her relationship by comparing it to a tightrope walk. She references it again later, "Now I'm pacin' on shaky ground." While Swift knows it's time to close the door on the relationship, she stands in the doorway as she decides. In the chorus, Swift breaks down as she thinks back to all the hurt her beau caused her by leading her on. She finishes the chorus with, "I would stay forever if you say, 'Don't go,'" indicating that she thinks she might've found the one. 
But sadly, her partner doesn't feel the same way, and Swift expresses this with "I'm yours, but you're not mine." In the bridge, Swift sings, "I said 'I love you.' You say nothing back" and the instrumentals halt to reflect the deafening silence as she waits for her beau to tell her he loves her, too. The outro's "I would stay forever if you say, 'Don't go,' but you won't," indicates that she's come to terms with the fact that she'll never hear those words.
Is 'Say Don't Go' about Harry Styles?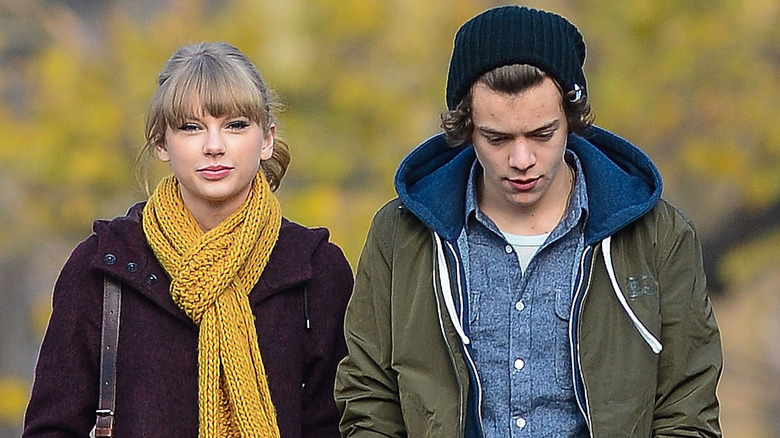 David Krieger/bauer-griffin/Getty Images
It seems like Taylor Swift's "Say Don't Go" is about Harry Styles. The two singers had a short-lived but tumultuous relationship which inspired many songs on "1989." The album's fourth track, "Out Of The Woods" is about a relationship that could either last forever or end within the next few moments, and that mimics the uncertainty of "Say Don't Go." In another track on the album, "Wonderland," Swift talks about going mad after getting caught up in a whirlwind romance with someone with green eyes and a Cheshire Cat smile, and Styles matches this description perfectly. 
In "Say Don't Go," Swift alludes to a similar type of frustration, "The waiting is a sadness, fading into madness." The track also seemingly parallels Alex & Sierra's "I Love You," a song that many believe Styles wrote under the alias of Mick Greenberg. When Entertainment Tonight asked the duo about Greenberg's identity, Sierra replied that they didn't know much about him either, before cheekily adding, "Maybe Mick and Taylor are really good friends ... Maybe Mick & Taylor had a fling!"
It seems like all Swift wanted in "Say Don't Go," was to be told she's loved. And she finally heard it in Alex & Sierra's track with the lyrics, "That I love you more than you think I do. And I love you, now you don't want me to." The song also refers to Swift's lucky number 13 and her track "Come Back Be Here," with the lyrics "I didn't come back. I wasn't there."