The Real Meaning Behind Taylor Swift's Out Of The Woods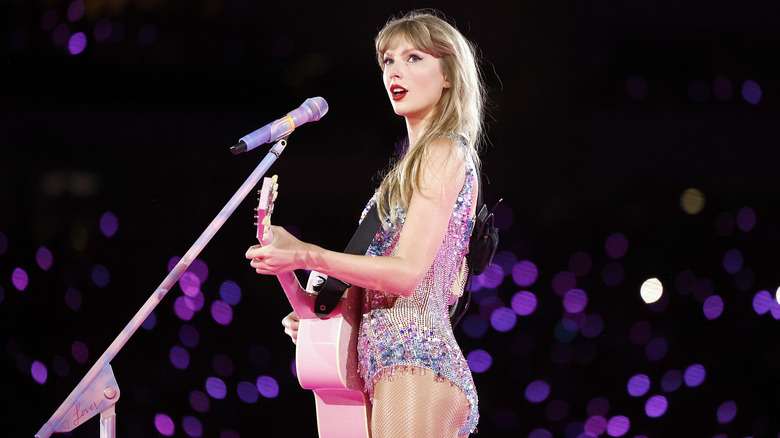 Emma Mcintyre/tas23/Getty Images
Every relationship has its rough patches, and in many cases, we bravely persevere through them and come out stronger and closer than before. However, sometimes these rough patches end up becoming the majority of the relationship, and we're constantly fighting with our partner and wondering if the next battle will be the last. At that point, we begin to wonder if it's all worth it, but then we remember the joy and beauty of the love we've shared. We end up in a heightened state of anxiety, worrying during good times if they're going to get bad again and wondering when things are bad if the good times will ever return.
Taylor Swift's "Out Of The Woods" beautifully captures the ambivalence of this situation. The track comes from Swift's fifth studio album, "1989," and she wrote and co-produced it with Jack Antonoff. In 2014, Swift released a video explaining the meaning behind "Out Of The Woods." She began by gushing about the track as one of her faves on the album. Swift said, "This song is about the fragility and breakable nature of some relationships." 
She elaborated that these relationships are so unstable that you don't know if it's going to last forever or end the next day, and how that uncertainty scares and excites us. She added, "It stresses that even if a relationship is breakable and fragile and full of anxiety, it doesn't mean that it isn't worthwhile, exciting, beautiful, or all the things we look for." As always, Swift and Antonoff's songwriting and production abilities were on full display in this song.
'Out Of The Woods' mimics anxiety with its lyrics and production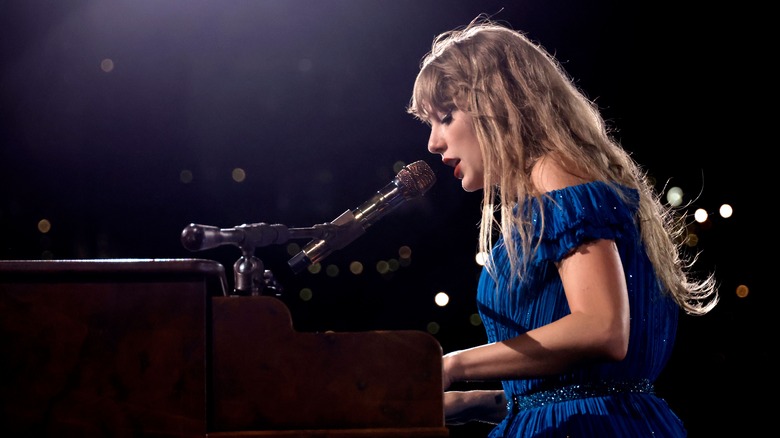 Kevin Winter/tas23/Getty Images
In the explanation video for "Out Of The Woods," Taylor Swift said she wanted the song to feel unstable, wild, beautiful, and exciting like the relationship itself. Through the chorus, Swift frantically repeats, "Are we out of the woods yet?" and "Are we in the clear yet?" to portray the ramblings of her anxious mind as she desperately clings to the love. Arguably the most notable part of the song comes in the bridge when Swift describes getting into an accident with her partner and breaking down in a hospital. 
It seems like the relationship is over as Swift swings, "Remember when you couldn't take the heat? I walked out, I said, 'I'm setting you free.'" But then she follows it up, "But the monsters turned out to be just trees," indicating that she didn't have anything to worry about. These memorable lyrics are perfectly complemented by the explosive production.
 Speaking to Billboard, Jack Antontoff explained the thought process behind the frenzied production, "It starts with a pretty big anthemic vocal sample that's me, and then there's a drum sample that kicks in that's kind of huge, and then you don't really know how you're going to get any bigger but then the chorus hits and it just explodes even larger. And then the bridge hits, and it gets even more huge." He added that it would've been more natural to have a quieter chorus, but they just wanted the song to grow bigger. 
Is 'Out Of The Woods' about Harry Styles?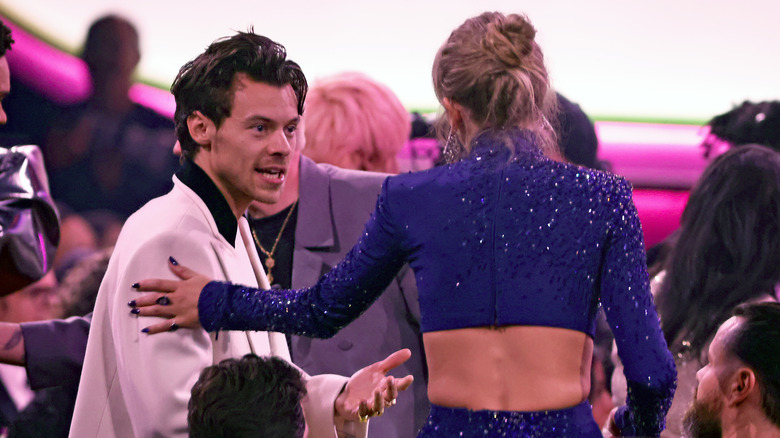 Frazer Harrison/Getty Images
It's no secret that Taylor Swift is a diaristic songwriter as she's been open about the fact that so many of her songs are about her life. "Out Of The Woods" doesn't seem to be an exception because it packs plenty of references to Harry Styles. Swift and Styles reportedly had a short-lived and tumultuous relationship from November 2012 to January 2013. In Swift's "Out Of The Woods," she hints at the timing of the relationship, singing, "Last December, we were built to fall apart and fall back together," which aligns with the start of their relationship and addresses its on-and-off nature. 
Another lyric that points to Styles is "your necklace hanging from my neck," because the "As It Was" singer had an iconic paper airplane necklace that was spotted around Swift's neck during their relationship. She also directly references the accessory with "two paper airplanes flying." In a Rolling Stone interview, Swift confirmed that the accident referenced in the song happened on a snowmobile with an ex. 
Swift and Styles went on a snowy skip trip to Park City, so it's possible the accident occurred at the time. Even the lyric, "Remember when you couldn't take the heat?" could be referencing the magnitude of the media's eye as they started dating. During an interview, Styles explained his feelings towards Swift's songs by saying that all songwriters write from personal experience, so it wouldn't be fair for him to ask her to stop writing her fantastic songs.