Steffy Forrester Returns To Deal With Deacon And Sheila On The Bold And The Beautiful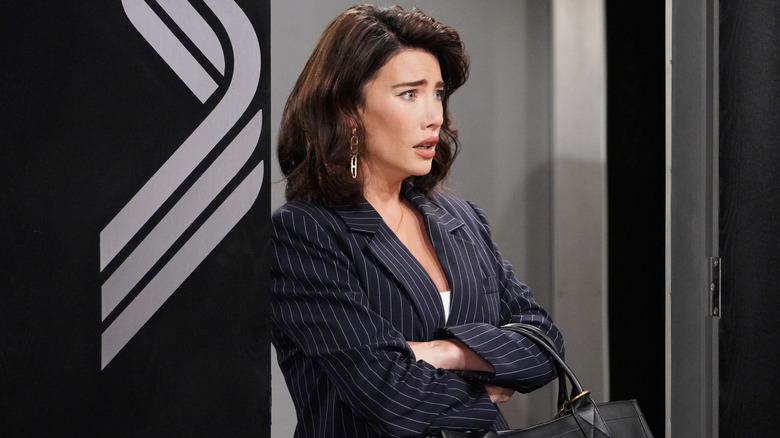 Howard Wise/jpistudios.com
Steffy Forrester (Jacqueline MacInnes Wood) left Los Angeles to keep her family safe from Sheila Carter (Kimberlin Brown) and her reign of terror on "The Bold and the Beautiful." After everything Sheila did to Steffy, such as shooting at her close range and stalking her husband and kids, she was right to be concerned. In reality, Wood stepped away from "The Bold and the Beautiful" for her maternity leave, as she was preparing to welcome her fourth child. 
However, thankfully for fans of Wood, Steffy is on her way back to town, reclaiming her life, and taking on a megawatt obstacle. While Steffy was in Rome keeping her children safe from Sheila, the career criminal was busy attempting to rebuild her life. Not only is Sheila completely free of any and all charges, but she's engaged to a reformed bad boy, Deacon Sharpe (Sean Kanan). Deacon was instrumental in keeping Sheila out of prison, and now that their secret love is out in the open, the reaction has been less than supportive. 
With another person enabling Sheila's behavior, Steffy's return looks to put the lovebirds on notice. Steffy's return is coming on Thursday's edition of "Bold," and nobody will see her surprise arrival coming. Regarding the union between Deacon and Sheila exposed in her absence, Wood told Soap Opera Digest (via Michael Fairman TV), "She doesn't believe for a second that Deacon can control Sheila from being evil, but she is not afraid to face her fears now."
Jacqueline MacInnes Wood vows Steffy will get payback against Sheila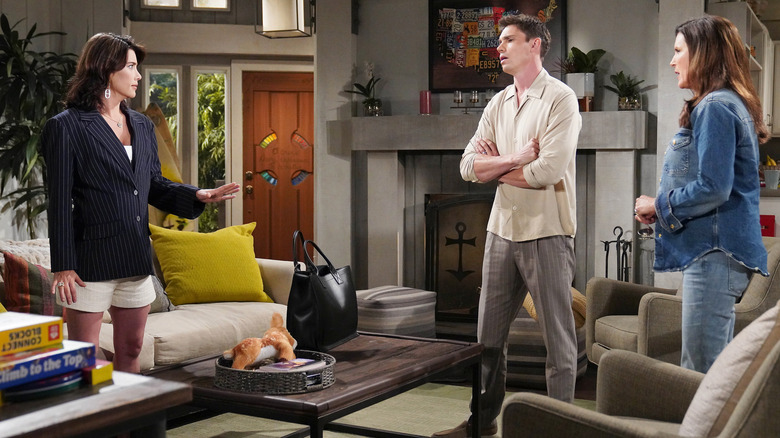 Howard Wise/jpistudios.com
According to Jacqueline MacInnes Wood, Steffy's coming in with a vastly different attitude than the one she left "The Bold and the Beautiful" with. The Steffy that left town was afraid for her life, and she couldn't stomach being in the same room as Sheila. However, in her interview, Wood revealed, "Steffy tells Finn that she's not afraid of Sheila anymore, and she's actually going to go see her and tell Sheila to her face." Sheila's antics nearly ruined Steffy's family unit forever, so it's understandable that she'd be looking to confront the woman responsible for her pain.
Most of the characters on "Bold" have been left wondering if Sheila will ever pay for any of the crimes she's committed. No matter how heinous the offense, somehow Sheila squirms her way out of any consequences for her actions. However, it appears that Steffy is determined to put a stop to that with Wood revealing, "Keep watching, because, in the coming weeks, Steffy will give Sheila some payback."
Viewers are just as delighted with Wood's return to "Bold" as Steffy's portrayer. Many have taken to social media to express their excitement for the impending showdowns, with one fan tweeting: "I can't wait to see my Beautiful Two time Emmy winner back next week!!!! I can't wait to see Steffy confront Sheila. Get ready for some fun scenes with Jacqui and Kimberlin."