What Matthew Perry And Salma Hayek's Relationship Was Like On Fools Rush In Set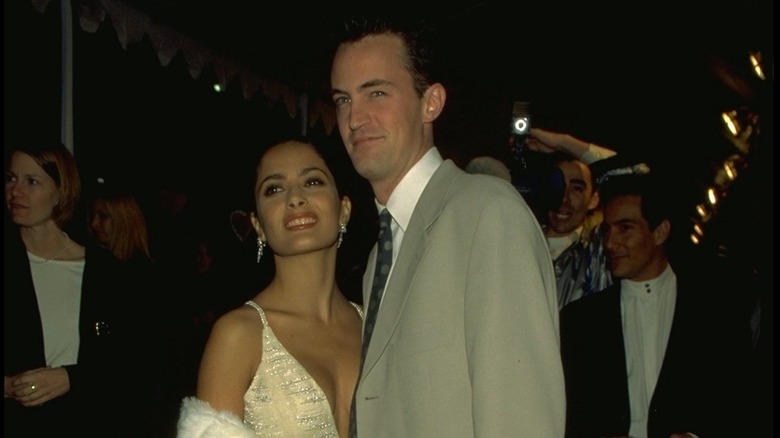 Frank Trapper/Getty Images
In the wake of Matthew Perry's untimely death, friends and fans, alike, are reminiscing about the star's life and his most beloved roles. In an interview on the "Q With Tom Power" podcast, Perry said: "When I die, I don't want 'Friends' to be the first thing that's mentioned. I want [helping people] to be the first thing that's mentioned, and I'm gonna live the rest of my life proving that." Perry achieved his goal of being remembered for helping others, as well as the many roles he played. And, while he spoke very highly of his time on "Friends" and the cast, he didn't think of his iconic portrayal as Chandler Bing as his best acting credit. 
Per Brobible, in an Instagram Q&A, a fan once asked Perry about his "most treasured role." His reply was a surprise to many. He wrote, "I did a movie that I love called 'Fools Rush In' with Salma Hayek — that was probably my best movie." The film premiered in 1997, and he shared a bit about his experience in his memoir, "Friends, Lovers, and the Big Terrible Thing." While he wrote that "Fools Rush In" is his most treasured role because he considers it his "best movie," based on the way he recalled the role in his book, it's evident that his on-set friendship with Hayek is what helped to make the experience what it was –– despite the fact that they didn't always see eye-to-eye. 
Matthew Perry had fond memories of Salma Hayek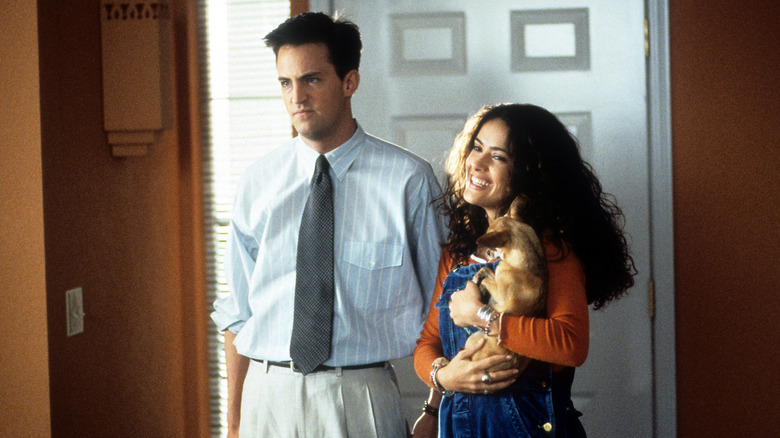 Archive Photos/Getty Images
Despite being a romantic comedy, the romantic aspect of "Fools Rush In" wasn't part of Matthew Perry's typical purview. He wrote in his memoir that his costar, Salma Hayek, tried to help him "tap into real feelings and to be more of a leading man than a funny sitcom actor," per People. Perry wrote that to do this, Hayek "came into my trailer at the start of the shoot and said, 'Let's just spoon a little bit.'" Certainly taken aback by the strategy, he "did my best Chandler impression — the double-take-and-sardonic-stare thing — and said, 'Oh, okay! Let's just spoon a little bit!'" 
Perry then joked about the pair's dynamic, saying that Hayek's "long-winded ideas weren't always helpful." His example was a scene in which his character was declaring his feelings. Perry wrote: "She suggested that we don't look at each other — rather, we should look out at our future together. ... I finally said, 'Listen, Salma.' I said, 'I'm telling you I love you in this scene. You look wherever you want, but I'm going to be looking at you.'"
Hayek has yet to speak out about Perry's death, but Doug Draizin, the producer on "Fools Rush In" whose story the film was based on, talked to the New York Post about how much he loved Perry and how saddened he was by the tragic news. Draizin said the later star was "really friendly ... very genuine."