Matthew Perry's Friends Co-Stars Break Silence With Devastating Statement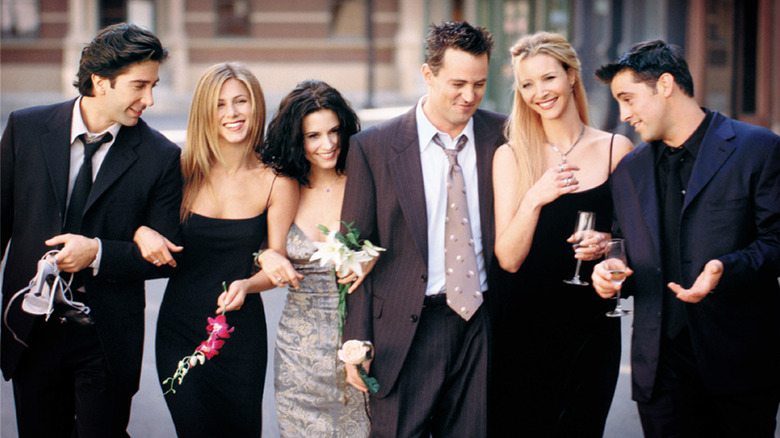 Getty Images/Getty Images
The following article includes mentions of substance abuse and addiction.
Matthew Perry's "Friends" co-stars have broken their silence on his sudden death. The actor was pronounced dead on October 28, after being found unresponsive in his home hot tub, according to a report from TMZ. Following the news of his sudden passing, fans, industry peers, and those closest to Perry have taken to social media to mourn. "Friends" creators Marta Kauffman and David Crane issued a statement to ABC News that read, "We will always cherish the joy, the light, the blinding intelligence he brought to every moment — not just to his work, but in life as well. He was always the funniest person in the room. More than that, he was the sweetest, with a giving and selfless heart."
Perry's passing comes just two years after the cast reunited on HBO for its "Friends: The Reunion" special. While the remaining core actors from the sitcom — David Schwimmer, Jennifer Aniston, Courteney Cox, Matt LeBlanc, and Lisa Kudrow — had not yet acknowledged Perry's sudden death, the group has since issued an exclusive statement via People.
"We are all so utterly devastated by the loss of Matthew. We were more than just cast mates. We are a family," their statement reads. "There is so much to say, but right now we're going to take a moment to grieve and process this unfathomable loss." They added, "In time we will say more, as and when we are able. For now, our thoughts and our love are with Matty's family, his friends, and everyone who loved him around the world."
The Friends cast had an unshakeable bond
For Matthew Perry, "Friends" was more than just another acting job. Alongside Lisa Kudrow, Jennifer Aniston, David Schwimmer, Matt LeBlanc, and Courteney Cox, the actor appeared in 234 episodes over a span of 10 years — a length of time many sitcom actors would be lucky to see now. Speaking to People about the experience in 2021, he said, "It changed my life in every way. I got the show when I was a 24-year-old man; the show ended when I was 34. It formed my life. And it was the time of my life."
But it wasn't just the career-making success or his Season 9 Emmy nomination that made it so meaningful for Perry — it was the genuine  lifelong friendships that formed off-screen. At the "Friends: The Reunion" special, which aired on HBO in 2021, the actor nearly broke down in tears when describing the special bond he and his cast shared. "The best way that I can describe it is that after the show was over; at a party or social gathering, if any one of us bumped into each other that was it. That was the end of the night. You just sat with the person all night long," Perry said to his former co-stars. "It's certainly the way it works with all of us. It's just the way it is." 
Matthew Perry's cast mates stood by him through tough times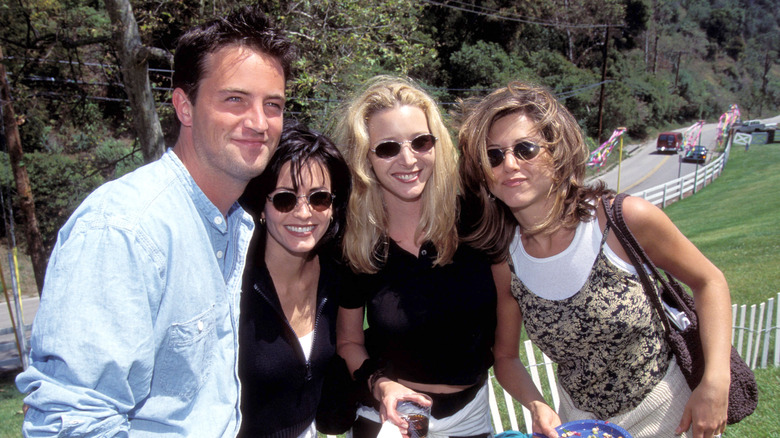 Kmazur/Getty Images
Matthew Perry's friendships with his co-stars weren't just fun bonuses; they were essential to his well-being. Throughout the duration of the series, the actor struggled with addiction and substance abuse — a fact that he thought he had hidden successfully from his fellow cast members — until Jennifer Aniston confronted him about it. According to ABC News, at one point during the height of his addiction, the actor was consuming 55 Vicodin pills per day. 
Even though the actor swore he did not use any substances while filming, the affects of his addiction impacted his presence on-set. In 2022, he recounted to Diane Sawyer of ABC News how he would show up "violently hungover" to work. The star elaborated on this in his tell-all memoir, "Friends, Lovers, and the Big Terrible Thing," noting that the support of his cast mates helped him remain determined to make it through each day. "They were understanding, and they were patient," he remarked. "I was the injured penguin, but I was determined to not let these wonderful people, and this show, down." 
If you or anyone you know needs help with addiction issues, help is available. Visit the Substance Abuse and Mental Health Services Administration website or contact SAMHSA's National Helpline at 1-800-662-HELP (4357).