The Iconic Chandler Character Trait Matthew Perry Hated On Friends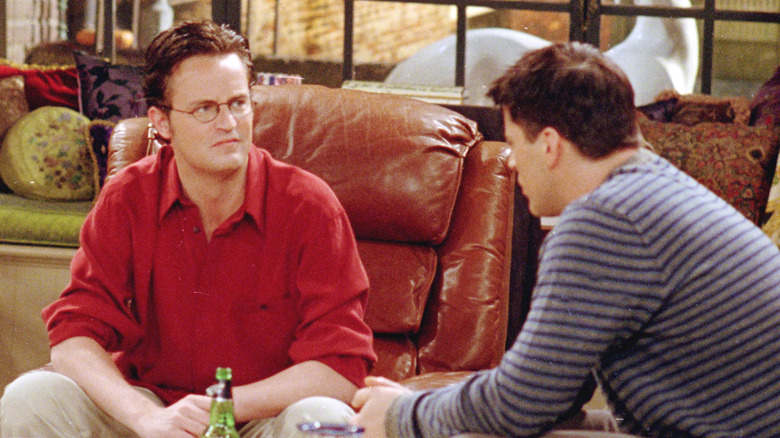 Getty Images/Getty Images
The late Matthew Perry played Chandler Bing on the long-running sitcom "Friends," which was on the air for a decade (1994 to 2004). The chemistry between Perry and his co-stars — Matt LeBlanc, Lisa Kudrow, Courteney Cox, Jennifer Aniston, and David Schwimmer — was rare for TV. That connection stretched beyond filming as the cast stayed close over the years. However, Perry himself added something unique to the show with his character — which wasn't always fun for him to play. 
Chandler was beloved by fans, and so was Chandler's relationship with Monica Geller (and his relationship with roommate-slash-best-friend Joey Tribbiani). The character stood out due to his bluntness, sarcasm, and hilarious one-liners that Perry delivered effortlessly for 10 seasons. "People can relate to him because he kind of wears his heart on his sleeve," the actor shared in an old interview.
Although Perry happily wound up getting the last line in the "Friends" finale, there was an iconic Chandler character trait that Perry got very frustrated with as the show went on.
Perry got sick of the Chandler Speak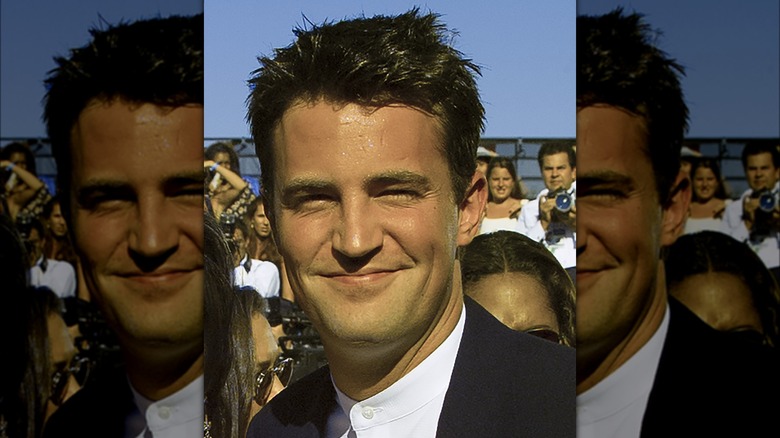 Bob Riha Jr/Getty
Any "Friends" fan knows that Chandler Bing had a very specific way of speaking — he would sometimes emphasize the word in a sentence that shouldn't be emphasized for comedic effect.
In his 2022 memoir, titled "Friends, Lovers and the Big Terrible Thing," Matthew Perry explained that he came up with that little gag when he was younger to be funny. "I was back in Ottawa with my childhood friends, the Murrays; I got laughs where no one else had," Perry wrote in the book (per Deadline). "I didn't know it yet, but my way of speaking would filter into the culture across the next few decades. For now, though, I was just trying to find interesting ways into lines that were already funny, but that I thought I could truly make dance." The effect would be known as "Chandler Speak." 
However, it got old. Perry "had to beg the producers" of "Friends" to stop writing his lines like that. Perry said in his memoir, "That particular cadence — could it be more annoying? — had been so played out that if I had to put the emphasis in the wrong place one more time, I thought I'd explode, so I just went back to saying lines normally, for the most part in season six and then beyond" (via Variety).
A throwback interview showed how long Perry hoped to do 'Friends'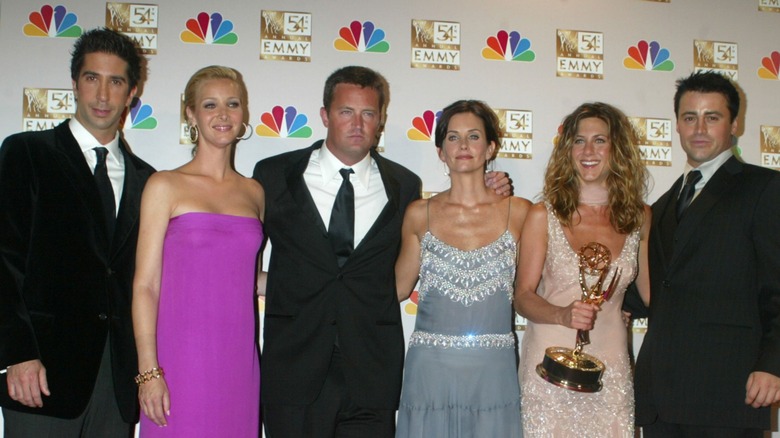 Jeffrey Mayer/Getty
Way back during Season 1 of "Friends," Matthew Perry did an interview about the show that predicted how long it would run, but he was short a couple of years. The Entertainment Tonight interview started with Perry talking about a trip to Las Vegas that he and the "Friends" cast took. He joked that he was sick of them after just a few weeks of work.
"No, we're getting along great," Perry said, pivoting from the kind of sarcasm that became synonymous with Chandler Bing. "We're having a great time. We hope to do this for six or seven years. Or eight. Eight would be fine." Young Perry was not able to guess that "Friends" would have a ten-year run.
Perry went on to discuss how the show's characters felt true-to-life to real groups of friends he's been a part of. When the camera panned over to his co-stars Matt LeBlanc and Lisa Kudrow, they simply stood there staring as if to throw him off his game. Perry then said, "That's the thing that's great about this show. Is that we're always there for each other, and support, and try not to make a fool of each other on camera." The interview showed the camaraderie between the cast as they joked around before they were called to start shooting.