Matthew Perry Nearly Missed Out On Playing Chandler In Friends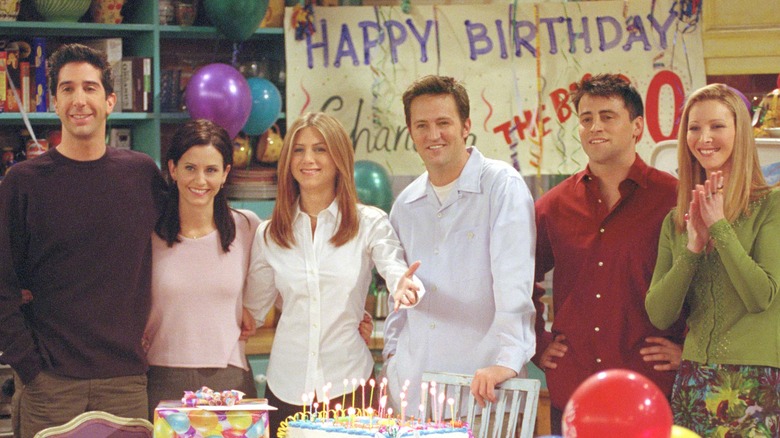 Getty Images/Getty Images
Tributes are pouring in as fans and colleagues mourn the too-soon death of Matthew Perry. The "Friends" star passed away October 28, 2023, of an apparent cardiac arrest; the autopsy report is still awaiting the toxicology results at this writing. Among the many who shared their grief and memories of the beloved star were Adele, Gwyneth Paltrow, Salma Hayek, Ellen DeGeneres, and even Sarah Ferguson, the Duchess of York. But the most devastating statement came from Perry's "Friends" co-stars. The five surviving core members released a statement to People saying in part, "We were more than just castmates. We are a family."
There are countless examples of actors who mesh well on stage or screen, but who stay aloof — or even feud — when they're not performing. "Friends," however, lived up to its name because of the close bonds Perry developed with his colleagues David Schwimmer, Matt LeBlanc, Courteney Cox, Jennifer Aniston, and Lisa Kudrow. Hard as it is to believe, though, Perry nearly missed out on the role that made him a household name. 
Perry told Seth Meyers in a 2014 interview that when the casting call went out for the NBC sitcom, he had already committed to another pilot for the Fox network called "LAX 2194," a comedy in which he handled luggage for alien travelers. Still, Perry managed to get a copy of the script. "There was this part that was perfect for me and it was making me crazy that I couldn't go up for it because [of] the baggage handlers show," he recalled.
Friends was quite literally the answer to Matthew Perry's prayers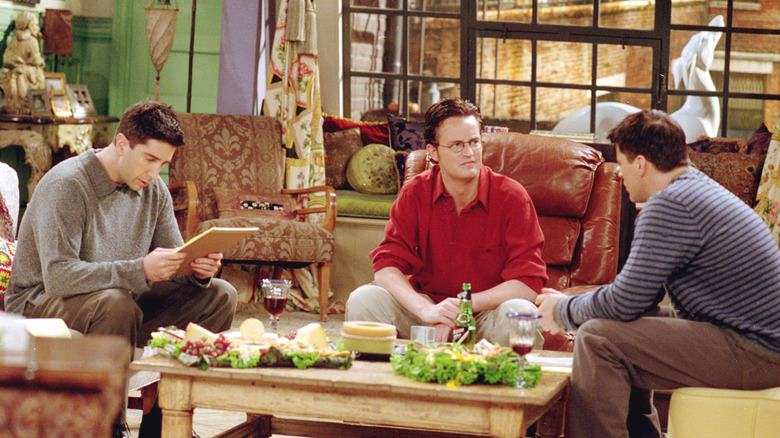 Getty Images/Getty Images
Could we be any happier that "LAX 2194" never got off the ground? The brass at Fox abruptly canceled the sitcom before production got any further, freeing Matthew Perry to audition for the role of Chandler Bing. His combination of awkwardness and snark made the actor the perfect foil for the other two male characters, the womanizing Joey Tribbiani and lovable nerd Ross Geller. For Perry, though, it was an answer to a prayer. 
In his autobiography, "Friends, Lovers, and the Big Terrible Thing" (via Insider),  the actor revealed that just weeks before he went out for the part, he read an article about Charlie Sheen and how fame had changed his life. Perry wrote, "Out of nowhere, I found myself getting to my knees, closing my eyes tightly, and praying. I had never done this before. ... 'God, you can do whatever you want to me. Just please make me famous.'"
Whether divine intervention or just a good reading, Perry got the role — and not a moment too soon. Down on his luck and running short of cash and opportunities at the time, he could just as easily have ended up waiting tables between auditions for 10 years or moving on to another profession that he hated, like the job Chandler held (whatever that was). 
Another actor might have gotten the part of Chandler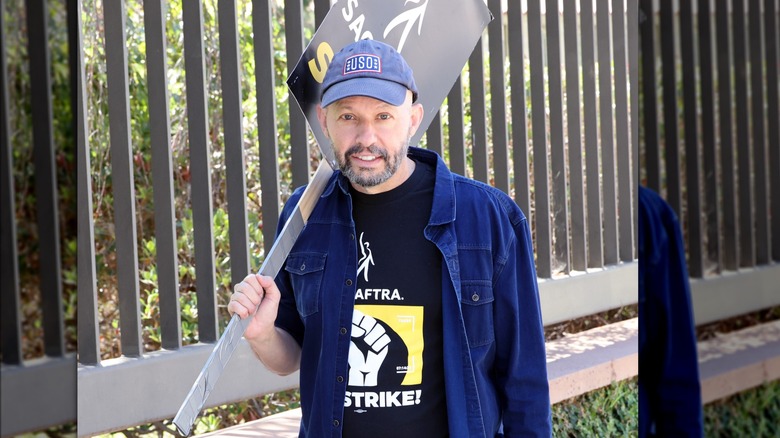 David Livingston/Getty Images
It's difficult to envision anyone other than Matthew Perry delivering iconic lines like "It's actually Miss Chanandler Bong" or "You have to stop the Q-Tip when there's resistance." But just as Tom Selleck nearly took on the iconic role of Indiana Jones before committing to being Magnum, P.I., other talented actors almost beat out Perry to become the sixth "Friend," Chandler Bing. 
Jon Cryer, then best known as Duckie in "Pretty in Pink," missed out on being Chandler because of rotten luck. The actor was in London at the time he got the news of the tryout. Cryer rushed to put together an audition tape at the crack of dawn in order to get it in before the deadline, but the package was delayed at customs in the airport. Another potential contender for the iconic "Friends" character was Jon Favreau, who was offered a chance to audition but turned it down. 
He must have come to regret it because Favreau later joined the cast in a recurring role as Pete Becker, a millionaire and a would-be ultimate fighter who's in love with Monica. Yet another naysayer was Craig Bierko, a TV and Broadway veteran. A real-life friend of Perry's, Bierko was the frontrunner to play Chandler, but he passed it up in order to accept a part in another pilot called "Best Friends." Once again, an actor's bad choice helped Perry rise to the fame he prayed for.