The View's Tribute To Matthew Perry Is A Real Tearjerker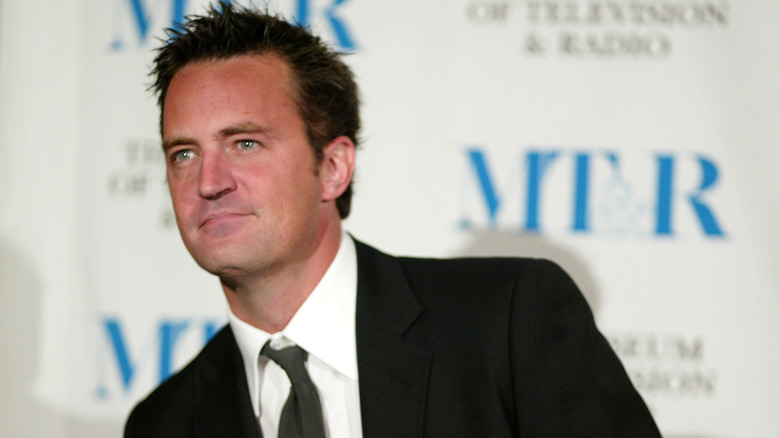 Christopher Polk/Getty Images
When news of Matthew Perry's untimely death broke on October 28, 2023, nobody could believe it. Just a year prior to his death, Perry released his tell-all memoir, "Friends, Lovers, and the Big Terrible Thing," in which the beloved comedic actor notably wrote: "When I die, I know people will talk about 'Friends, Friends, Friends.' And I'm glad of that, happy I've done some solid work as an actor." Perry continued, "But when I die, as far as my so-called accomplishments go, it would be nice if 'Friends' were listed far behind the things I did to try to help other people," (via The Wrap). 
Sadly, the TV icon also acknowledged that his wish probably wouldn't come true. Understandably, many "Friends" fans grieved his loss by sharing their favorite Chandler Bing moments. But others made Perry's hopes a reality by posting heartfelt tributes detailing how he impacted their lives as a person rather than just a character. One such tribute came from "The View," where host Whoopi Goldberg held back tears as she admitted, "We were all heartbroken to hear about the sudden passing of Matthew Perry." 
Goldberg added, "We were very lucky to have him here last year when he was really open about overcoming his struggles with addiction, and he was really passionate about helping other people get through it." Then, they played a clip of Perry where he shared some pearls of wisdom that helped with his journey to sobriety, which seems like exactly what the actor would've wanted. 
The tribute honored Matthew Perry's life's mission
"The View's" simple but impactful tribute included a clip of Matthew Perry offering his heartfelt advice to other people battling addiction: "Get the right help, and don't be alone with it." After the video played, Whoopi Goldberg once again grew emotional as she gushed, "He was quite something, and really a good, funny guy." For co-host Sunny Hostin, Perry's struggle hit close to home as she's seen several loved ones go through the same thing. Hostin was glad that someone as famous as Perry was so vocal about his addiction issues because it made the topic less taboo, so people weren't afraid to admit they needed help and to seek it out. 
The TV host also felt that others would see their own struggles reflected in Perry's words, making them feel less alone. Meanwhile, Ana Navarro said, "In honor of Matthew Perry, if you know somebody that is struggling with addiction, or you are struggling with addiction, reach out. You don't have to be alone. Carrying burdens is easier when you do it with others." 
Co-host Sarah Haines argued that Perry's death was being universally grieved because he strived so hard to battle his issues so that he could live a long and happy life, but the actor still tragically passed away so young. As for Perry, during his last appearance on the show he asserted that, in a way, he was grateful for every experience, both positive and negative, because it enabled him to better help others. 
Matthew Perry helped other people get sober too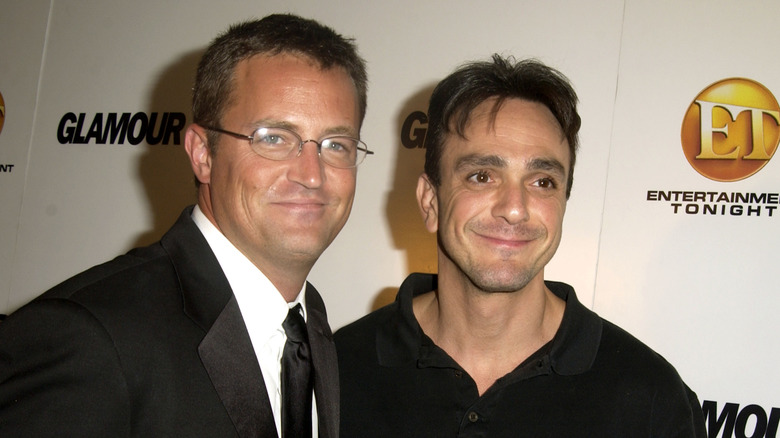 J. Vespa/Getty Images
After Hank Azaria learned that Matthew Perry had passed away, he shared an Instagram reel confirming that the "Friends" star helped him on his sobriety journey. Azaria first met Perry when he was 21 and Perry was 16, and they formed a close friendship after filming a pilot for a show that was later scrapped. Then, Azaria got candid about his own struggles with addiction, explaining, "The night I went into AA, Matthew brought me in. The whole first year I was sober, we went to meetings together." He also noted, "And ... I got to tell him this, as a sober person he was so caring and giving and wise and he totally helped me get sober." 
Azaria also revealed that he had a hard time getting through Perry's memoir because he got too emotional thinking about how the actor's addiction changed him as a person, and his loved ones couldn't do much to get him back to his normal self. Azaria isn't the only person Perry has helped on their journey to sobriety either. He turned his Malibu mansion into Perry House, a sober living facility for men where they could safely reside after finishing rehab. 
Although the venture shut down in 2015, Perry wasn't quite done yet, as People reported in October 2023 that he was planning on establishing a foundation to help others overcome addiction. Perry also reportedly sought to bring about legal changes for people with addiction issues by advocating for rehabilitation rather than incarceration for minor offenses. 
If you or anyone you know needs help with addiction issues, help is available. Visit the Substance Abuse and Mental Health Services Administration website or contact SAMHSA's National Helpline at 1-800-662-HELP (4357).