Lisa Kudrow And Jennifer Aniston Love Watching Friends Bloopers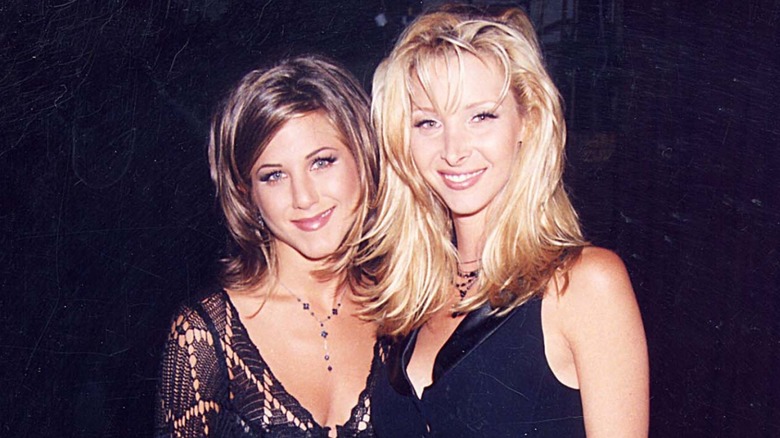 Jeff Kravitz/Getty Images
"Friends" remains as one of the most iconic television shows in history. Premiering in 1994 on NBC, it captured a massive audience of 21.5 million viewers, a number that continued to swell over its 11-year run. The sitcom has sustained an enduring legacy, remaining a comfort series for countless viewers and transcending generational gaps.
In a 2020 report, Variety noted that "Friends" claimed the title of the most-watched show on HBO Max, a palpable testament to its perennial popularity. The show's appeal appears to lie in its relatable characters, timeless humor, and universally experienced storylines, defying the constraints of time and making it a true cultural touchstone of its period.
Die-hard fans definitely sat through all 10 seasons, possibly multiple times, and can effortlessly recite the lines of Chandler, Ross, Joey, Monica, Rachel, and Phoebe. However, there's more to discover online. Officially enjoyed by the cast as well, there are bloopers circulating the web, revealing unreleased takes and humorous mistakes. Even after more than two decades, Lisa Kudrow (Phoebe) and Jennifer Aniston (Rachel) find joy in watching themselves flub lines and break character, and you really can't blame them. Could "Friends" be any more of a laughter marathon?
The bagpipe scene still makes them laugh
HBO
In Variety's "Actors on Actors" YouTube series, former co-stars Jennifer Aniston and Lisa Kudrow delved into their fond memories of working on the iconic show. While discussing their current projects, the conversation naturally turned back to "Friends," and the duo admitted to indulging in watching bloopers from their on-set days.
Aniston explained, "This one time I was with Courteney [Cox], and we were trying to find something to reference, an old "Friends" thing," quipping, "then we stumbled on [outtakes from the show] and we sat there at the computer like two nerds watching these bloopers laughing at ourselves." Kudrow chimed in, revealing that she, too, has spent hours enjoying the mishaps captured on video.
Reflecting on their time on set, Aniston reminisced about the moments when the cast would burst into laughter during scenes, particularly recalling an instance from Season 7's "The One With Joey's New Brain." In this episode, David Schwimmer's character, Ross, plays the bagpipes while Phoebe (Kudrow) sings along. The scene caused the cast to struggle to keep a straight face, with some being more successful than others. Still, despite their love for bloopers, not every member of the original six actors tunes in to catch the show itself.
The two don't share the same sentiment about watching Friends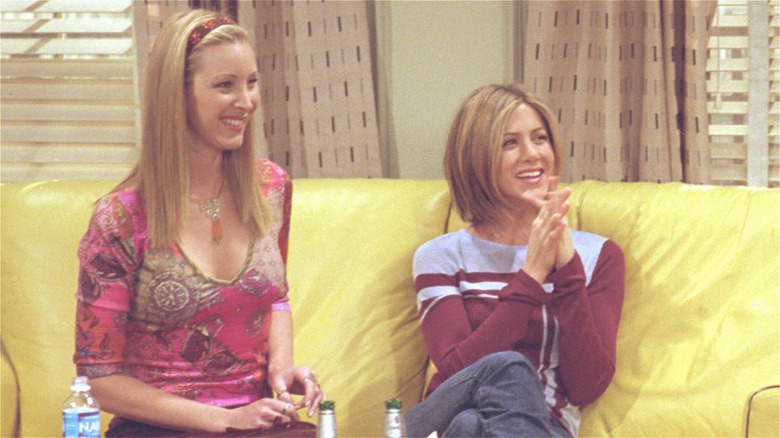 Getty Images/Getty Images
During the Variety conversation with her castmate, Jennifer Aniston, Lisa Kudrow revealed that she mostly avoids watching the show that propelled her to stardom. Still, surprisingly, her reason for abstaining is heartwarming. "I'm still not watching it in the hopes that one day we sit down and watch them together," Kudrow said, with Aniston agreeing that it would be a nice moment to share as a group.
This isn't the first time Kudrow has mentioned her decision not to watch "Friends," so we're guessing she's quite serious about her decision. In a previous interview with Entertainment Tonight, Kudrow shared that she might not appreciate her work from way back then, leading her to avoid watching reruns if she comes across them. She stated, "I'd rather not risk that."
On the other hand, Aniston takes a different approach and enjoys watching the show to this day. In a promotional interview for her 2010 movie, "The Bounty Hunter," she admitted to tuning in when the show is on during her TV time. "It makes me laugh. It always made me laugh," the actor shared. She echoed a similar sentiment on BBC's "The One Show," confessing, "Yeah! I can't help [watching it]. You get sucked into the nostalgia of it." The comfort of "Friends" seems like a sure bet to stand the test of time, and if it's a hit with the one and only Rachel, it's a hit with the rest of us.