What Paget Brewster Has Said About Her Time Playing Kathy On Friends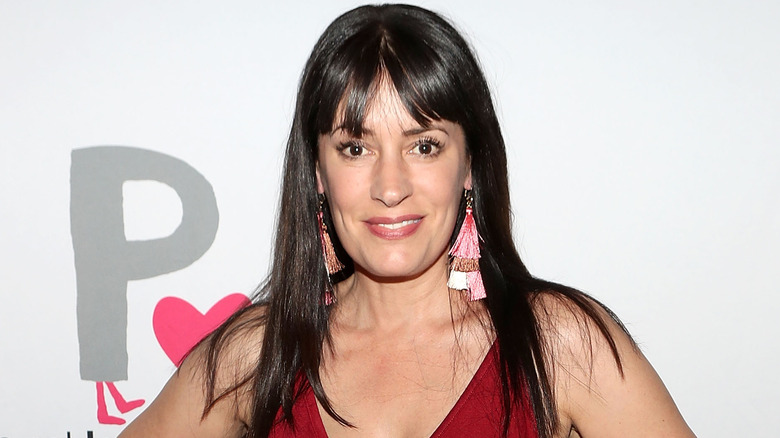 Randy Shropshire/Getty Images
Paget Brewster has played some truly beloved characters on television, perhaps the most famous of which is Agent Emily Prentiss on the long-running CBS legal drama "Criminal Minds." But before she was fighting crime and chasing serial killers, Brewster was stealing hearts as Kathy on the classic sitcom "Friends." The then-newcomer appeared in six episodes of the fourth season as Kathy, the love interest first of Joey (Matt LeBlanc), and then of Chandler, played by the late Matthew Perry.
Her story arc provided plenty of drama between the two besties, both of whom carried a torch for Brewster's character. And while she went on to find major success starring in "Criminal Minds" and its new Paramount+ spinoff "Criminal Minds Evolution," the actor holds a special place in her heart for her brief stint on "Friends." Over the years, Brewster has recalled several memories of her time on the show, from when she first landed the role to how she almost lost it immediately because of a drastic haircut. 
Friends was the up-and-coming actor's big break
Paget Brewster had never landed a major TV role before when she first auditioned for "Friends," which, by its fourth season, was already a household name. Brewster was an avid viewer and during an appearance on "The Talk," the "Criminal Minds" star shared that when she walked into the audition, she found herself among several famous faces who were also vying for the role of Kathy, so she just assumed she had no chance (via The Things). Because the actor didn't see herself as a viable candidate, she didn't overthink it, which allowed Brewster to be herself. 
In fact, when it was her turn to audition, she announced, "Clearly I'm your runty alternate so let's just get this show on the road." Brewster's self-deprecating sense of humor worked to her advantage; Matthew Perry thought she was bold and funny, and executive producer/co-creator Kevin Bright clearly agreed because he ultimately hired her. However, she almost didn't get to keep the part because of a haircut. 
As Brewster admitted to The AV Club, before she began filming, the hair team decided to cut her locks short and dye them red, a choice Bright didn't appreciate. The "Friends" co-creator screamed at the hairdressers, "I hired her because she had a black bob! You can't do this!" Brewster remembered, "I just went upstairs, I put my magazines in my bag, and I just sat and waited, like, 'I lost my best job I've ever gotten.'" 
Brewster streams Friends just like other fans
Thankfully, as Kevin Bright clarified, Paget Brewster was hired for more than her chic bob so the actor got to keep her job. Though this initial experience on "Friends" was jarring for her, Brewster went on to have an absolute blast working on the hit sitcom, telling "The Talk" that she "loved it so I was so happy to be there ... It was a great experience. And I'm so proud to be part of that show. I love it," per The Things. 
In fact, the actor loves "Friends" so much that, in 2019, Brewster watched the show from start to finish on streaming, just like so many other fans often do (via E! News). And that constant re-watching by fans means that Brewster still gets recognized for the role she took on all those years ago. The actor informed TV Insider that she is still recognized not by her face, but by the sound of her voice. 
"What they recognize is the voice," Brewster shared. "Because what happens is I'll be talking to someone or in a restaurant and I see a person next to me, they freeze, and then they slowly turn around and they go, 'Kathy, you're Kathy,' and it's because they recognize my voice. It's amazing." Evidently, the role made just as much of an impact on the millions of viewers as it did on Brewster herself.