Why Patrick Mahomes Fans Don't Like His Brother Jackson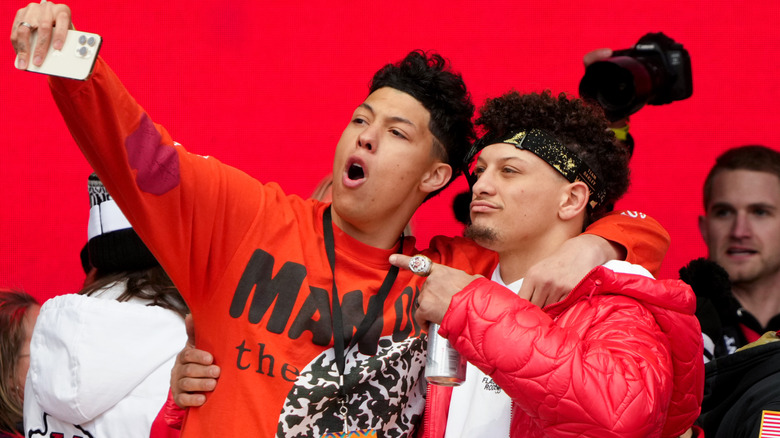 Jay Biggerstaff/Getty Images
The following article contains references to sexual assault.
Taylor Swift started dating Travis Kelce, tight end for the Kansas City Chiefs, and she attended a few of his games. She was spotted in a private suite and chatting with Donna Kelce, Travis's mom, and sharing a special handshake with Brittany Mahomes, wife of Kansas City Chiefs quarterback Patrick Mahomes, after a touchdown.
But there was one person in the suite watching the game with Swift that people weren't so happy to see her palling around with, and that is Jackson Mahomes, Patrick's brother. While Patrick and Jackson have a close relationship, Swift fans don't seem to like her being around Jackson, and NFL fans don't seem to like him too much either. There are a few reasons that Patrick's little brother isn't as beloved as he is, ranging from cringeworthy social media posts to disturbing criminal charges.
Jackson Mahomes was arrested on battery charges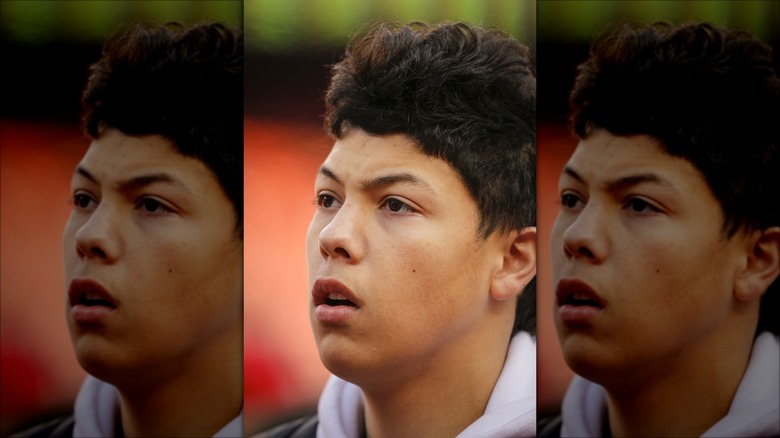 David Eulitt/Getty Images
The most serious issue that people seem to have with Jackson Mahomes is that Jackson was charged with aggravated sexual battery and battery in May 2023 after an purported altercation at the now-closed Aspen's Restaurant and Lounge in a suburb of Kansas City in February 2023. He's said to have pushed a restaurant employee and repeatedly grabbed the neck of the restaurant's owner while also kissing her against her will. Released surveillance video seems to support the allegations. Jackson's lawyers have denied the allegations against their client, saying the incident needs to be seen in a larger context.
Patrick Mahomes was asked about the charges against his brother at a Kansas City Chiefs press conference in May 2023. Patrick didn't confirm or deny anything that his brother did, and he clearly wasn't going to be commenting on it since he wanted the focus to be on football. "Honestly, it's kind of a personal thing that I'm just gonna keep to myself," Mahomes said.
Jackson Mahomes sideline dance made people angry
Jackson Mahomes has over 1 million followers on TikTok, which is quite impressive, but not all of his videos go over that well. A video of his from October 2021 featured him doing a TikTok dance at FedExField before a game between the Chiefs and the Washington Commanders. The issue wasn't that he was dancing, but rather where he was dancing. Mahomes danced on top of the #21 sideline tribute for Sean Taylor. Taylor had been a safety for the Commanders when he was shot and killed during a home invasion in 2007. The footage was shared across the internet, and a lot of people were unhappy. One wrote, "Hopefully this is rock bottom and his wonderful family will help him understand his unwanted actions." 
The team had ceremonially retired Taylor's number before the same game that Mahomes recorded his dance, so that was seen as a particular affront by some. Jackson later deleted the post and apologized for the dance on Twitter, saying he'd been told to stand there. His apology wasn't all that well received by everyone, with one person noting: "Not sure how you 'accidentally' danced there."
Jackson seems to know that he's got haters out there. He posted a Duet on TikTok with a video from JoJo Siwa with the words, "I know someone who gets more hate than you ... "
Patrick Mahomes poured water on a rival fan after a Kansas City Chiefs loss
A month before the Sean Taylor incident, Jackson Mahomes got attention in another much-shared social media post, though it was not one he made himself. Instead, Mahomes was caught on film pouring water on a Baltimore Ravens fan who had been taunting Mahomes after the Kansas City Chiefs lost by just one point to the Baltimore Ravens.
People in the comments sounded off on his behavior, with many referring to Mahomes as childish and immature. One wrote, "He felt entitled to do that because of who his brother is." And another said, "Have some self control[.] It was a great game and learn from your brother, hold your head high[,] shake hands in defeat."
Both water pouring and the Sean Taylor incident were noted by SoT, a Kansas City Cocktail bar, that Mahomes put on blast in a since-deleted social media post. Mahomes was apparently annoyed that they couldn't seat him and his large party, and the bar had a lengthy, and now erased, initial response to Mahomes, which read: "Often times people with un-earned status and a sense of entitlement think they are above the rules and will lash out at the employee enforcing them. [...] We survived a global pandemic, we'll survive your ego." Yikes!