The Rumored Tensions Between Jennifer Lopez & Jen Garner, Explained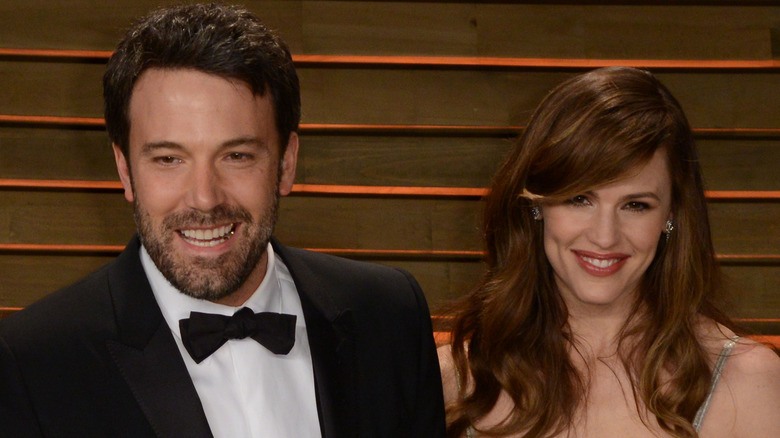 C Flanigan/Getty Images
Jennifer Garner and Ben Affleck took the world by surprise when they announced their divorce in 2015. The couple was married for a decade, shares three children, and gushed about their longstanding relationship every chance they got. It wasn't until Affleck's 2021 appearance on "The Howard Stern Show" that we got some clarity on the reason for their split. As the actor explained, "The truth was, we took our time, we made a decision ... we grew apart. We had a marriage that did not work. This happens." 
Affleck added, "It is somebody I love and respect, but to whom I should not be married any longer," (via Yahoo!). While they tried to mend their relationship to protect their kids from the burden of divorce, the celebrity couple quickly realized they'd be harming their concept of love if they continued. Although they might've said goodbye to their romantic ties, they never cut each other out of their lives. Shortly after announcing their divorce, the couple even took their children on a vacation to the Bahamas. 
Since then, Affleck and Garner have consistently put their differences aside for their family. As a result, the two remain on good terms while they move on with their romantic lives. Garner has been in an on-and-off relationship with John Miller since 2018, and Affleck found new love in his old romance with Jennifer Lopez, and the two tied the knot in 2022. However, Lopez reportedly doesn't like the bond Garner and Affleck share. 
Jennifer Lopez feels threatened by Jennifer Garner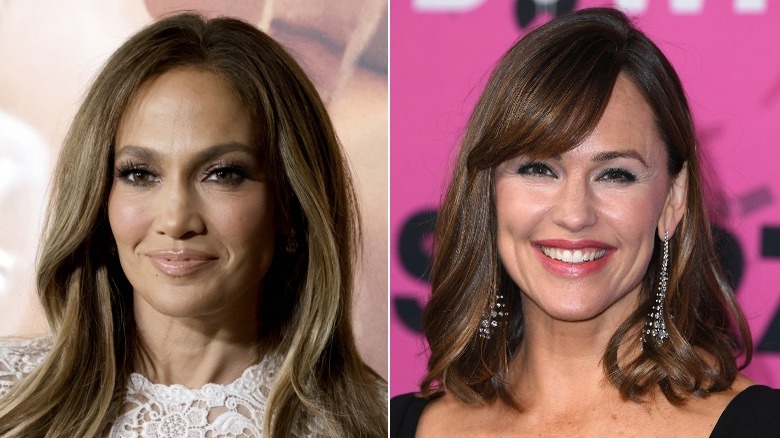 Frazer Harrison & Steve Granitz/Getty
In October 2023, an insider informed Life & Style magazine that a feud had been brewing between Jennifer Garner and Jennifer Lopez for quite some time. They claimed, "The jealousy J.Lo feels over their deep connection is intense," noting, "She believes Ben lied to her about his friendship with Jen — their bond is stronger today than when they were married — and she let Jen know she doesn't appreciate how much of her husband's time Jen has been taking up." In fact, "They're currently in a big fight over Ben." 
The source added that it's not uncommon for Lopez to get jealous, and the celebrity couple tends to get into nasty arguments over it because she isn't afraid to make her feelings known. During one particularly explosive fight, Lopez screamed, "She's your ex-wife for a reason!" and demanded that her husband spend less time focusing on his former marriage and devote his energy to the current one instead. The source reckons that Garner sensed the tension, too, so she canceled some family gatherings to ease it.
However, Affleck doesn't want to let go of his friendship with Garner, as the source explained, "He often seeks out her advice. He even told J.Lo how he relies on Jen like never before and how much he respects her opinion on a myriad of topics." Still, the rumored hostility been the two women has existed for a while, and Affleck has been trying his best to make peace. 
Ben Affleck has repeatedly tried to mend fences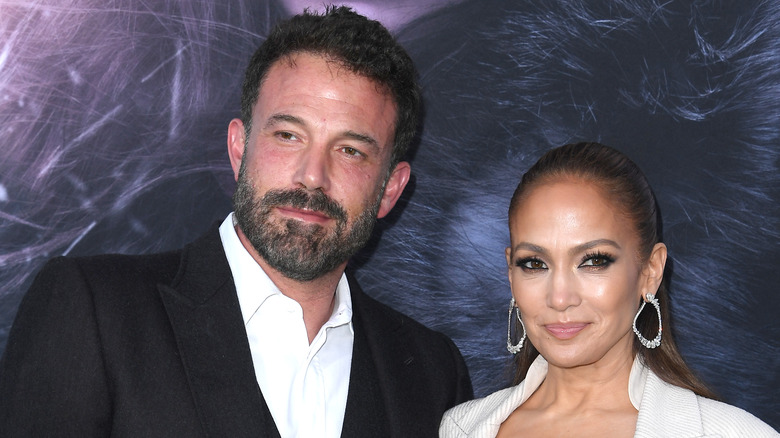 Steve Granitz/Getty Images
Ben Affleck has reportedly tried to convince Jennifer Lopez to go on a double date with Jennifer Garner and John Miller, but the "On The Floor" singer isn't on board with the idea. An insider told Closer magazine (via The Mirror) that she finds the idea too odd and has turned down every opportunity, but Affleck continues insisting. As a result, Affleck reportedly feels like Lopez's jealousy is bordering on controlling by dictating who they hang out with. In September 2023, Garner and Affleck were photographed sharing a hug in a car, and the "Love Don't Cost a Thing" hitmaker wasn't too happy about it. 
A source spilled to Closer, "J-Lo's absolutely furious and feels like she's been blindsided by these pictures. Ben's been insisting they were completely innocent — and J-Lo does believe him" but she's still unhappy and has let him know. Lopez doesn't expect Affleck to completely cut Garner off because she, too, stays in touch with her ex-husband, Marc Anthony, as they also co-parent, but she wishes some boundaries were in place to prevent such photos from appearing in the future. 
Amidst the rumors of a feud, Affleck and Garner seem to be on good terms as they attended a Halloween celebration at their children's school in October 2023 and were later spotted having a heart-to-heart. It's also worth noting that when Affleck and Lopez first rekindled their romance, a source clarified to Entertainment Tonight that Garner wasn't interested in Affleck's dating life, and all she wanted was for him to continue being a good father.