John Stamos' Memoir Reignited Decades-Old Drama With His Ex Teri Copley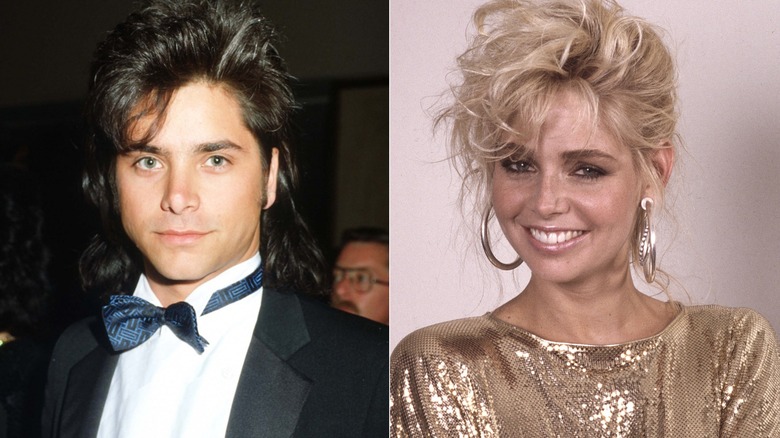 Bob Riha Jr/Getty & Barry King/Getty Images
In his revealing memoir, "If You Would Have Told Me," John Stamos, the beloved "Full House" star, bared his soul with both dramatic confessions and tragic details from his life. From enduring abuse as a young boy to navigating the heart-wrenching aftermath of his divorce from Rebecca Romijn and the loss of his mother, Stamos left no stone unturned in exploring the events that shaped his present self. Other than opening up about how he was affected by his relationship and subsequent split from Romijn, Stamos also detailed his other heartbreaks. 
Notably, during the 1980s, the actor was famously involved with Teri Copley, a fellow actor and model best known for her role as Mickey McKenzie in the TV series "We Got It Made," as well as for being a Playboy cover girl. Their relationship, which lasted for about a year, came to an abrupt end amid a cheating scandal. Or, at least, that's what Stamos claims.
According to the actor, who reignited the decades-old drama in his 2023 memoir, Copley cheated on him with Tony Danza, the Hollywood veteran celebrated for his roles in several iconic shows such as "Who's the Boss?" and "Taxi." While Copley recalls these events differently, Stamos maintains that they were indeed a couple when the alleged incident took place.
John Stamos allegedly walked in on Teri Copley cheating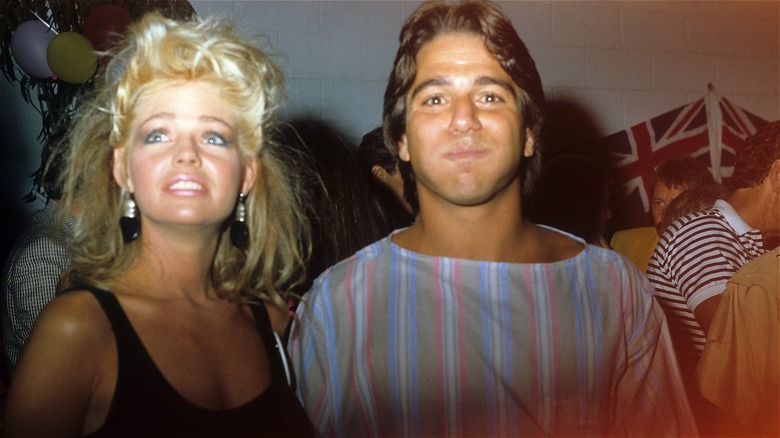 Donaldson Collection/Getty
John Stamos' bombshell memoir revealed that the actor's ex-girlfriend, Teri Copley, not only cheated on him but that Stamos walked in on her in the act. According to "If You Would Have Told Me," Stamos decided to check on Copley after she cut him off following his return from touring with the 1960s icons, Papa Doo Run Run. Stamos recounted observing an unfamiliar car in Copley's driveway upon arriving, which had a partially dressed poster of hers inside. Unable to get into the house, he ventured to the guesthouse, where Stamos discovered more than he bargained for — Copley cuddled up with a mystery man.
"My heart is beating out of my chest," Stamos recalled. "My mind is racing, and the room is spinning. It's my worst nightmare," (via USA Today). According to Entertainment Weekly, the "Full House" star briefly considered confronting them but changed his mind upon noticing her lover's muscular physique. With tears streaming down his face, Stamos left the property, but not before taking the poster from the car. As he revealed, "[Copley] signed the poster, with little hearts, 'My Dear Tony, I'll love you forever. XO, Teri.' Tony? Who the hell is Tony?"
It was only during his drive home, accompanied by Elton John's "Tiny Dancer" on the stereo, that Stamos realized the Tony in question was Tony Danza. "Hold me closer, Tony Danza," he wrote. However, following the release of Stamos' memoir, Copley swiftly denied the allegations.
Teri Copley claims she had already broken up with Stamos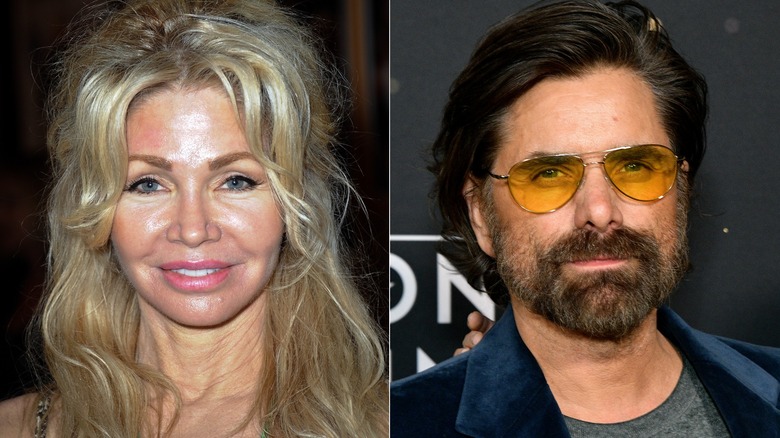 Araya Doheny/Getty & Albert L. Ortega/Getty Images
According to Teri Copley, the situation unfolded much differently than John Stamos remembers. In a statement to People, the former model clarified that they were not in a relationship when he showed up at her house. "I wondered, 'What was John doing there?' because we had broken up," Copley explained. "He just looked at me, shook his head, and walked away." The former TV star also took to Instagram to express her confusion about Stamos publicly slamming her, especially since they remained friends after their split. 
Copley shared an excerpt from Stamos' interview on "The View," in which he talked about her alleged infidelity, captioning the post, "He's caught slandering me all over the world as a cheater." A friend of Copley's commented, "Woah, what prompted this? I ran into him about a year ago; he asked how you were doing," to which Copley responded, "I was shocked too! We had such a good friendship! I loved him so much!"
Stamos, however, disputed Copley's dismissal of his allegations, stating on "The View" that he doesn't recall them being broken up and suggesting that if they were, it was likely temporary. Then, during an appearance on "The Howard Stern Show," the actor remarked, "I don't think [Copley] told me [we were broken up]," adding, "I was busted up, man," (via the New York Post). Tony Danza has yet to comment on the accusations as of this writing.