All The Worst Celeb Halloween 2023 Costumes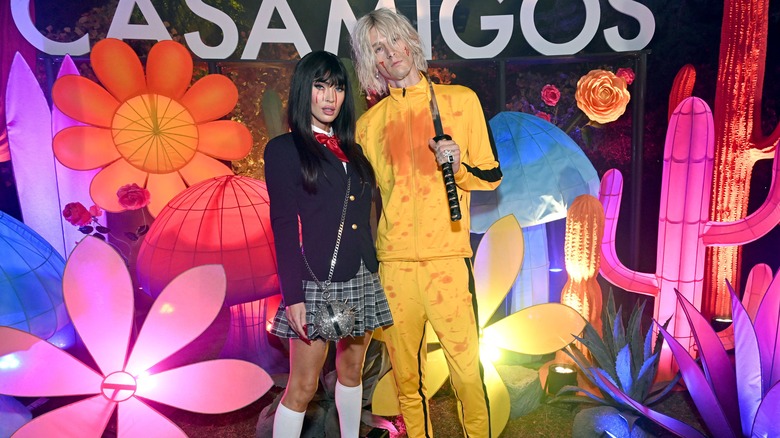 Michael Kovac/Getty Images
Well, 2023 was quite a year for Halloween costumes. From Halloweekend to Heidi Klum's famous Halloween party, so many celebs were committed to going all out and rocking incredible looks. As always, though, while many stars shined this October, there were plenty who fell flat ... very flat. From blatantly disrespecting the union's request regarding the ongoing actors' strike to wearing downright offensive garb, some stars really went above and beyond when it came to missing the mark. 
Not every bad celebrity Halloween costume this year was inappropriate; some were just boring or confusing. And, when you have competition from the likes of Keke Palmer, Heidi Klum, and Megan Thee Stallion, stars need to either step up their game or prepare to grace the "worst celeb Halloween costumes" list. This year's list has its fair share of Halloween costume crimes — from drab and yawn-inducing to straight-up shocking. Now that November is upon us, these celebs better start thinking up some better ideas for Halloween 2024. The competition is sure to be stiff. 
Megan Fox and Machine Gun Kelly as Gogo and The Bride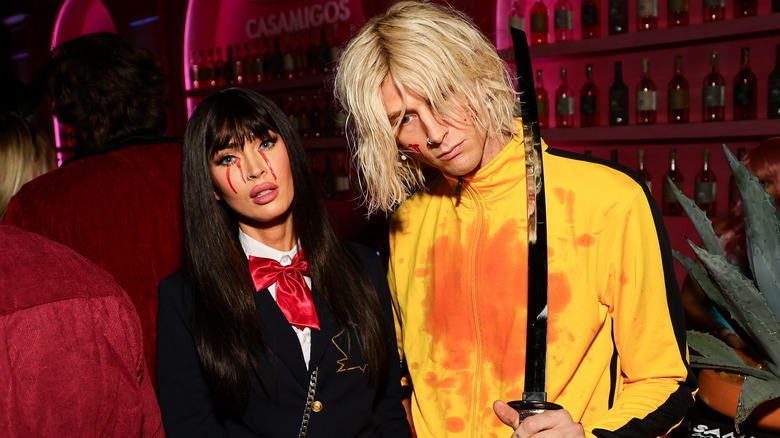 Matt Winkelmeyer/Getty Images
Megan Fox and Machine Gun Kelly hit the town dressed as Gogo and The Bride from "Kill Bill: Volume 1." In attending a Halloween party as these characters, though, they also attended as scabs. Due to the 2023 SAG-AFTRA strike, celebrities were warned against wearing costumes referencing media that was made by struck studios. Not only did Fox and Kelly break this rule; they made it clear that they don't care. In her Instagram post, Fox tagged SAG-AFTRA, clearly making a joke out of their rules. Not a good look. 
Kendall Jenner as Marilyn Monroe
Kendall Jenner's Marilyn Monroe costume isn't awful, but it isn't special, either. For a model, Jenner always plays her fashion choices surprisingly safe, and this Marilyn Monroe look is certainly no exception. And, besides just sporting a look that's been done a million times before, it's difficult to ignore the context surrounding the figure she's portraying. In 2022, fashion historians saw red over Jenner's sister, Kim Kardashian's, Met Gala dress. Kardashian controversially borrowed an ensemble from the late Monroe. So, besides being uninteresting on its own, Jenner's choice feels unnecessarily edgy.
Justin Bieber as a deer
Justin Bieber wore a few costumes over the course of the 2023 Halloween season, and evidently his wife, Hailey Bieber, hasn't taught him her secret to rocking multiple great costumes in a row. All of Justin's looks fell short this year, but none was quite as bad as this deer onesie. A onesie is basically the lowest effort someone can put into a costume while still dressing up, but Justin took it a step forward by forgoing the top portion by the end of the night in favor of a bare chest and deer legs. 
Padma Lakshmi as the Big Bad Wolf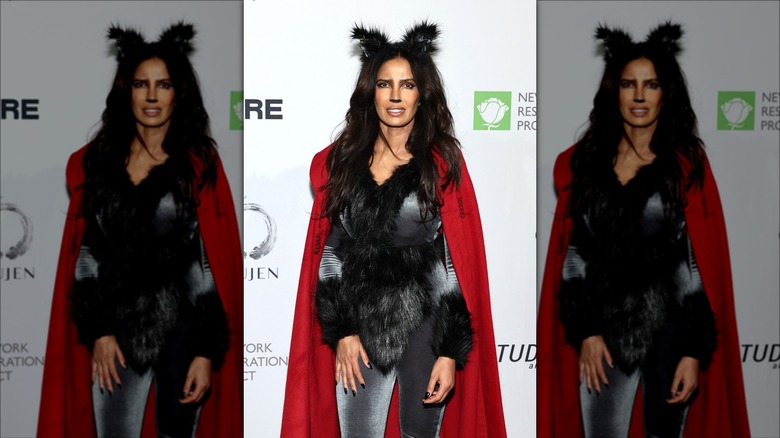 Arturo Holmes/Getty Images
Padma Lakshmi always stuns in anything she wears, so why should Halloween be any different? Unfortunately, her Big Bad Wolf costume is just ... well, bad. Both the idea behind this costume and the makeup are lackluster, and the furry bodysuit paired with metallic tights is just confusing. This looks like something a teen would wear to dress up at their school Halloween party, rather than what a star would be sporting on the red carpet. 
Khloe Kardashian as a Bratz doll
In a season of Barbies, Khloe and Kim Kardashian, switched things up and hit the town on Halloween as Bratz dolls. Unfortunately, though, folks weren't exactly impressed by their interpretation. It was nearly impossible to recognize Khloe underneath her heavy makeup, and the nature of the costume caused a lot of controversy on Instagram. Plenty of commenters accused Khloe of Black-fishing with the look. And, if that wasn't bad enough, she peeled her fake lips off on her Instagram story and revealed that she does this on regular, non-Halloween days, too. Yuck.
Victoria Monét as a sexy nun
We admit that being pictured next to Megan Thee Stallion in what was one of the best celebrity Halloween costumes didn't exactly set singer-songwriter Victoria Monét up for success. Even so, while Monét may have looked stunning, the costume, itself, raised more than a few eyebrows. She was dressed as a very, very loose interpretation of a nun –– donning head-to-toe red lace in the form of a multi-piece ensemble with a cutout for her crotch. Besides how strange the concept of this costume is, it also received backlash in the Instagram comments for mocking religion. 
Kacey Musgraves as a deer
Oh "deer" ... Kacey Musgraves' Halloween costume this year was just so boring. Elaborate makeup is a great way to rock a costume while still sporting your comfy clothes. For a star like Musgraves, though, simply wearing makeup, a headband, and a long-sleeve tee just didn't wow us. Not to mention the fact that this deer makeup was all the rage for Halloween a few years back. We saw so many folks in a similar makeup look back in 2018, making this costume feel way too dated and uninteresting for a major celeb. 
Ariana Grande and Liz Gillies as Nomi and Cristal
BFFs Ariana Grande and Liz Gillies' joint Halloween costume wouldn't have actually been bad if they'd stopped at just a costume. The pair of pals dressed up as Nomi and Cristal from the 1995 film, "Showgirls." Instead of one costume, the stars put together numerous different looks to play the characters. While we love the dedication this took, something about the photoshoots just didn't quite work. And, the disjointed, awkwardly green screen-ed scene reenactment that Gillies shared on X, formerly known as Twitter, just made the whole cosplay feel even weirder. 
Rachel Zegler as Daphne from Scooby Doo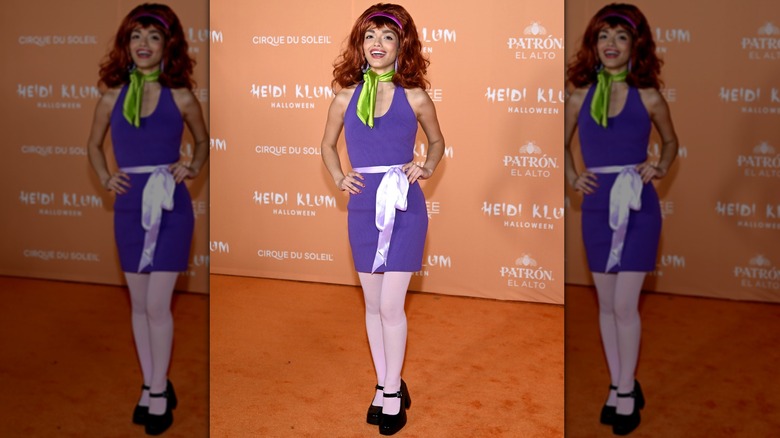 Noam Galai/Getty Images
Heidi Klum's annual Halloween party is known for wild, impressive looks. However, Rachel Zegler hit the orange carpet looking like any old trick-or-treater you'd see ringing your doorbell. Daphne from "Scooby Doo" is a common costume, and Zegler's take on it didn't add anything special. She attended the party alongside her boyfriend Josh Andres Rivera who, of course, was dressed as Daphne's partner in crime, Fred. Still, rather than adding interest, this just further established how run-of-the-mill the whole idea behind this costume was.
Leni Klum as Strawberry Shortcake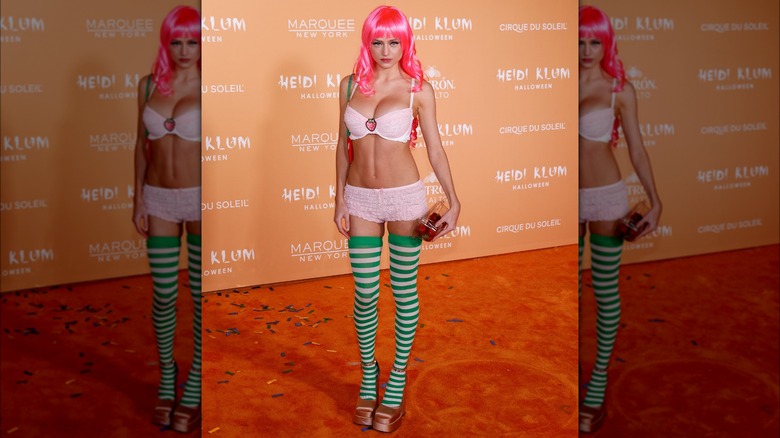 Taylor Hill/Getty Images
If your mom is the queen of Halloween, then doesn't that make you the princess of Halloween? Sure, that might be a lot of pressure, but since she's got all the resources and the brains behind some of the best celeb Halloween costumes ever, Heidi Klum's daughter Leni Klum should have wowed us more. Why did she choose to attend her iconic family Halloween party as Strawberry Shortcake in her underwear? The world may never know. And, besides the striped socks and single strawberry appliqué, we never would've known who she was portraying. 
Coco Austin and Ice-T as... gangsters?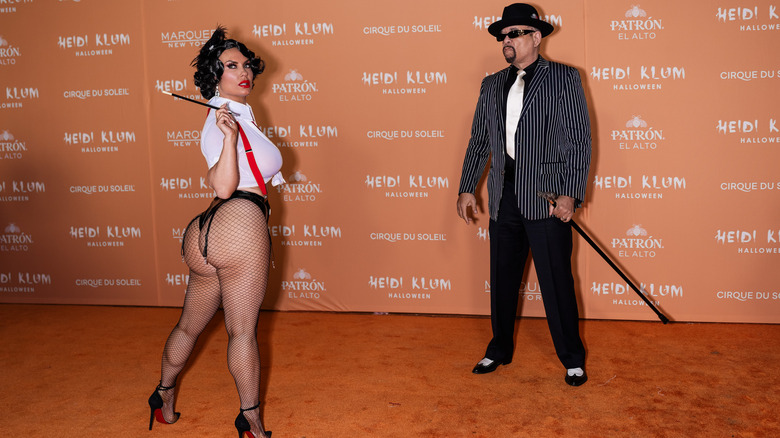 Gotham/Getty Images
Reality TV lovers remember that "Ice Loves Coco," but we do not love Ice-T and Coco Austin's couple's costume. It seems that Ice-T is meant to be a 1920s gangster, and while his wife fits the time period for the most part on the top half of her look, the bottom half is just plain over-the-top. This costume is overall confusing, and while this couple is clearly trying to pull off an old time-y look with a flirty vibe, they missed the mark on both counts. 
Taylor Lautner and Taylor Dome as SNL characters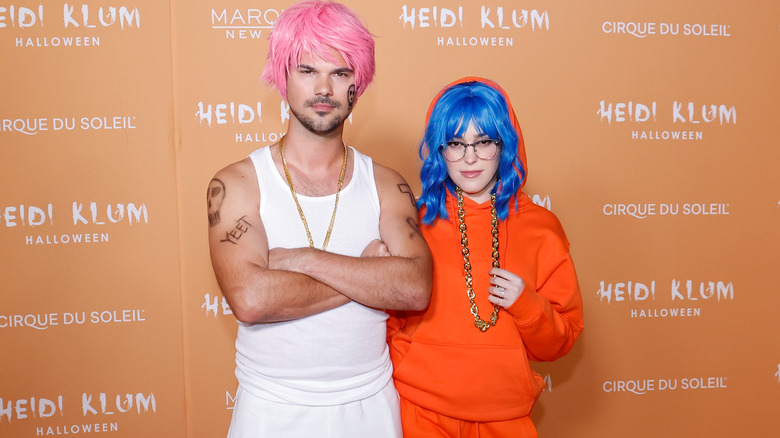 Taylor Hill/Getty Images
Taylor Lautner and Taylor Dome graced the orange carpet at Heidi Klum's Halloween party in simple yet colorful garb. The pair was paying homage to Timothée Chalamet and Pete Davidson's characters from an "SNL" skit that has been making the rounds on TikTok as of late. Yet, for most people, it's nearly impossible to identify who the two Taylors are dressed as. Plus, these looks clearly took very little effort, and the biggest Halloween party of the year requires a bit more forethought.