The Beginning Of Chad Michael Murray & Sophia Bush's Romance Was Messier Than We Thought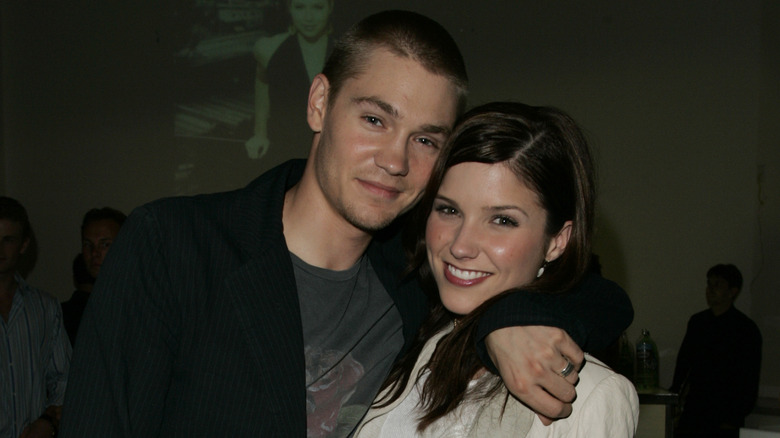 Donato Sardella/Getty Images
When we see an on-screen couple sharing off-the-charts chemistry, we can't help but hope that their romance continues IRL. And for "One Tree Hill" fans, that wish came true when Chad Michael Murray and Sophia Bush started dating. They were even happier to know that Murray had popped the question in a grand fashion by writing "I Love U" through the lights in his apartment's tennis court and lighting up his penthouse with 500 candles. Bush and Murray tied the knot in 2005 in a beautiful beach ceremony, surrounded by 200 guests. Sadly, the couple couldn't make their marriage last and separated just five months later. 
And while it's safe to assume Bush and Murry's short-lived marriage must've been a wild ride, new details reveal that the start of their relationship might've been even messier. Before Murray got into a relationship with Bush, he dated "The OC" star Erin Foster from 2001 to 2002. At the time, there didn't seem to be any overlap in the relationships, but in 2023, Foster claimed the contrary when she appeared on "The World's First Podcast." 
When the host asked about the DeuxMoi post that claimed Murray cheated on her with Bush, she answered, "He definitely did cheat on me with her in, like, a pretty egregious way. While we were living together." She joked, "I've moved on though," Erin said. "I'm over it now. I mean, just barely. Just barely over it." However, a "One Tree Hill" castmate remembered things differently and came to Bush's defense.
Hilarie Burton defended her BFF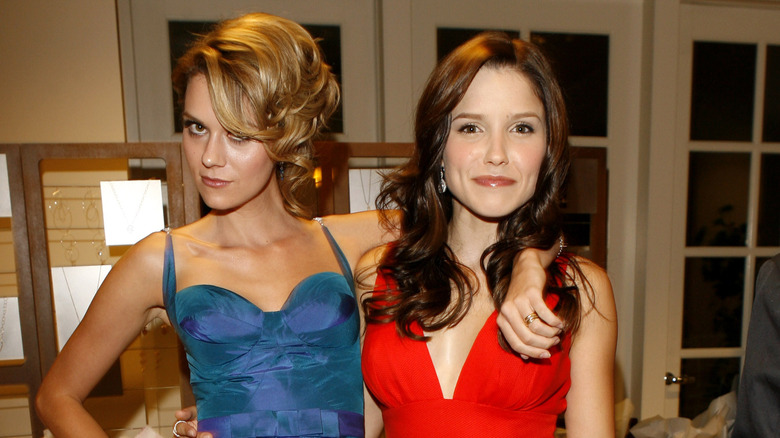 Christopher Polk/Getty Images
Hilarie Burton shared an Instagram story defending Sophia Bush against the cheating allegations, writing, "As the person who had a front row seat then? This wasn't it. We were all told you'd broken up which is why our guy was perusing her. Now this is being spun to make my sister look like a brazen harlot. And if she's anyone's harlot, it's mine!" She also quipped that many anonymous sources were coming forth with false accounts about Bush's relationship with Murray, so she wanted to publicly share her side of the story as a reliable source. 
She finished with, "It would be laughable if it wasn't so hurtful." Burton seemed so sure that she was right that she tagged Erin Foster and asked her to speak to her privately to hear how her version of events played out. Although "One Tree Hill" ended over a decade ago, Bush and Burton's friendship still seems stronger than ever. 
Speaking to Refinery29, Burton shared that she and Bush bonded over all the craziness that ensued after the show gained popularity. She revealed that a lot of their acting choices were dictated by their male bosses, who had no idea what it was like to be a teenage girl. Burton said that they struggled with fame as freshers in the industry, but they could now look fondly back on those days because they got a great friendship out of it.
Chad Michael Murray might've cheated on Sophia Bush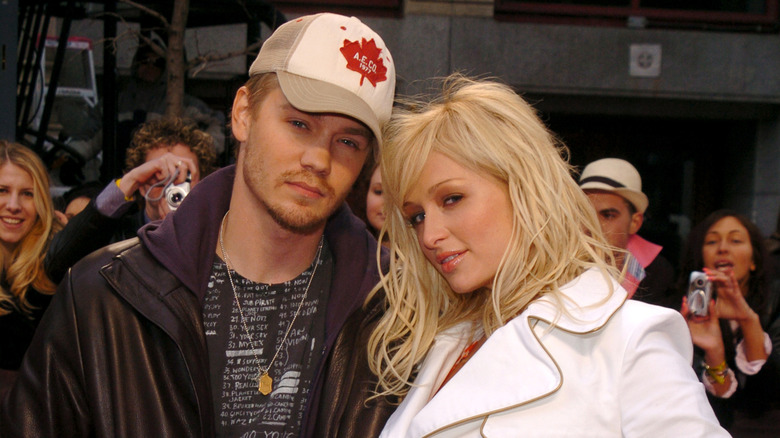 George Pimentel/Getty Images
At the time of Sophia Bush and Chad Michael Murray's annulment, a source told People, "Sophia went into the marriage believing in the sanctity of marriage, and Chad simply did not share that vision," leading many to believe that the "Freaky Friday" actor had been unfaithful. Later, people speculated that Paris Hilton was the woman Murray cheated on Bush with. Hilton and Murray met while filming "House Of Wax," when she was in a relationship with Nick Carter. 
 Later, Carter appeared on "The Ryan Seacrest Show" and confirmed that Hilton cheated on him with Murray while he was married to Bush. Carter added that he slept with Ashlee Simpson to get back at Hilton for cheating. For the most part, Bush has remained silent about her split from Murray, but we might've gotten a confirmation of the incident during the 2016 presidential election. After Bush voiced her support for Hillary Clinton, a fan wasn't too happy about her choice, and wrote, "So @sophiabush you side with liars? No wonder Chad cheated on you, your taste sucks. UNFOLLOW." 
And Bush wasn't having it, so she clapped back with several digs at Donald Trump and one for Murray, "You seem to blame women for the actions for the actions of their f****boy partner's actions," she wrote. When Bush appeared on the "Inside Of You" podcast, she explained that she didn't like to talk about Murray because she's moved on from past mistakes and can't attest to his current character since they're not in touch.