What Khloé Kardashian's Relationship With Niece Dream Kardashian Is Really Like
The Kardashians have held the world's attention for a long time, not just as reality stars and savvy entrepreneurs but also as dedicated parents. Among the Kardashian women, Khloé Kardashian, in particular, stands out for her strong maternal instincts. Beyond caring for her own children, Khloé has forged exceptional bonds with her siblings' kids, with a special emphasis on her relationship with her niece, Dream Kardashian. 
Dream is the daughter of Khloé's brother, Rob Kardashian, and his ex-partner, Angela White, formerly known as Blac Chyna. Their relationship faced considerable ups and downs, leading to a final separation in 2017 and a subsequent $100 million defamation lawsuit against the Kardashians, filed by White. She alleged that the famous family was responsible for the cancellation of the couple's reality show, "Rob & Chyna." 
This was despite her having cut ties with Rob and obtained a restraining order against him. In 2022, the jury ruled in favor of the Kardashians. Despite the legal complexities, Dream remained an integral part of the clan's life, seemingly unaffected by the court battle. Not only that, but Khloé's connection with Dream seems to go beyond the typical aunt-niece relationship, reflecting a deep and intimate bond between them.
Khloé feels like an extra parent to Dream
In a Season 3 episode of "The Kardashians," Khloé Kardashian opened up about her close bond with her niece, Dream Kardashian, emphasizing her crucial role as a parental figure in the little girl's life. While planning Dream's 6th birthday party, Khloé explained, "I do know how important it is for Dream to have a great maternal influence, whether that be from me, or her own mom, or whoever," adding, "I feel like I'm like a third parent for Dream," (via People). 
Khloé has two kids of her own, True and Tatum Thompson, whom she shares with her ex-partner, Tristan Thompson. Nonetheless, the Good American founder acknowledged that she sees Dream as one of her children, noting, "It's so in my blood just to be a mom. I wouldn't have it any other way." Khloé and her brother, Rob Kardashian, share a close bond too, and their connection is undoubtedly reflected in Khloé's relationship with Dream. 
According to Us Weekly, the reality star explained on her Instagram Stories that she and Rob spend a significant amount of time together, which is why she is more often seen with Dream than her other nieces and nephews. Additionally, Dream shares a close friendship with Khloé's daughter, True. The two cousins are often seen hanging out on Khloé's social media. From dressing up for special occasions to spending the holidays together, Dream has become an integral part of Khloé's family unit, fitting in seamlessly as if she truly were her third child.
Angela White is happy Dream has love from both sides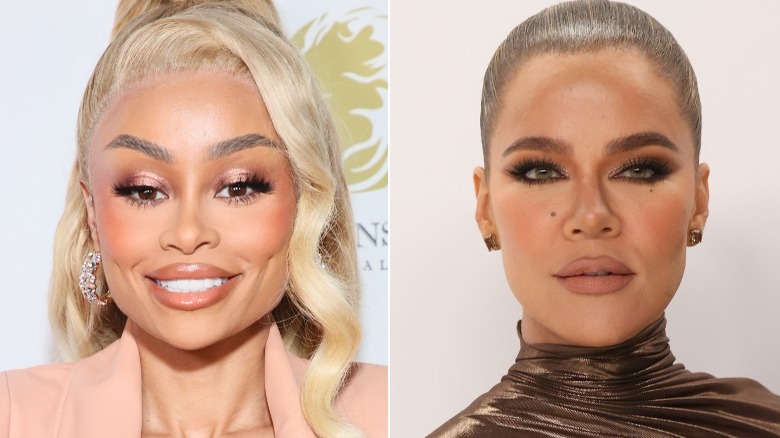 Robin L Marshall & Taylor Hill/Getty & undefined
Despite loving Dream Kardashian, and treating her as if she were her own, Khloé Kardashian hasn't always shared the same adoration for her niece's mother, Angela White. When the tumultuous trial between the Kardashian family and White was ongoing, during Season 2 of "The Kardashians," Khloé described it as incredibly stressful because Dream was staying over at her home so often. "It's emotionally, physically, and spiritually exhausting," the star emphasized (via Decider).
Nonetheless, Khloé and White have thankfully since overcome their differences for Dream's sake, recognizing each other as family. Addressing media misconceptions about calling herself Dream's third parent, Khloé made sure to clear the air on her Instagram Stories, as reported by People. "I'm sure the narrative of 'The Kardashians VS Chyna' is more fun to read about, but there really is nothing there anymore," she wrote, clarifying, "The focus is on Dream and her happiness."
White shared similar sentiments in a statement to TMZ, expressing her gratitude to her ex's side of the family. "It takes a village to raise a child, and I'm happy that Dream has a huge village full of love from both sides. As a mother, that's all I ask for," the entrepreneur stated firmly.