The Cheeky Gilmore Girls Connection Milo Ventimiglia Has To His New Wife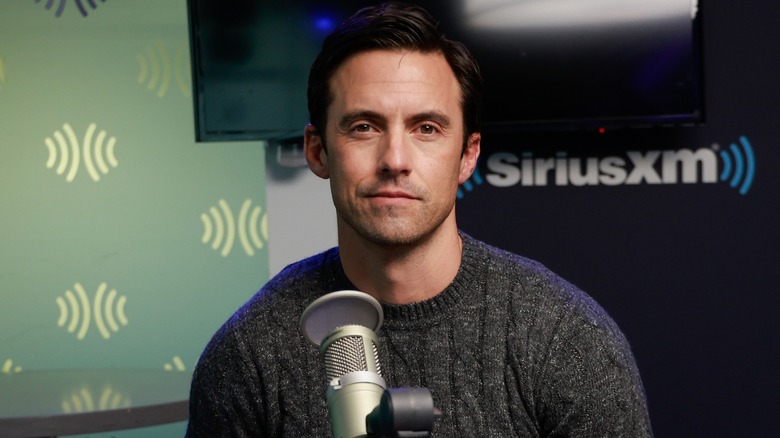 Jason Mendez/Getty
If you've ever wondered about the lives of the "Gilmore Girls" cast today, you have probably kept up with Milo Ventimiglia. The truth about Ventimiglia is that his role as Jess Mariano on "Gilmore Girls" (and as Jack Pearson on "This Is Us") will always be iconic. In a fun twist, the actor's new wife has a connection to his "Gilmore Girls" character: she's a model named Jarah Mariano, so her name bears the same first initial and last name as the beloved love interest of Rory Gilmore (played by Ventimiglia's ex-girlfriend Alexis Bledel).
According to Us Weekly, Ventimiglia and Mariano have a very secretive relationship, and they married sometime in 2023. The news was officially announced in October 2023, but there was speculation that the two were together before then. "Gilmore Girls" fans noticed the fun name connection even before the confirmation. On the Reddit page for the show, one fan shared a post with a screenshot of a picture of Mariano's Instagram account. They said, "Today I learned that Milo Ventimiglia's alleged secret wife is named Jarah *Mariano*."
Fans speculated about the couple's relationship, and one made another connection to the show and its characters' drink of choice: "Jarrah is slang for coffee so ur [sic] saying her name is COFFEE MARIANO? If anything were ever more on brand for ['Gilmore Girls'] it would be this lol."
Ventimiglia and Mariano kept their relationship quiet, but speculation flew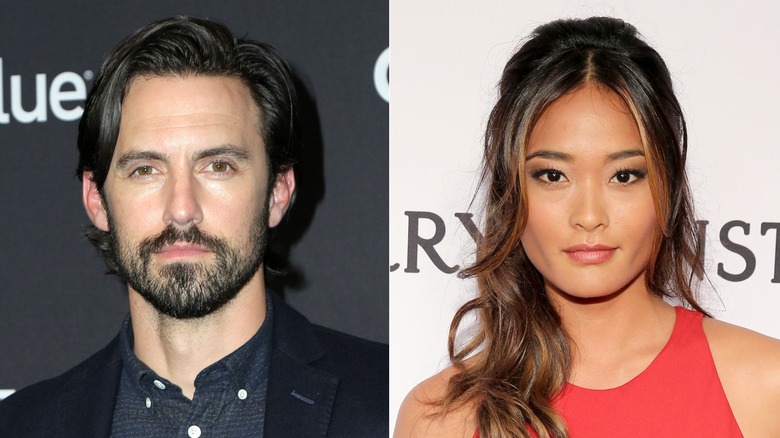 Kathy Hutchins/Shutterstock & Neilson Barnard/Getty
Shortly before the announcement that the couple got married was shared by Us Weekly, TMZ posted photos that showed Milo Ventimiglia and Jarah Mariano at a restaurant in Los Angeles. In the pictures of the couple watching a rugby game, the "Heroes" actor has a wedding band on. The outlet also reported that Ventimiglia's representative stated he and Mariano got married earlier in 2023.
Eagle-eyed fans had known about Ventimiglia and Mariano's rumored relationship for a while. People reported that the gossip page Deuxmoi had been keeping up with those two and sharing sparse updates based on what little information was out there. For example, in 2022, they shared a screenshot of an Instagram story that showed the actor and model holding a bottle of champagne together. Another example of Deuxmoi's sleuthing was when they reported that Mariano was seen with a "big ole diamond ring and band" in June 2023.
Feelings about Jess Mariano are split
The last time "Gilmore Girls" fans saw Jess Mariano was in the "Gilmore Girls: A Year in The Life" series from 2016. Milo Ventimiglia shared how he feels about Jess and Rory's ending, and he's happy with it. The love for his character lives on, especially on social media. Fans of Jess are not shy in their devotion to him, with many believing he was the best of Rory Gilmore's love interests.
For example, Bustle published an article in 2015 about why Jess was better than Rory's first boyfriend, Dean (Jared Padalecki). A TikToker named Haley (@gilmoregirlygirl) made a video explaining Jess was better than Dean and Logan (Matt Czuchry) because "Outside of being a love interest, [Jess] has a developed storyline." She gave his relationship with his Uncle Luke as one example. However, not everyone agrees. 
Prior to the end of "The Late Late Show with James Corden," Milo Ventimiglia was interviewed and explained an interesting run-in with a fan. "The first time I got recognized for the character of Jess, I was at the gym," Ventimiglia said. "And a girl walked up, and she goes, 'Hey, you're that guy from 'Gilmore Girls.' You play Jess, right?'" Once Ventimiglia confirmed it: "She's like, 'I f***ing hate you'" (via TikTok). Ventimiglia took it as a compliment because that meant he was playing the bad boy part well.