What Calista Flockhart Is Doing Today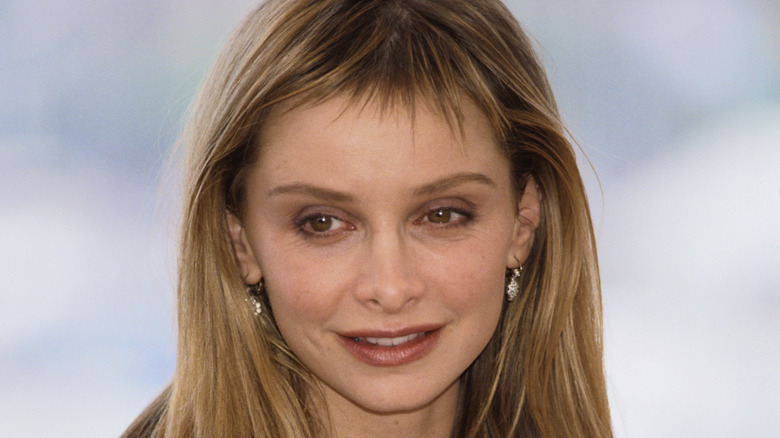 Kurt Krieger - Corbis/Getty Images
Back in the '90s, few actors seemed to be rising in popularity as rapidly as Calista Flockhart. After appearing in shows like "As the World Turns" and "Loving," she landed the title role in "Ally McBeal," the now-classic Fox show about a Boston law firm. She also starred as Helena in the 1999 film adaptation of William Shakespeare's "A Midsummer Night's Dream." Although "Ally McBeal" only ran for five years, the show was hugely influential — Flockhart's star was on the rise and everyone assumed she had a massive career ahead of her.
However, after the show ended in 2002, Flockhart's career soon dwindled. Two years later, she starred in the show "Brothers & Sisters," but other than that, she only took on the odd film project or TV cameo until she took on a meatier role in 2015's series "Supergirl."
We can't help but wonder — whatever happened to Calista Flockhart? And why did her career slow down after "Ally McBeal?" As it turns out, her absence from the spotlight was due to a combination of family responsibilities and a desire to keep a low profile after the chaos of the "Ally McBeal" years. Here's what Calista Flockhart has been up to since leaving Ally behind in 2002.
Calista Flockhart was busying raising her son, Liam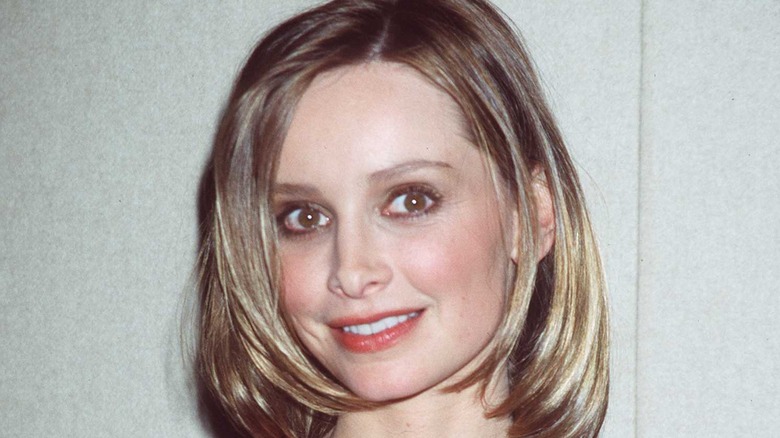 Brenda Chase/Getty Images
One of the main reasons Calista Flockhart drifted out of the spotlight after "Ally McBeal" is that she was a little preoccupied with raising her son, Liam. Liam was born in 2001, a year before the show came to an end. Flockhart adopted him shortly after.
Flockhart made the decision to be a stay-at-home mom for her new son — as she put it to the Los Angeles Times, she dedicated herself to doing "the mom thing." "I loved being a mom but as any mother can tell you, you stay home with a two-year-old 24-7 and you get mush brain and you start wishing that you were working," Flockhart said to CinemaBlend of her time off. However, as the actor made it clear to Female First, she didn't see this period as a "break" from acting, but rather as an extended period off. "I wanted to be home with him,' she said simply.
When Liam went to school, Flockhart began to think about returning to work — but the transition from full-time mother back into acting wasn't easy. "Kindergarten, as it turns out, is a huge milestone and I wasn't quite prepared for it," Flockhart told the Los Angeles Times. "He's doing great and having a lot of fun. I know it sounds kind of silly, but it's the end of an era." Even though Flockhart had missed acting, she admitted that seeing her son get older was pretty emotional.
Calista Flockhart wanted to reset after Ally McBeal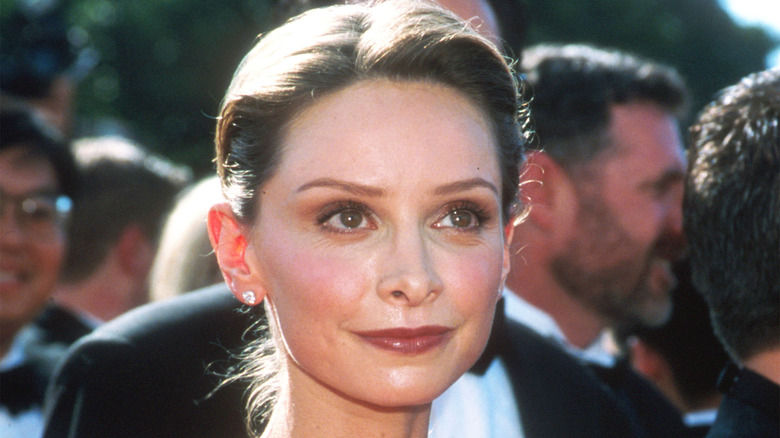 Barry King/Getty Images
Aside from the demands of being a new mom, Calista Flockhart also felt the need for a break from the world of acting after "Ally McBeal." Even when she did return to auditioning after her son started school, Flockhart was determined to pick a very different character from Ally.
"I definitely wanted to make a different choice," she told CinemaBlend, reflecting on her new show, "Brothers & Sisters." "It's a very real show, and 'Ally' was sort of fantastical and a different kind of reality, and it was very high comedy. This is, I think, funny, and yet it's just different. So the responsibility, I think, is off of me because it's such a different playing field."
In an interview with the Los Angeles Times, she explained why she wanted to avoid being typecast after playing Ally. "At my real heart, I'm a character actress, and I do crave playing all kinds of different roles," Flockhart explained. "I want to play the dark, crazy, alcoholic someday." It's no wonder she took some time off to make sure she didn't end up playing the same role over and over again.
Calista Flockhart starred in over 100 episodes of Brothers & Sisters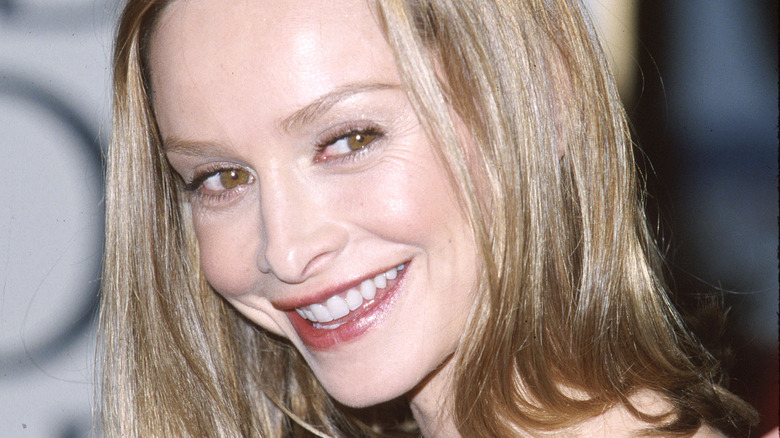 Steve Granitz/Getty Images
Eventually, Calista Flockhart found the role she had been looking for. After four years at home, Flockhart returned to work with a new role on the show "Brothers and Sisters." For Flockhart, being on set again was amazing. "It's fun to be back. All parts of it," she told CinemaBlend. "It's fun to get out and talk about your work with people. It's kind of exciting to get feedback and know what other people are thinking."
"Brothers & Sisters" didn't take off in the same way as "Ally McBeal" — and that suited Flockhart just fine. "I'm much more low-key now," she told Female First. "It was a crazy time when 'Ally McBeal' exploded, but this is not like that at all." Plus, on "Brothers & Sisters," Flockhart wasn't the lead, but part of an ensemble instead, which meant she didn't even have to work every day. So, while her second big show may not have catapulted her to fame like "Ally McBeal" did, she was happy to have a more low-key job.
Calista Flockhart doesn't love being in the public eye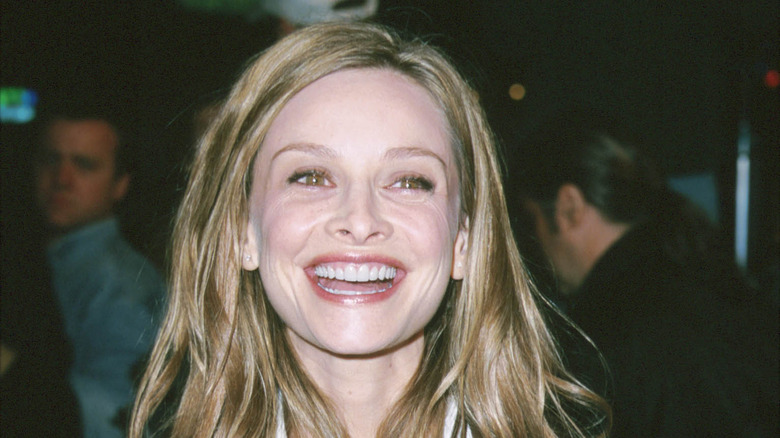 Steve Granitz/Getty Images
Another reason why Calista Flockhart may not be on your radar these days is that she simply doesn't want to be. Although Flockhart loves acting, she doesn't exactly love all of the attention that comes with it.
In fact, as Jon Robin Baitz, the creator of "Brothers & Sisters" told the Los Angeles Times, "Ally McBeal" didn't exactly fit into Flockhart's plans — she actually never wanted fame at all. "That accident of having been cast as Ally McBeal could have possibly interrupted a very different kind of career and set it on a different course, one that's more public than she ever imagined for herself," Baitz said. "I would describe her as a reluctant star, and I mean that sort of in the most magical way: a reluctant princess." Flockhart also described herself as an introvert in the same interview.
After taking some time off and opting for smaller roles, Flockhart finally began to feel more comfortable. "Back then, it was pretty crazy," she said to Female First in 2009 about her "Ally McBeal" years. "There would be six paparazzi cars following me everywhere and that can be frightening. It's much better now."
Calista Flockhart married Harrison Ford in 2010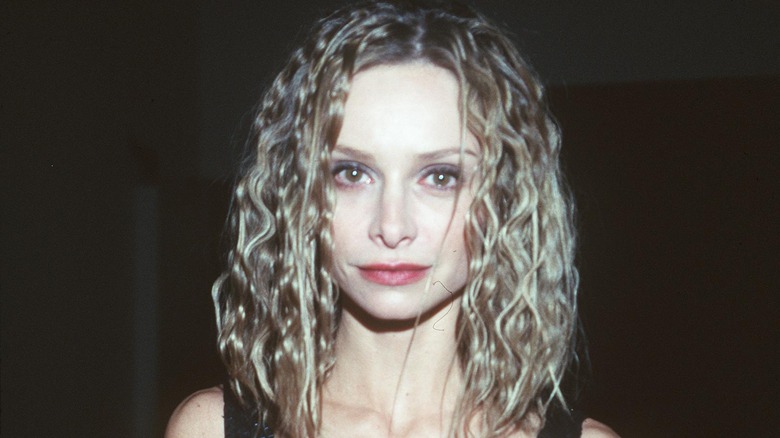 Ron Wolfson/Getty Images
In 2010, Calista Flockhart tied the knot with her long-time partner, actor Harrison Ford. The pair had started dating in 2002 and just one year later, Ford said of her, "I'm in love." He explained to People, "Romantic love is one of the most exciting and fulfilling kinds of love and I think there is a potential for it at any stage of your life. I was not surprised that I was able to fall in love, and I wasn't surprised that I did." Despite their age gap, they were clearly a strong couple from the very beginning.
Being in a relationship with Ford changed a lot for Flockhart. He adopted her son, Liam, and she became the stepmother to his four children. Naturally, her new family made work more complicated. "I was single when I started work on 'Ally McBeal' and I didn't have a child," she said to Female First. "Now I have a child and I'm not single. I have a very different life."
Calista Flockhart did some theater work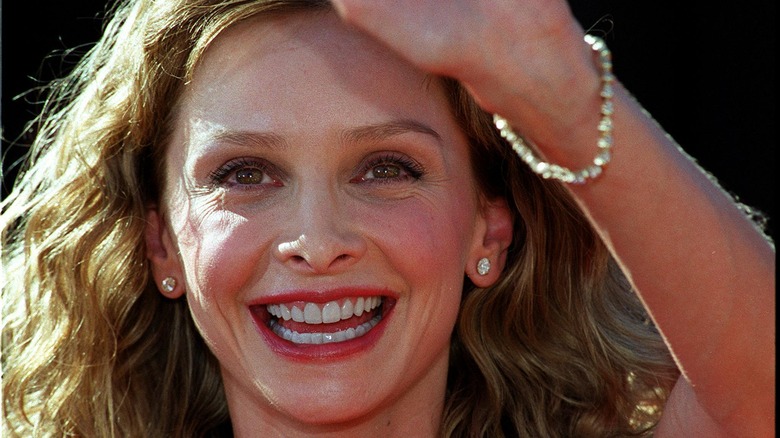 David Mcnew/Getty Images
Another reason you may not have seen Calista Flockhart in many films and TV shows in the past few decades is that she's also dedicated some of her time to theatrical work. After all, her roots were performing in off-Broadway plays.
"For me it's all about getting my theatre fix," Flockhart told The Guardian in 2012 during the run of an intimate production of "The Seagull" in Los Angeles. "It's a fun, low-key way to get into a room with talented actors and directors, and have a great time reading a classic, wonderful play." In 2020, she was set to star in "An Ideal Husband" in Boston, but the show was canceled. In 2022, Flockhart once again returned to the stage starring in "Who's Afraid of Virginia Woolf?" alongside Zachary Quinto.
Flockhart also spent her time after "Ally McBeal" going to the theater with her son — they even spent a year and a half in London simply watching plays. "I love theater," she gushed to the Los Angeles Times. "I love that it's happening in the moment right in front of your eyes."
You might have spotted Calista Flockhart in Web Therapy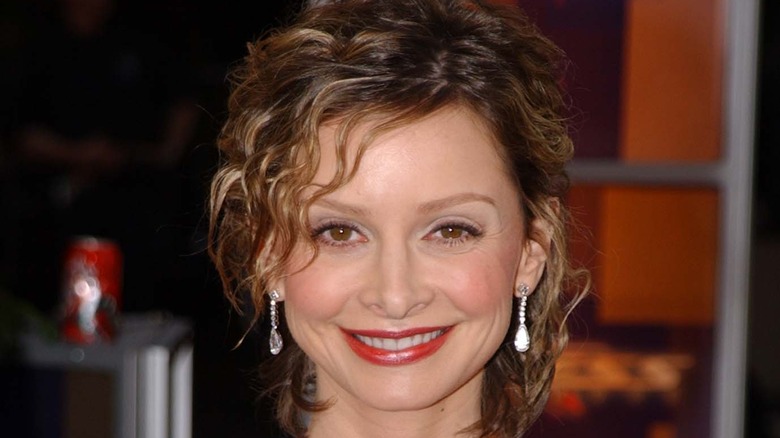 Jeff Kravitz/Getty Images
Remember the Showtime series "Web Therapy" starring Lisa Kudrow as the virtual therapist, Dr. Fiona Wallace? Well, you may have spotted Calista Flockhart in a guest role on the show. In 2014, Flockhard played April Keaton in five episodes. The show was famous for welcoming familiar faces for short cameos, including Meg Ryan, Meryl Streep, Matthew Perry, Matt LeBlanc, Jon Hamm, and Minnie Driver, so the actor was definitely in good company.
Flockhart played a slightly nervous law clerk who has a questionable relationship with Kudrow's character's husband. It was definitely exciting for fans to see Flockhart playing someone in the legal world again all those years after Ally McBeal! Plus, she had a chance to flex her comedic muscles as a character actor. It's too bad her stint on "Web Therapy" didn't last longer — fans and critics couldn't get enough.
Calista Flockhart starred in five episodes of Full Circle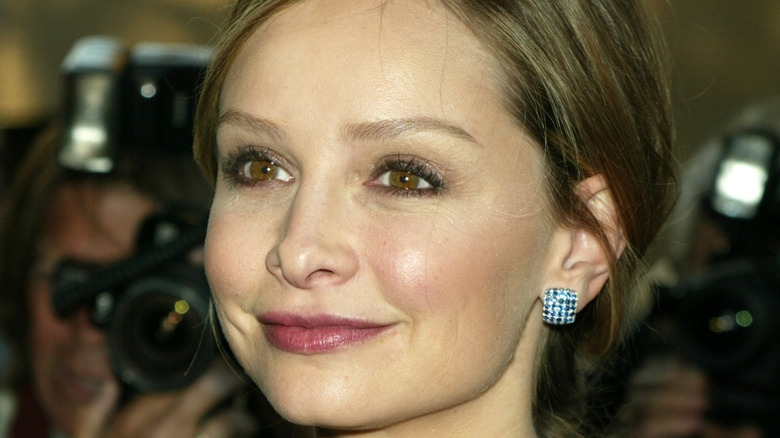 Jim Spellman/Getty Images
In 2015, Calista Flockhart took on another short guest role on the show "Full Circle," a series that followed a different group of loosely connected people in each season. In Flockhart's season, the action followed a Chicago cop and her co-stars included Terry O'Quinn, Brittany Snow, Patrick Fugit, and Eric McCormack. Flockhart played Ellen Kelly-O'Rourke, one of the rotating characters.
"It's a complete stand-alone season, each time, almost like a mini-series," explained executive producer and director Nick Hamm to Collider. "It's a completely different cast, but the central idea is the same. Character A meets character B, B meets C, C meets D, and it goes full circle."
We don't know too much about "Full Circle" as it didn't make a huge cultural impact — but, to be honest, Flockhart probably didn't mind too much, as she was able to act while maintaining a low profile.
Calista Flockhart was shocked by her husband's plane crash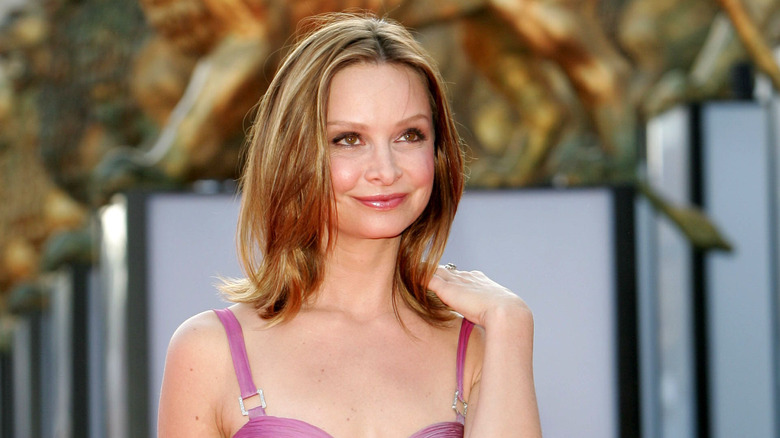 Daniele Venturelli/Getty Images
In 2015, Calista Flockhart experienced a huge shock when her husband, Harrison Ford, was involved in a plane crash. Ford was flying a vintage World War II plane at the time. Luckily, his injuries weren't too severe — however, for Flockhart, the accident was more than a little jarring.
As she told People, it was a "really hard, scary time." She added, "I think it just makes you realize once again that life can turn on a dime, and we just have to appreciate every second we're here, because you never know." However, while Flockhart refused to fly with Ford in his vintage planes in the future, she hasn't tried to stop him from taking to the skies. "He loves it, so I love it, and I support him 100 percent," she said. That's pretty understanding of her if you ask us!
From 2015 to 2021, Calista Flockhart starred in CW's Supergirl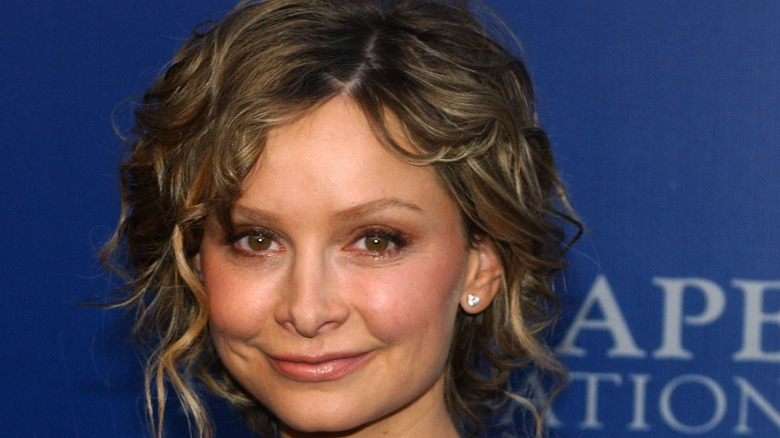 Vince Bucci/Getty Images
In 2015, Calista Flockhart took on one of her biggest roles in years as Cat Grant in "Supergirl," a series that ran from 2015 until 2021. Cat was the tough-as-nails, sassy boss of Kara (aka Supergirl) at Catco Worldwide Media. And thanks to Flockhart's performance, she was one of the best parts of the show.
But even though Flockhart was a stand-out in "Supergirl," she wasn't exactly the lead — and she was more than happy to have a supporting role. "I am very excited about being a part of a new show and I am happy that I don't have to carry the show," she said during a CBS panel in 2015. "I am happy that I am Cat and not Supergirl this time around. It just gives me a little more time. [Spending time with] my family is very important to me." Sounds like it really was the perfect gig for her!
Rumors spread of an Ally McBeal revival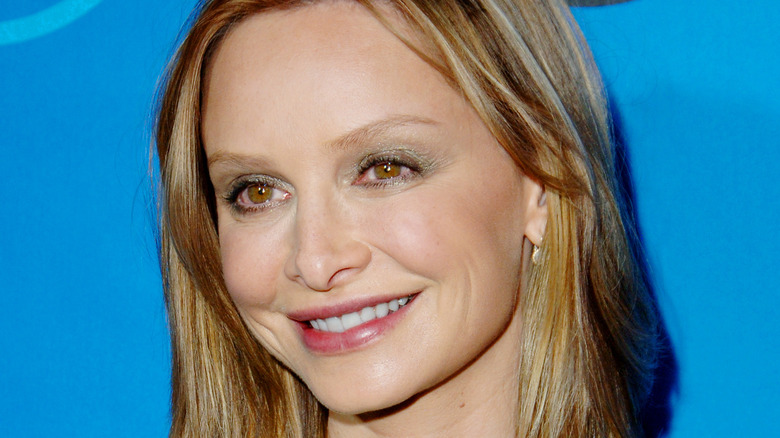 Jon Kopaloff/Getty Images
Even though Calista Flockhart didn't exactly love being thrust into the spotlight in "Ally McBeal," in 2021, rumors began to spread that she would be returning to play the character once again in a reboot of the show.
"I'd be open to the idea of 'Ally McBeal' being done again, but I don't think it should be done by me," original creator David E. Kelley said to The Hollywood Reporter in 2018. "If it were going to be done, it really should be done by a woman. If it's going to be new, it should be new and different. And I did it: 100 hours."
Then, in 2021, TV Line reported that a limited revival series was in the works with Flockhart reportedly attached. They suggested that Hulu might be the logical streamer for the show. Sadly, as of 2023, the "Ally McBeal" revival still hasn't come to fruition.
Calista Flockhart still seems to be focused on supporting her family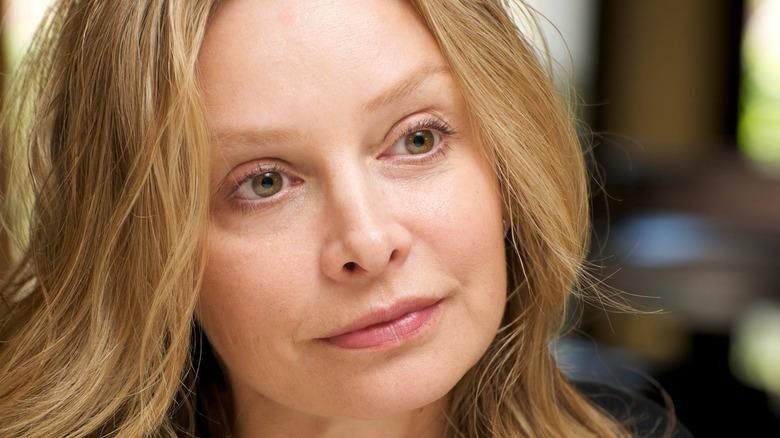 Vera Anderson/Getty Images
Above all else, Calista Flockhart's main priority has been her family: Her husband, Harrison Ford, their five children, and their four foster dogs. As she told the Los Angeles Times, "We kept [the dogs] because we all needed them. And they needed us, or we needed them more than they needed us probably."
Over the years, Flockhart has spoken about how she has chosen roles that give her the space and anonymity she needs to spend time with her family. And in more recent years, it's clear that the actor still spends as much time with her family as possible.
In 2023, Flockhart and Ford attended the Cannes Film Festival and the "Indiana Jones" premiere together. There, Ford said, "My life has been enabled by my lovely wife, who has supported my passions and my dreams and I'm grateful." Later that same year, they were spotted at Liam's graduation. In a 2023 interview with Esquire, Ford even revealed that Flockhart was helping him to clean up his language. "My wife is still giving me s*** about that Hollywood Reporter thing, and I'm trying not to say that too much," he said referring to another interview filled with expletives. It's clear that her family is incredibly supportive of each other.
We might be seeing Calista Flockhart starring opposite Harrison Ford soon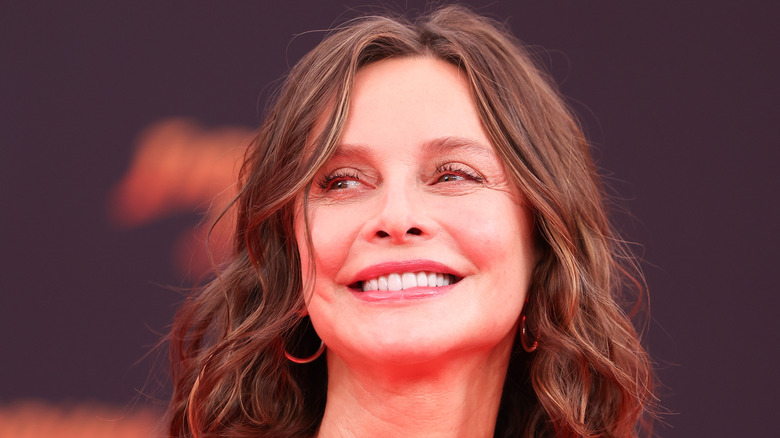 Gerald Matzka/Getty Images
Calista Flockhart may not act much these days, but fans of the "Ally McBeal" star may get a chance to see her in another new project soon. As her husband, Harrison Ford, told People, the pair are hoping to collaborate on something one day. "We'd love to find [something] we could do together," said Ford at the premiere of his show "Shrinking" in 2023. "But yeah, haven't found one yet."
Ford also hinted that Flockhart was definitely looking for more acting opportunities now that their son, Liam, had grown up. "She's just going back to work after having devoted herself to the raising of our son, Liam, for the last 20 years," he said. "And she's enjoying going back to work. I'm hoping we will find something to do together."
While we don't know when or what this collaboration will be, it's safe to say that we cannot wait to see Flockhart and Ford share the screen in the future!